Rev. Billy Graham has died according to several news reports citing church spokesman Mark DeMoss.
He was 99-years-old and passed away at his home in North Carolina. Graham suffered from pneumonia, prostate cancer, and Parkinson's disease.
The world-famous evangelist preacher reached millions with his message of Christian forgiveness and developing a personal relationship with Jesus Christ.
Graham's commitment to preaching the gospel in an accessible way made him a national figure, speaking to Americans searching for God.
President Donald Trump remembered Graham as "a very special man."
The GREAT Billy Graham is dead. There was nobody like him! He will be missed by Christians and all religions. A very special man.

— Donald J. Trump (@realDonaldTrump) February 21, 2018
Vice President Mike Pence remembered Graham's legacy on Twitter.
Billy Graham's ministry for the gospel of Jesus Christ and his matchless voice changed the lives of millions. We mourn his passing but I know with absolute certainty that today he heard those words, "well done good and faithful servant." Thank you Billy Graham. God bless you(2/2)

— Vice President Mike Pence (@VP) February 21, 2018
Graham met with and gave spiritual counsel to United States presidents since Harry Truman.
My father @BillyGraham​ has met every President of the U.S. since Harry S. Truman. Watch this #PresidentsDay clip. pic.twitter.com/8gYUI88C5M

— Franklin Graham (@Franklin_Graham) February 19, 2018
In 2013, President Donald Trump attended Graham's 95th birthday.
I will be going to Asheville, North Carolina, tonight for the 95th birthday party of the GREAT Billy Graham – such a wonderful man!

— Donald J. Trump (@realDonaldTrump) November 7, 2013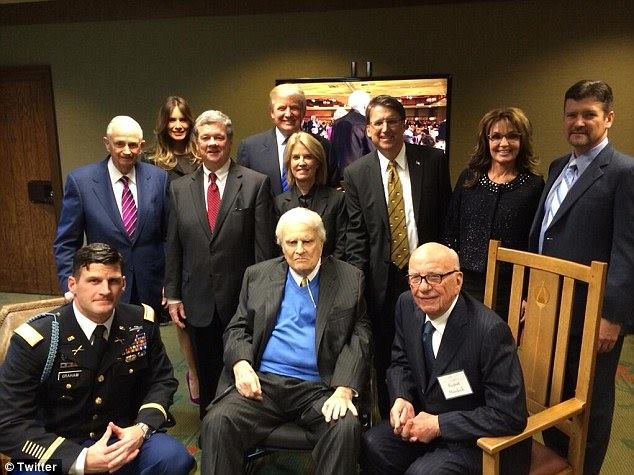 President Ronald Reagan presented Graham with the Presidential Medal of Freedom in 1983.
He said:
Reverend William "Billy" Graham's untiring evangelism has spread the word of God to every corner of the globe, and made him one of the most inspirational spiritual leaders of the Twentieth Century. As a deeply committed Christian, his challenge to accept Jesus Christ has lifted the hearts, assuaged the sorrows and renewed the hopes of millions. Billy Graham is an American who lives first and always for his fellow citizens. In honoring him, we give thanks for God's greatest spiritual gifts—faith, hope, and love.
At a time when the nation mourned the 9/11 terror attacks, Graham delivered a sermon during the National Day of Prayer and Remembrance declared by President George W. Bush.