The majority of Americans say Democrats are using the issue of what to do with a relatively small group of illegal aliens as a 2018 midterm campaign strategy, rather than trying to help the illegal aliens.
Since President Donald Trump announced he would end the President Obama-created Deferred Action for Childhood Arrivals (DACA) program — which gave temporary amnesty to nearly 800,000 illegal aliens — he has sought to work with Democrats on a plan to allow only those enrolled in DACA to remain in the U.S. in exchange for reducing legal immigration levels.
Every year, the U.S. admits more than 1.5 million foreign nationals, with the vast majority deriving from the process known as "chain migration."
Chain migration allows newly naturalized citizens to bring an unlimited number of foreign relatives to the U.S. In 2016, the legal and illegal immigrant population reached a record high 44 million. By 2023, the Center for Immigration Studies estimates that the legal and illegal immigrant population of the U.S. will make up nearly 15 percent of the entire U.S. population.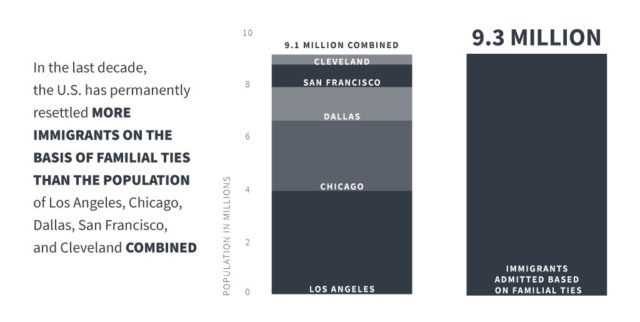 A new Harvard-Harris poll, though, shows that the majority of Americans say Democrats do not want to work with Trump on a deal on DACA and instead are looking to use the issue as a campaign component in the 2018 midterm elections.
When asked, "Do you think Democrats in Congress want to find a legislative solution for DACA recipients or are they holding it out as an issue for the midterm Congressional elections?" the majority of voters say Democrats are holding it out as a campaign issue.
About 53 percent of Americans said Democrats are using the illegal alien DACA population as a campaign issue, versus roughly 47 percent of Americans who say Democrats want an actual solution for the DACA population.
With swing-voters, Trump is winning the campaign issue with a larger majority — about 61 percent of independents say Democrats are holding out on the DACA population to use them as a campaign issue.
The same Harvard-Harris poll also found, as Breitbart News reported, that the majority of Hispanic and black Americans support Trump's effort to allow only the DACA-enrolled population to remain in the U.S. so long as it is coupled with majorly reducing legal immigration levels.
If immigration to the U.S. is fully stopped, the nation's population would stabilize, still growing by about 30 million people. More Americans support zero immigration to the U.S. than they do current legal immigration levels. https://t.co/RPqNJK2vPM

— John Binder 👽 (@JxhnBinder) March 8, 2018
America's working and middle class have suffered under decades of poor job growth, stagnant wages, and increased public costs to offset the importation of millions of low-skilled foreign nationals. Meanwhile, Trump is the first president in recent history to push Congress to reduce legal immigration to give relief to Americans.
A reduction in immigration would potentially mean higher wages for American workers, who would see less competition with cheaper foreign workers and a less saturated labor market where there are more workers than there are U.S. jobs.
Opponents of reducing immigration levels include the establishment media, the billionaire GOP mega-donors the Koch brothers, the Democratic Party, the Republican establishment, the Bush dynasty, corporate interests, and the open borders lobby.
John Binder is a reporter for Breitbart News. Follow him on Twitter at @JxhnBinder.