Pro-mass immigration GOP mega-donor billionaires the Koch brothers are urging Republicans in Congress to take a deal on immigration from Democrats that would give amnesty to some two million illegal aliens in the U.S.
In a letter to Republican and Democrat congressional leaders, according to the Washington Post, three executives of Koch-backed organizations — Freedom Partners, Americans for Prosperity, and the LIBRE Initiative — are telling the GOP to "seize" the opportunity to give amnesty to potentially millions of illegal aliens who have been shielded from deportation by the President Obama-created Deferred Action for Childhood Arrivals (DACA) program.
The Koch executives' letter states:
We believe this is a reasonable proposal — one that should be supported by the president and members of Congress in both parties. It's now time to cast aside partisan differences and support a solution that provides certainty for dreamers, who were brought as children to the United States and seek the opportunity to apply their skills and talents in this country. [Emphasis added]
For months, sources told Breitbart News that the Koch brothers — who have gone so far as to release an ad campaign in which they call illegal aliens "patriots" — were pushing the Trump administration to accept an amnesty deal that would allow at least 1.8 million illegal aliens enrolled and eligible DACA recipients to permanently stay in the U.S.
Koch brothers' execs have been reportedly lobbying Trump admin for weeks now to give into Democrats' DACA deal where at least nearly 2M illegal aliens get citizenship with no reduction to overall immigration levels. https://t.co/DYBhxNsRDN

— John Binder 👽 (@JxhnBinder) March 20, 2018
Despite the Koch brothers' efforts to get the Trump administration to sign onto the expansive amnesty plan, which would in exchange give the president $25 billion for his border wall, the White House has remained clear that he would not accept a deal giving DACA illegal aliens amnesty unless it included a reduction in legal immigration levels.
As Breitbart News reported, the Republican leadership is not set to include any of Trump's popular, pro-American immigration proposals in the upcoming omnibus spending bill. For example, anti-sanctuary city legislation will likely be excluded from the spending deal, along with an effort to fund a border wall along the U.S.-Mexico border.
Meanwhile, Republican legislators are pushing for the importation of 90,000 cheap foreign workers to supply to big business, a plan that is directly against Trump's economic nationalist agenda.
The Koch brothers have been adamant in their support for mass immigration, announcing last month their opposition to Trump's popular, pro-American effort to end the process of chain migration, whereby newly naturalized citizens can bring an unlimited number of foreign relatives to the U.S.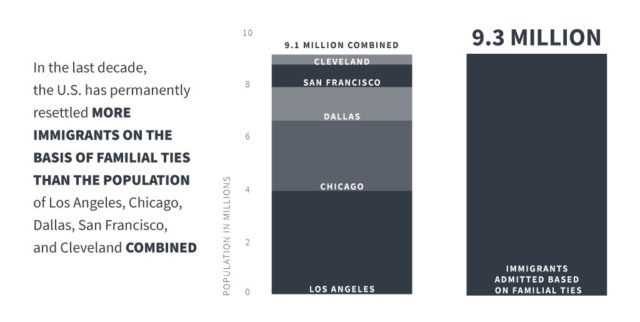 A DACA amnesty, such as the one for which the Koch brothers are lobbying, would come at the expense of American citizens, while being an immediate benefit for big business and illegal aliens.
For example, a DACA amnesty would put more citizen children of illegal aliens — known as "anchor babies" — on federal welfare, as Breitbart News reported, while American taxpayers would be left with, potentially, a $26 billion bill.
Additionally, about one in five DACA illegal aliens, after an amnesty, would end up on food stamps, while at least one in seven would go on Medicaid.