Republican voters say immigration, along with the economy, is the most important issue in deciding whom they will vote for in the 2018 midterm elections, a new poll reveals.
According to the latest Quinnipiac University Poll, when Republicans are asked "What is the most important issue to you in deciding how to vote in this year's midterm election," voters say immigration is at the top of their priorities list.
The poll found that Republicans say immigration is more important than taxes, healthcare, and gun policy when it comes to their vote in the midterm elections. The economy is the only issue that is as much of a priority for Republican voters as immigration.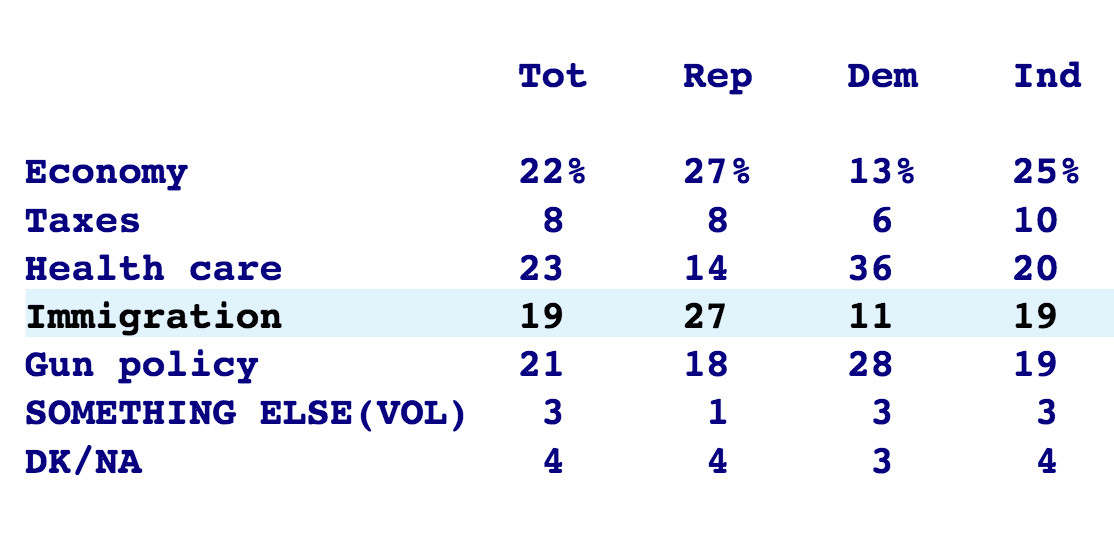 Republican voters, the poll suggests, are watching closely to see how their elected officials vote when it comes to a plan that would give amnesty to millions of illegal aliens.
The amnesty plan has been pushed repeatedly by not only the establishment media, but also the billionaire GOP mega-donors the Koch brothers, the Democratic Party, the Republican establishment, the Bush dynasty, the big business lobby, and the open borders lobby.
Those entities also continue to oppose President Trump's pro-American immigration efforts to reduce legal immigration to raise the wages and quality of life for America's working and middle class.
A Harvard-Harris Poll from last month told a similar story of what Republican voters' priorities are for the 2018 midterm elections.
In that poll, Republican voters said reducing overall immigration levels — wherein the U.S. admits more than 1.5 million illegal and legal immigrants annually — was a bigger priority for them than tax cuts, destroying the Islamic State (ISIS), and even replacing Obamacare.
Second biggest issue for GOP voters (including those who didn't even vote for Trump): Reducing illegal and legal immigration. https://t.co/CD9WsH7zVw

— John Binder 👽 (@JxhnBinder) February 22, 2018
Earlier this year, a similar Havard-Harris poll found that more Americans support zero immigration to the U.S. than they support current legal immigration levels. Current illegal and legal immigration levels have come at the expense of America's working and middle class, who have suffered under decades of poor job growth, stagnant wages, and increased public costs to offset the importation of millions of low-skilled foreign nationals.
In 2017, as Breitbart News noted, the Republican-controlled Congress decided to prioritize tax cuts — a plan pushed heavily by Trump's daughter and son-in-law, Ivanka Trump and Jared Kushner — rather than the president's popular wage-raising, legal immigration-cutting agenda.