Rod Rosenstein was unexpectedly seen leaving the White House Thursday morning, then was noticeably absent from a DOJ event at which he was scheduled to appear, fueling speculation the Deputy Attorney General may be slated for the chopping block.
"Unfortunately, Deputy Attorney General Rod Rosenstein has been called away on another matter today, so [Acting Associate Attorney General Jesse] Panuccio will have the honor of introducing the attorney general later in our program," acting DOJ Civil Rights Division head John Gore told reporters at a major speaking engagement at the Main DOJ building in Washington, DC.
Rosenstein appeared on the program for the event – distributed to reporters that day – as scheduled to appear alongside Attorney General Jeff Sessions, HUD Secretary Dr. Ben Carson, and Secretary of Labor Alex Acosta to celebrate the 50th Anniversary of the Fair Housing Act.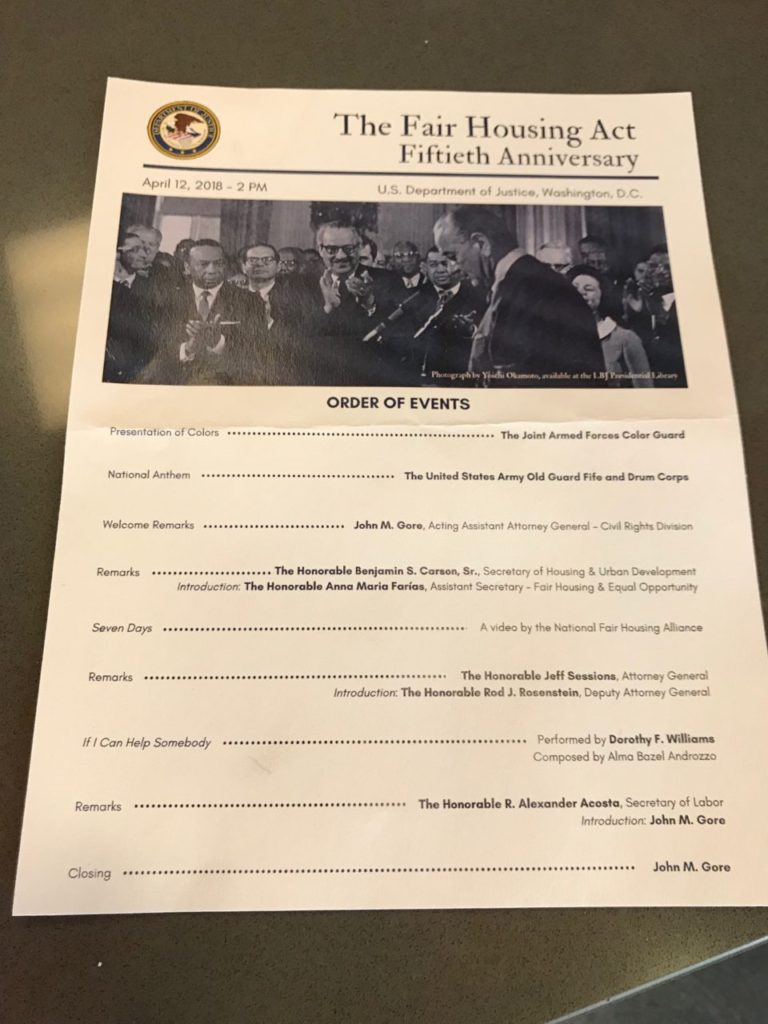 Hours earlier, reporters saw Rosenstein exiting the White House after an unexpected meeting. Some cited sources claiming he was there to discuss the ongoing controversy over the speed of document production for the House Judiciary Committee's subpoena and other requests from Congress.
From what I understand, Rod Rosenstein, along with the FBI general counsel, went to the White House today for a meeting on Congressional document requests. I don't know with whom he spoke. He remains the Deputy Attorney General, to the best of my knowledge as of this writing.

— Matt Zapotosky (@mattzap) April 12, 2018
A White House official, meanwhile, told Fox News that "Rod Rosenstein met with the president at the White House regarding routine department business."
President Donald Trump has found himself in an increasingly antagonistic relationship with Rosenstein, and the number two man's future at the Justice Department is now rumored to be in question. Crucially, firing Rosenstein would bring Special Counsel Robert Mueller, whom he appointed after Sessions recused himself from matters concerning the 2016 presidential election, under new supervision.
The FBI's raid, at Mueller's direction, of the New York offices of Trump's personal lawyer Micheal Cohen – later reported to have been devised to obtain information on the infamous "Access Hollywood tape" that came to light during the 2016 presidential election – appears to have soured the relationship further, perhaps irrevocably.
On Wednesday, the president turned his frustrations directly at Rosenstein, calling him "conflicted" because of his role in drafting the memo used to justify the firing of then-FBI Director James Comey and his role in approving a Foreign Intelligence Surveillance Act (FISA) application regarding one-time Trump associate Carter Page:
Much of the bad blood with Russia is caused by the Fake & Corrupt Russia Investigation, headed up by the all Democrat loyalists, or people that worked for Obama. Mueller is most conflicted of all (except Rosenstein who signed FISA & Comey letter). No Collusion, so they go crazy!

— Donald J. Trump (@realDonaldTrump) April 11, 2018
The criticism was amplified by Rep. Mark Meadows (R-NC), who threatened Rosenstein with impeachment Saturday.
CNN is reporting Friday not only that sources tell them Trump is considering firing Rosenstein, but that the White House is rolling out a plan to undermine the Deputy Attorney General's credibility.
Trump had long been critical of Mueller's investigation – that appeared at times to go far beyond its original gambit of Russian interference in the 2016 election – frequently referring to it as a "witch hunt" or similar. The investigation, by the terms of Rosenstein's original order of appointment, was only to cover:
(i) any links and/or coordination between the Russian government and individuals associated with the campaign of President Donald Trump; and
(ii) any matters that arose or may arise directly from the investigation; and
(iii) any other matters within the scope of 28 C.F.R. §600.4(a).
Due to Paul Manafort's criminal trial, a much more detailed memo from Rosenstein to Mueller defining the scope of the special counsel's investigation came to light, but remains heavily redacted. Rosenstein had reportedly once considered recusing himself from the "Russia investigation" but took on the role – appointing Mueller and then drafting this memo defining his role in August.
Rosenstein has since defended Mueller from accusations of misconduct related to his one-time underling Peter Strzok's bias-laden texts with his extra-marital lover, FBI attorney Lisa Page. "I am not aware of any impropriety," Rosenstein told Rep. Lamar Smith (R-TX) in December.
Some Senate Republicans, in the meantime, are preparing a vote on a new law that would protect Mueller further.
An earlier version of this story inaccurately referred to the Fair Housing Act 50th Anniversary as a "press conference."