U.S. Customs and Border Protection (CBP) and the U.S. Coast Guard announced a massive cocaine seizure following weeks of surveillance in international waters.
The arrests and seizure are the result of the work of CBP's Air and Marine Operations (AMO) and its P-3 Airborne Early Warning aircraft, which conducted operations in international waters off the coast of Costa Rica during the month of April, according to an announcement posted on the CBP website..
AMO "detected a suspicious 28-foot panga last month," the announcement said. "The aircraft crew maintained surveillance and coordinated with Joint Interagency Task Force South to intercept the vessel. The U.S. Coast Guard arrested three individuals and seized 46 bales of contraband totaling 2,028 pounds of cocaine."
The AMO's mission is to protect the U.S. maritime border before criminals and contraband reach our country's land border.
"AMO operates maritime patrol aircraft from Jacksonville, Florida, and Corpus Christi, Texas, to conduct long-range aerial patrols and surveillance missions along the U.S. borders and in drug transit zones in Central and South America," the announcement continued. "P-3 aircrews detect, monitor, and disrupt smuggling activities before they reach our shores."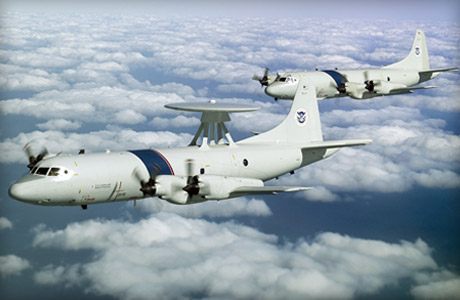 AMO is responsible for huge drug seizures and the arrests of drug traffickers and others seeking to get contraband into the U.S. interior.
"In Fiscal Year 2017, AMO enforcement actions resulted in the approximate seizure or disruption of 269,790 pounds of cocaine, 384,230 pounds of marijuana, 5,721 pounds of methamphetamine, 1,089 weapons, and $26.1 million; as well as 2,573 arrests and 37,009 apprehensions of illegal aliens," the announcement said.
CBP's AMO division has approximately 1,800 federal agents and mission support personnel, 240 aircraft, and 300 marine vessels "operating throughout the United States, Puerto Rico, and U.S. Virgin Islands."
CBP's jurisdiction inside the United States extends only 100 miles from the border, at which point jurisdiction falls to Immigration and Customs Enforcement (ICE).
You can see a video about AMO here.
Follow Penny Starr on Twitter