The billionaire GOP mega-donor Koch brothers will soon launch a million dollar campaign against President Trump's popular tariffs on trade ahead of the 2018 midterm elections.
Charles and David Koch are two of the Republican Party's biggest billionaire donors, supporting an agenda of endless, multinational free trade agreements and open borders that keep U.S. wages stagnant.
The Koch's network of organizations — Americans for Prosperity, Freedom Partners Chamber of Commerce and the LIBRE Initiative — now say they will be spending the rest of 2018 and millions of dollars defending job-killing free trade deals and opposing Trump's tariffs on aluminum, steel, and Chinese products.
In a document by the Koch networks, the billionaire donors criticized tariffs on foreign goods as "Protectionist policies" that "create artificial winners and losers, while open trade offers a win-win that delivers the best results for the most people."
The Kochs are also pleading with Republicans to ignore the country's trade deficits with multiple countries, claiming trade deficits are "not proper indicators of healthy trading relationships, economic prosperity, or growth."
Unmentioned in the document is the detrimental impact that multinational free trade deals like the North American Free Trade Agreement (NAFTA) — currently under re-negotiation by the Trump administration — and KORUS have on American jobs, workers, and wages.
U.S. Trade Deficit with China Has Eliminated at Least 3.4M American Jobshttps://t.co/AuWL4ZZ4qo

— John Binder 👽 (@JxhnBinder) April 5, 2018
For example, since 2001, free trade with China has cost millions of Americans their jobs. In a report by the Economic Policy Institute, between 2001 and 2015, about 3.4 million U.S. jobs were lost due to the country's trade deficit with China.
Of the 3.4 million U.S. jobs lost in that time period, about 2.6 million were lost in the crippled manufacturing industry, making up about three-fourths of the loss of jobs from the U.S.-Chinese trade deficit.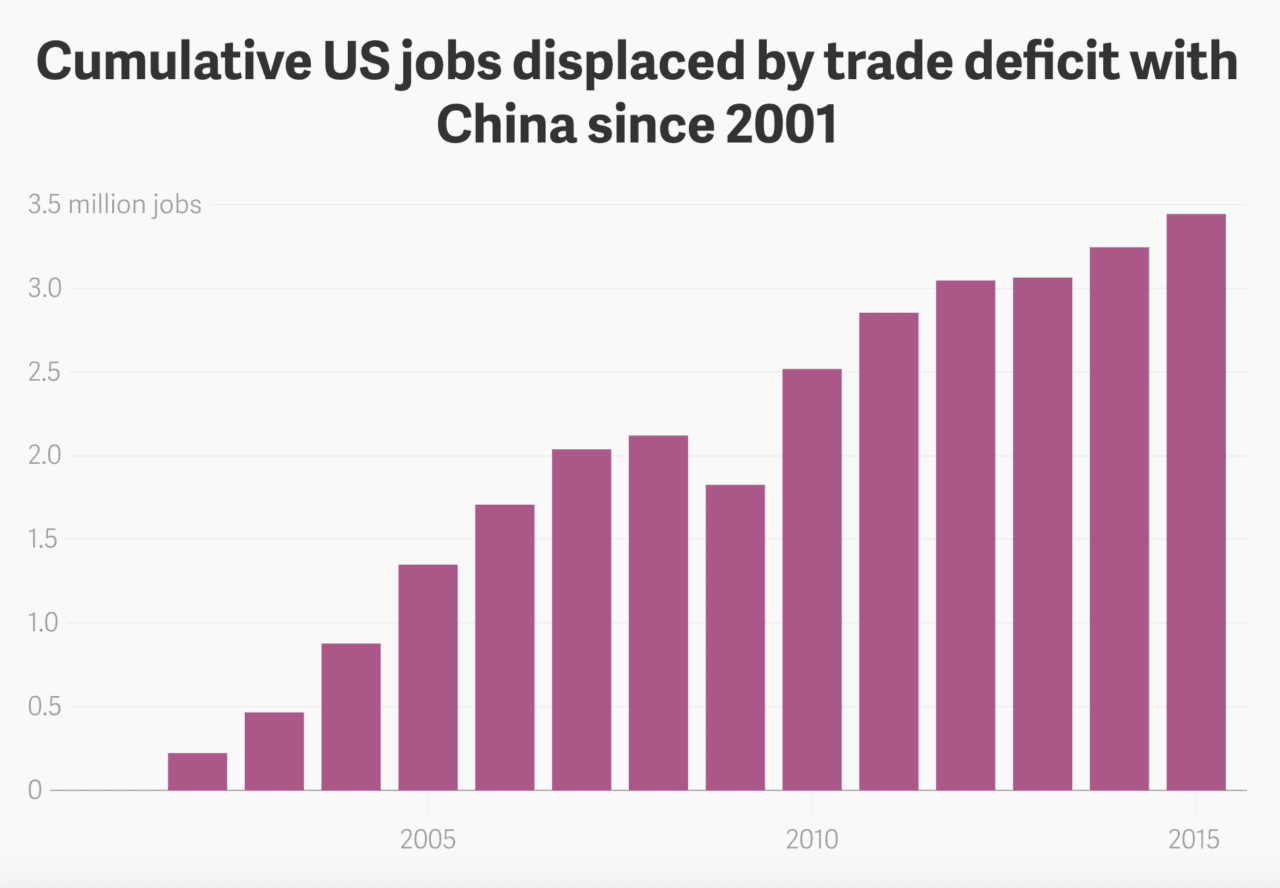 Free trade, like immigration, is an issue that has come at the expense of American workers. With free trade, foreign markets have been readily opened to multinational corporations, allowing them to offshore American jobs while easily exporting their products back into the U.S.
The Rust Belt has been one of the hardest regions hit because of U.S. free trade with Mexico. In total, about 700,000 U.S. workers have been displaced, including:
14,500 American workers displaced in Wisconsin
43,600 American workers displaced in Michigan
2,600 American workers displaced in West Virginia
26,300 American workers displaced in Pennsylvania
34,900 American workers displaced in Ohio
34,300 American workers displaced in New York
6,500 American workers displaced in Iowa
24,400 American workers displaced in Indiana
34,700 American workers displaced in Illinois
Meanwhile, since the North American Free Trade Agreement (NAFTA) took effect in the 1990s, at least one million net U.S. jobs have been lost because of the free trade deal. Between 2000 and 2014, there have been about five million manufacturing jobs lost across the country as trade deficits continue soaring.
One former steel town in West Virginia lost 94 percent of its steel jobs because of NAFTA, with nearly 10,000 workers in the town being displaced from the steel industry.
Evergreen: Inside the West Virginia steel town destroyed by Nafta – where 94% of jobs have gone and Trump is kinghttps://t.co/Ou5EtqaAvf

— John Binder 👽 (@JxhnBinder) February 28, 2018
The Koch brothers' efforts to stop tariffs against foreign products, and specifically those being dumped in the country from China, is vastly out of step with Republican voters and swing voters.
In the latest Harvard/Harris Poll, 61 percent of Americans say they support Trump's threats to China. He has said that he will impose $150 billion worth of tariffs if the country's leaders do not help in correcting the U.S.-China trade deficit.
Additionally, previous polling found that a majority of 54 percent of conservatives say free trade has hurt the U.S. and cost Americans their jobs, Breitbart News reported. A majority of 55 percent of Americans say free trade has killed American jobs.