The GOP establishment and White House congressional outreach aide Marc Short are trying to stampede President Donald Trump into an amnesty deal for millions of illegal aliens which discards at least two of the four pillars in the president's "America First" immigration agenda.
Short — who formerly ran the failed "Never Trump" effort inside the globalist Koch brothers' network of organizations — and House Speaker Paul Ryan are hoping to repeat the stampede strategy used during the recent omnibus spending bill.
The omnibus barred the construction of Trump's wall, expanded "Catch and Release" for illegal aliens, and did not fund 1,000 new deportation agents as requested and was released, passed by Congress, and rushed to Trump's desk within a few days.
When faced with the no-wall omnibus, an angry Trump reportedly threatened to veto the bill but was pushed into acceptance by Short and his other aides. "There are a lot of things I'm unhappy about in this bill," he said. "I say to Congress: I will never sign another bill like this again."
Trump said the rushed and secretive process was ridiculous, and pointed to the huge bill, saying, "You tell me, who can read that quickly?"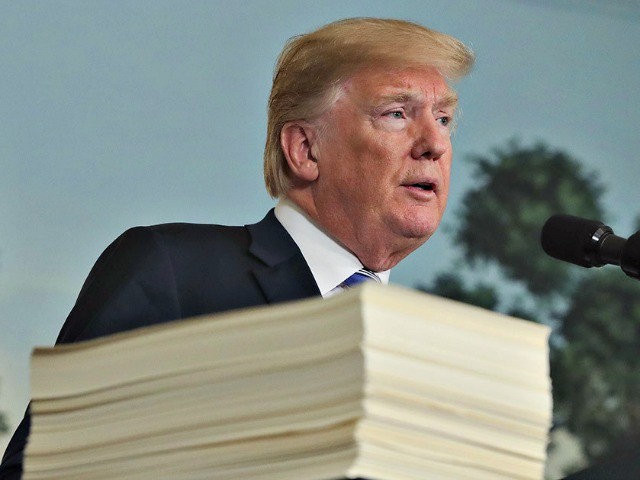 The stampede strategy delivered for the Republican establishment because it allowed them to fund the government while also blocking implementation of Trump's 2016 promises and his populist pro-American immigration policies — like reducing legal immigration and building a border wall.
The strategy is being used again to rush Trump into an immigration deal that shorts his populist base, aids GOP donors, and boosts his Never Trump enemies.
Ryan's called for passage of the amnesty bill next week, even though it has not been completed or released as of yet.  "So This is Ryan acting like [Rep. Nancy] Pelosi: Vote first, read later,'" said Jessica Vaughan, policy director at the Center for Immigration Studies.
Never Trumpers and GOP donors are rallying behind Ryan's bill, said Vaughan:
They fear the President because of his immigration [economic] agenda and his popularity with Republican voters, and they know that [popularity] will work against their [economic] interests on immigration. They are convenient bedfellows — they're ideologically compatible, they have different reasons for their opposition to the President. They can't work in the open on [Trump's immigration agenda] because it is popular, but for their own survival, they need to beat it.
"People who are concerned about this bill … want to get the message to the President directly that it is likely to be a betrayal of his principles and his base," she added.
Trump's four pillars of immigration reform call for a pathway to citizenship for DREAMers, full funding for a border wall, ending the Diversity Visa Lottery program, and ending what's known as "chain migration" where newly naturalized citizens can bring an unlimited number of foreign relatives to the U.S.
Chain Migration to Add Foreign-Born Voting Population Double the Size of Annual American Births by 2038https://t.co/ELcnKaYcUL

— John Binder 👽 (@JxhnBinder) January 30, 2018
As Breitbart News has reported, Ryan's amnesty deal — still unreleased — may include a mere reduction to chain migration that does not lead to any overall net reduction of legal immigration levels, where the U.S. admits more than 1.5 million foreign nationals a year.
Meanwhile, 2 out of 3 likely voters say they want legal immigration to the U.S. cut down, while current legal immigration levels remain vastly unpopular.
Ryan's amnesty deal may also allow DACA illegal aliens to bring their foreign parents to the U.S. through chain migration, a surge of legal immigration that would be upwards of 1.5 million foreign nationals arriving in the country.
Like the omnibus spending bill, which was not released until the last second, the exact details of Ryan's amnesty deal are unknown.
At the same time, Short has worked closely with Ryan and the GOP establishment in negotiations on the amnesty deal. During an interview with CNN's Wolf Blitzer last week, Short said Trump would be "willing" to "make that transaction" in reference to a deal that gave a pathway to U.S. citizenship for DACA illegal aliens in exchange for border security.