American workers in an Illinois steel town are finally seeing relief after years of job-killing free trade thanks to President Trump's 25 percent tariff on imported steel.
A Chicago Tribune report by Samantha Bomkamp reveals how Granite City, Illinois, is seeing a renewed steel industry after Trump's tariffs on steel imports were implemented.
In 2015, the Illinois steel town saw 2,000 layoffs of American steel workers from the city's local steel plant. Now, because of Trump's tariffs on steel, the Granite City steel plant is rehiring 800 steel workers—about half of which will be those who were laid off in 2015 and the other half will be new hires.
Local business owners told the Chicago Tribune that they're happy to see the steel jobs reopening in their town, as they say, the layoffs in 2015 hit their businesses as well:
The restart is causing an influx of customers at Park Grill, which is adjacent to the plant and was hit hard after the 2015 layoffs. Some steelworkers eat multiple meals a day at the grill. Railroad workers, truck drivers and others who have jobs supporting the plant also stop in or place orders for burgers and barbecue sandwiches. [Emphasis added]

"I'm hoping that everything goes back to where it was, and I think it will," Park Grill owner Mike DeBruce said. "I think it's going to be stronger and better." [Emphasis added]

…

"These are things that should have been implemented a long time ago, and it would have never got this far," he said of the tariffs. "They seem like they're drastic changes. But something has to be done. So whether you like it or you don't like it, it's one of those things that for us, right now, is working." [Emphasis added]
Trump's tariffs on steel and aluminum imports have been welcomed by American workers and steel workers who say their jobs need to be protected from foreign competition.
In the latest Harvard/Harris Poll, 83 percent of Republican voters say they support tariffs on imported products like automobiles and electronics. Additionally, 81 percent of conservatives said they too supported tariffs, along with 61 percent of Americans living in rural communities.
Meanwhile, the Washington, DC, beltway, Chamber of Commerce, and Republican establishment has fought against Trump's "America First" trade policies. The Chamber of Commerce announced last week that they would launch a nationwide campaign against Trump's tariffs, despite their popularity.
Since 2001, free trade with China has cost millions of Americans their jobs. Between 2001 and 2015, about 3.4 million U.S. jobs were lost due to the country's trade deficit with China, as Breitbart News reported.
Of the 3.4 million U.S. jobs lost in that time period, about 2.6 million were lost in the crippled manufacturing industry, making up about three-fourths of the loss of jobs from the U.S.-Chinese trade deficit.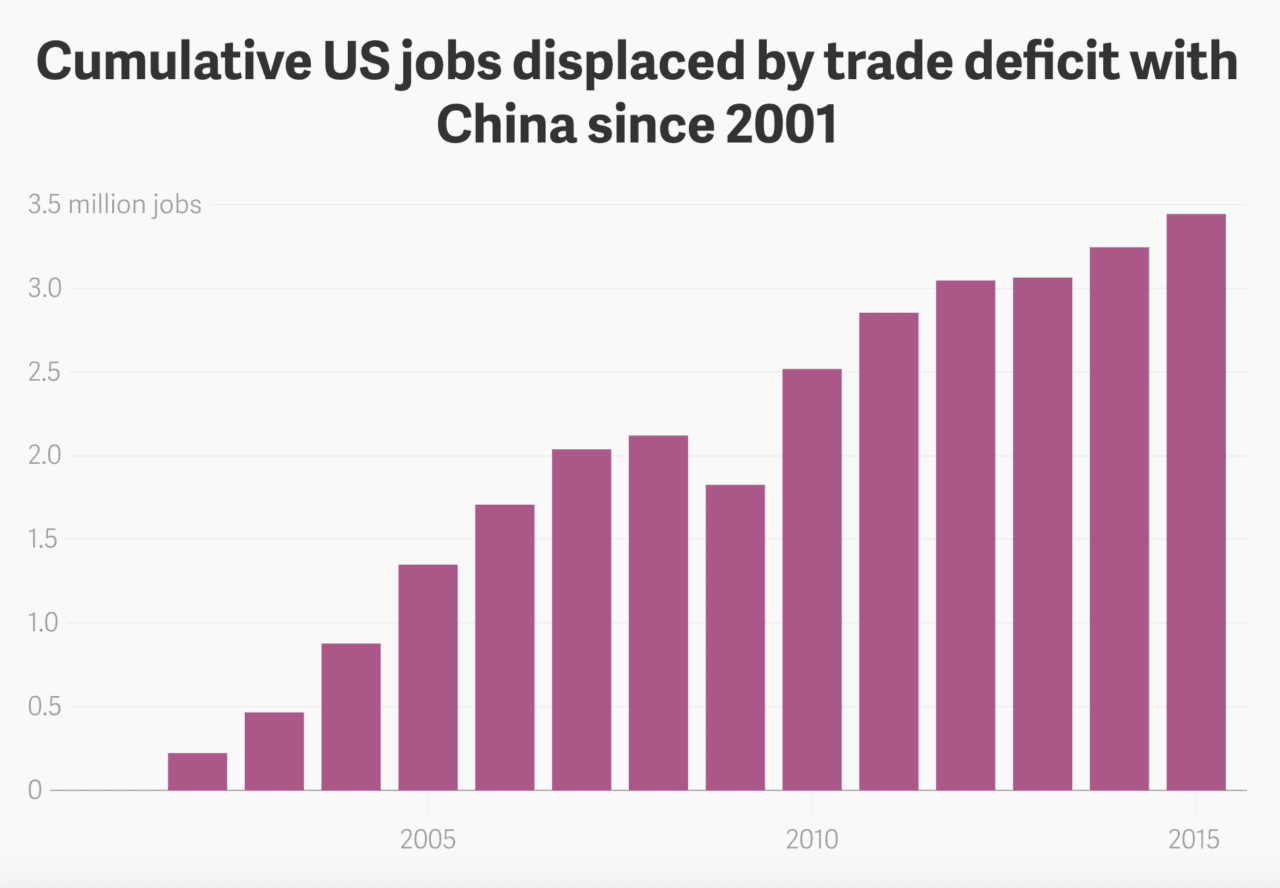 With free trade, foreign markets have been readily opened to multinational corporations, allowing them to offshore American jobs while easily exporting their products back into the U.S.
The Rust Belt has been one of the hardest regions hit because of U.S. free trade with Mexico. In total, about 700,000 U.S. workers have been displaced, including:
14,500 American workers displaced in Wisconsin
43,600 American workers displaced in Michigan
2,600 American workers displaced in West Virginia
26,300 American workers displaced in Pennsylvania
34,900 American workers displaced in Ohio
34,300 American workers displaced in New York
6,500 American workers displaced in Iowa
24,400 American workers displaced in Indiana
34,700 American workers displaced in Illinois
Meanwhile, since the North American Free Trade Agreement (NAFTA) took effect in the 1990s, at least one million net U.S. jobs have been lost because of the free trade deal. Between 2000 and 2014, there have been about five million manufacturing jobs lost across the country as trade deficits continue soaring.
One former steel town in West Virginia lost 94 percent of its steel jobs because of NAFTA, with nearly 10,000 workers in the town being displaced from the steel industry.
John Binder is a reporter for Breitbart News. Follow him on Twitter at @JxhnBinder.