The Department of Labor has concluded that Internet giant Cisco Systems has been discriminating against American college-graduates, according to a report by Bloomberg.
Bloomberg reported:
The DOL's Office of Federal Contract Compliance Programs determined that the technology firm secured visas for foreign workers instead of hiring U.S. citizens for certain jobs and paid the visa holders at a lower rate than their American counterparts, according to the sources. The federal contractor watchdog, which uncovered the alleged discrimination as part of a routine audit, is currently discussing the settlement of a violation notice issued to Cisco earlier this year …

The probe is one of several ongoing investigations into possible discrimination by federal contractors against visa holders. The OFCCP considers that a form of national origin bias, banned by an executive order first issued in 1965 by President Lyndon Johnson …

The sources spoke on the condition of anonymity because the settlement discussions are ongoing.
"The usual punishment is a fine and disbarment from the H-1B program for a while," said John Miano, an immigration lawyer and a former computer programmer, who is now working at the Immigration Reform Law Institute. "Want a bet that Cisco does not get barred from the H-1B program?" he added.
The leak comes as voters recognize that salaries for college-grads remain flat, despite the high-pressure economy, amid large-scale white-collar outsourcing and immigration. In contrast, blue-collar wages are rising slowly.
The anti-American discrimination at Cisco is also a political problem for GOP Rep. Kevin Yoder.
On July 25, Yoder used his political clout to get initial approval in the House for legislation that would put roughly 300,000 Indian visa-workers on a fast-track to green-cards and citizenship.
Yoder's H.R. 392 legislation is a gamble for him because it puts visa-worker Indians in his Kansas district ahead of the many young Americans who are losing jobs to the huge population of foreign visa-workers in the United States. Many polls show that Americans strongly oppose legislation which helps foreign companies displace Americans.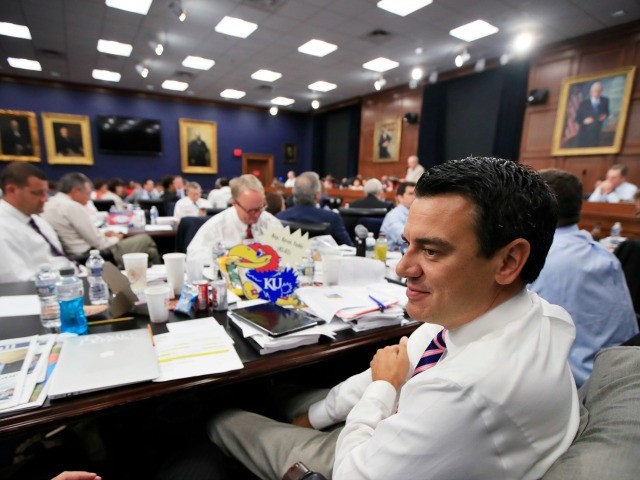 The population of foreign college-graduate visa-workers adds up to roughly 1.5 million — each of whom is holding a job that would otherwise have gone to the roughly 800,000 young men and women who graduate each year with skilled college-degrees in business, healthcare, science, software, math or design.
Yoder's legislation will also allow Americans and Indian companies to annually award up to 140,000 fast-track green cards to Indian workers if they take Americans' jobs at low wages by using H-1B or L-1 visas.
GOP leaders — including President Donald Trump — will decide in the next few months of Yoder's pro-outsourcing measure becomes law.
Like many other Internet companies, Cisco employs many cheap-labor visa-workers. In 2017, for example, the company asked for 713 three-year visas to hire foreign college graduates from overseas. Roughly one-third of those applications were approved via a lottery.
The company also asked for 249 L-1 visas to transfer foreign employees to jobs in the United States. The approval rate for L-1s is unknown, but that large number suggests that the company may have imported more workers via L-1 visas than H-1B visas.
Nearly all of Cisco's H-1Bs are Indians.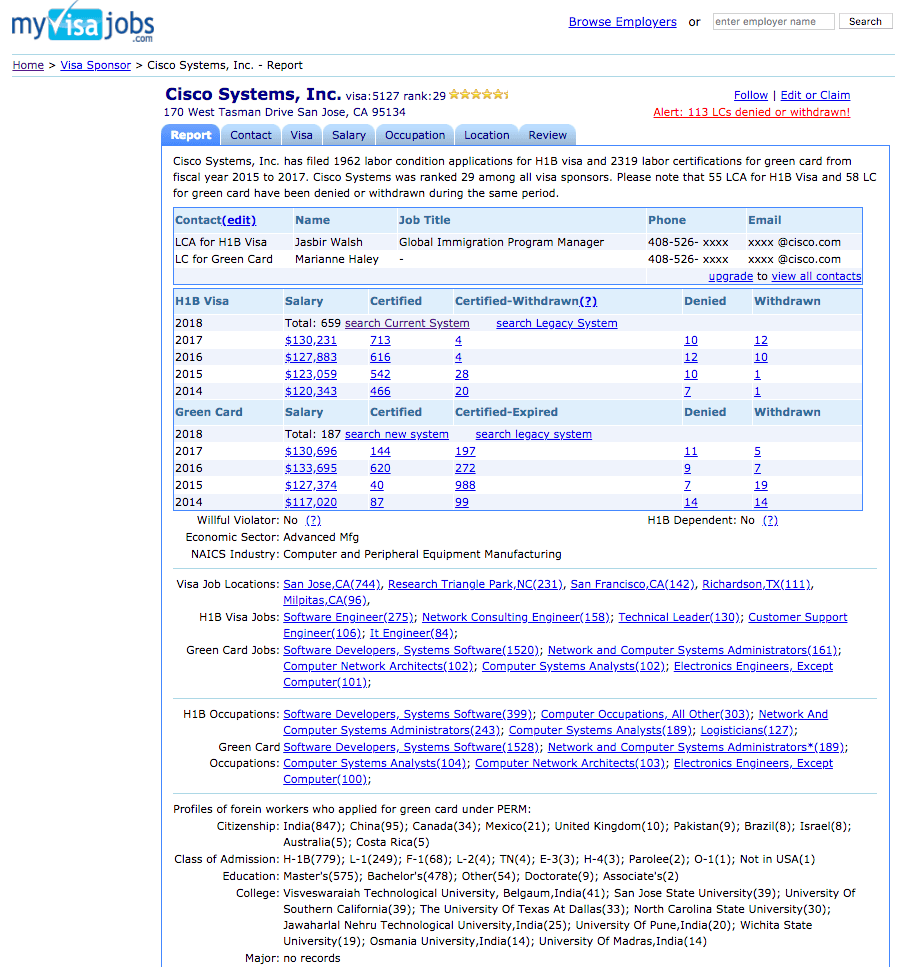 The company also asked for green cards for 144 of its employees in 2017. The vast majority of the 791 green cards sought from 2014 to 2014 were for H-1B employees hired from India. Once a company applies for a green card, and federal agencies approve the application, the workers can stay in the United States in perpetuity by asking for H-1B extensions.
Only about 23,000 Indians can get green cards per year because of long-standing country caps which curb the award of employer-sponsored green cards to people from each country. The company's reliance on Indian workers means it is likely that many of those Indian green-card applicants would be forced to wait for years to get their green cards. Throughout those years, they would be obliged to work for Cisco or else lose their place in the green-card line — and so lose the huge opportunity for them, their spouse, children, and parents to become immigrants.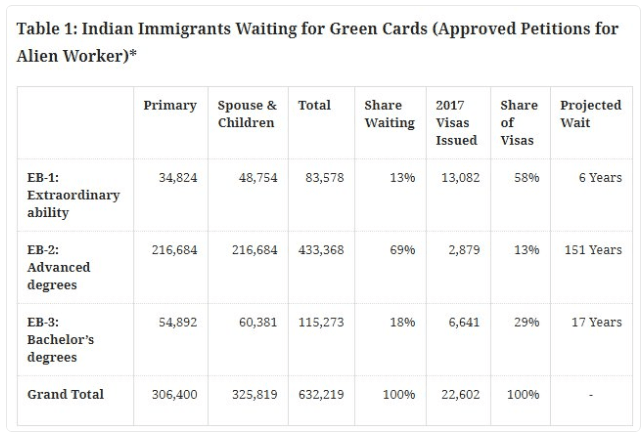 The company's cheap-labor policy has paid dividends to stockholders as its profits and share-prices have climbed during the last decade. The company's stock traded around $17  share for several years after the Internet bubble in the late 1990s, and then broke $20 a share in 2013.
The company's stock has also risen by 50 percent since President Donald Trump's inauguration. That rise boosted the company's stock-market value from roughly $150 billion to $217 billion.
Business groups and Democrats tout polls which prod Americans to declare support for migrants or the claim that the United States is a "Nation of Immigrants." The alternative "priority or fairness" polls — plus the 2016 election — show that voters in the polling booth put a much higher priority on helping their families, neighbors, and fellow nationals get decent jobs in a high-tech, high-immigration, low-wage economy.