Corporate and university managers are legally hiring a huge number of Chinese researchers amid widespread recognition that China's government is conducting an aggressive spy campaign.
"American universities are major enablers of China's economic and military rise," said a Pentagon report published in September slammed elite universities for their cooperation with Chinese researchers. The report, titled "Assessing and Strengthening the Manufacturing and Defense Industrial Base and Supply Chain Resiliency of the United States," continued:
Growth in advanced science and engineering degrees shows the U.S. graduating the largest number of doctorate recipients of any individual country, but 37% were earned by temporary visa holders with as many 25% of STEM graduates in the U.S. being Chinese nationals.
At least 50,000 China-born technology graduates begin working in the United States each year, either with temporary work-permits or with permanent green cards, according to government data. Universities hire 10,000 Chinese graduate-researchers for federal projects, and companies sponsor roughly 10,000 Chinese for green cards each year. The resident working population of Chinese technology experts is at least 150,000, not counting the many Chinese who have already gotten green cards or become citizens.
That huge inflow has fuelled concern in President Donald Trump's administration, which is now taking several steps to reduce U.S. dependence on Chinese researchers.
But the widespread reliance on Chinese labor is federal policy, says Eric Weinstein, the managing director of Thiel Capital, an investment firm owned by Peter Thiel. In March 2017, Weinstein wrote that the policy was adopted in the 1980s by U.S. research leaders who wanted:
to keep American scientific employers from having to pay the full US market price of high skilled labor. They hoped to keep the US research system staffed with employees classified as "trainees," "students," and "post-docs" for the benefit of employers. The result would be to render the US scientific workforce more docile and pliable to authority and senior researchers by attempting to ensure this labor market sector is always flooded largely by employer-friendly visa holders who lack full rights to respond to wage signals in the US labor market.
The growing security problem posed by the establishment's reliance on Chinese researchers was garishly demonstrated by an October 4 report in Bloomberg News which described how China's spy agency inserted spy chips into the Chinese-built "motherboard" components bought and resold throughout the United States by Super Micro Computer Inc.:
Headquartered north of San Jose's airport, up a smoggy stretch of Interstate 880, the company was founded by Charles Liang, a Taiwanese engineer who attended graduate school in Texas and then moved west to start Supermicro with his wife in 1993. Silicon Valley was then embracing outsourcing, forging a pathway from Taiwanese, and later Chinese, factories to American consumers, and Liang added a comforting advantage: Supermicro's motherboards would be engineered mostly in San Jose, close to the company's biggest clients, even if the products were manufactured overseas.

…

The majority of its workforce in San Jose is Taiwanese or Chinese, and Mandarin is the preferred language, with hanzi filling the whiteboards, according to six former employees. Chinese pastries are delivered every week, and many routine calls are done twice, once for English-only workers and again in Mandarin.

…

With more than 900 customers in 100 countries by 2015, Supermicro offered inroads to a bountiful collection of sensitive targets. "Think of Supermicro as the Microsoft of the hardware world," says a former U.S. intelligence official who's studied Supermicro and its business model. "Attacking Supermicro motherboards is like attacking Windows. It's like attacking the whole world."
The problem was also highlighted Sept. 25 by the Department of Justice, when it announced the arrest of a Chinese man who was using a student visa to recruit more spies and to enlist in the U.S military:
Ji Chaoqun, 27, a Chinese citizen residing in Chicago, was arrested in Chicago today for allegedly acting within the United States as an illegal agent of the People's Republic of China …

Ji worked at the direction of a high-level intelligence officer in the Jiangsu Province Ministry of State Security, a provincial department of the Ministry of State Security for the People's Republic of China, according to a criminal complaint and affidavit filed in U.S. District Court in Chicago.  Ji was tasked with providing the intelligence officer with biographical information on eight individuals for possible recruitment by the JSSD, the complaint states.  The individuals included Chinese nationals who were working as engineers and scientists in the United States, some of whom were U.S. defense contractors, according to the complaint …

According to the complaint, Ji was born in China and arrived in the United States in 2013 on an F1 Visa, for the purpose of studying electrical engineering at the Illinois Institute of Technology in Chicago.  In 2016, Ji enlisted in the U.S. Army Reserves as an E4 Specialist under the Military Accessions Vital to the National Interest (MAVNI) program, which authorizes the U.S. Armed Forces to recruit certain legal aliens whose skills are considered vital to the national interest.
The security and spying problem is huge because there is a huge number of Chinese technology experts in commercial and academic research centers around the nation.
Also, corporate recruiters and university laboratory directors have no way to check the candidates' bona fides or to protect them from home-country pressure by China's spy agency, even if 99.99 percent have no desire to steal commercial technologies or defense secrets.
Federal data shows that taxpayers funded roughly 10,000 Chinese researchers in U.S. universities in 2010. These "post-doc" researchers are widely used as cheap labor in prestigious, government-funded biotech and engineering laboratories.
The cheap-labor program also pushes many young Americans — especially women — out of the high-pressure, low-salary science sector. Fewer than half of the post-docs in university laboratories are now Americans after decades in which the government's science agencies have tried to lower young scientists' wages by upping the supply of foreign researchers.
Other Chinese students graduate from college into jobs via the three-year Optional Practical Training program. According to the Pew Research Center, roughly 69,000 Chinese were enrolled in the program during 2017, which offers one-year work permits to non-technology graduates and a three-year permit to technology graduates.
Many former foreign students use the OPT program to win H-1B visas, which can be renewed many times and be converted by their employers into green cards. In 2017, roughly 20,000 Chinese won H-1B visas, joining many other compatriots in the workforce who won H-1B visas in prior years.
The federal government provides patchy data on the H-1B program, so there is no public estimate on the total number of Chinese who are using the H-1Bs to work in the United States. But the available data suggest that at least 70,000 Chinese graduates are using the H-1B program to work in the United States.
These Chinese graduates tend to be hired by elite companies, including Amazon, Microsoft, and Google.
Many of the companies also sponsor Chinese H-1Bs and even OPTs for green cards and citizenship.
U.S. companies sponsored 8,603 Chinese citizens for green cards in 2017, and 10,846 in 2016, according to the government data at MyVisaJobs. If 2017 number had been level for five years, then companies would have sponsored citizenship for 43,000 Chinese employees since 2013.
Google sponsored 1,299 Chinese for green cards from 2014 to 20017, while Facebook sponsored 461 Chinese, according to the site.
Super Micro – the company whose products were reportedly sabotaged by China's spy agency – asked to hire 139 H-1B visa-workers from 2014 to 2017, and to get green cards for 33 foreign workers, according to the government data presented by MyVisaJobs.com. The government data provided by MyVisaJobs does not provide nationality data for H-1B recipients, but it does show that the company sought green cards for 12 Chinese experts. The company also sponsored 20 ethnic Chinese from democratic Taiwan, which split off from communist China in 1949 at the end of a long civil war.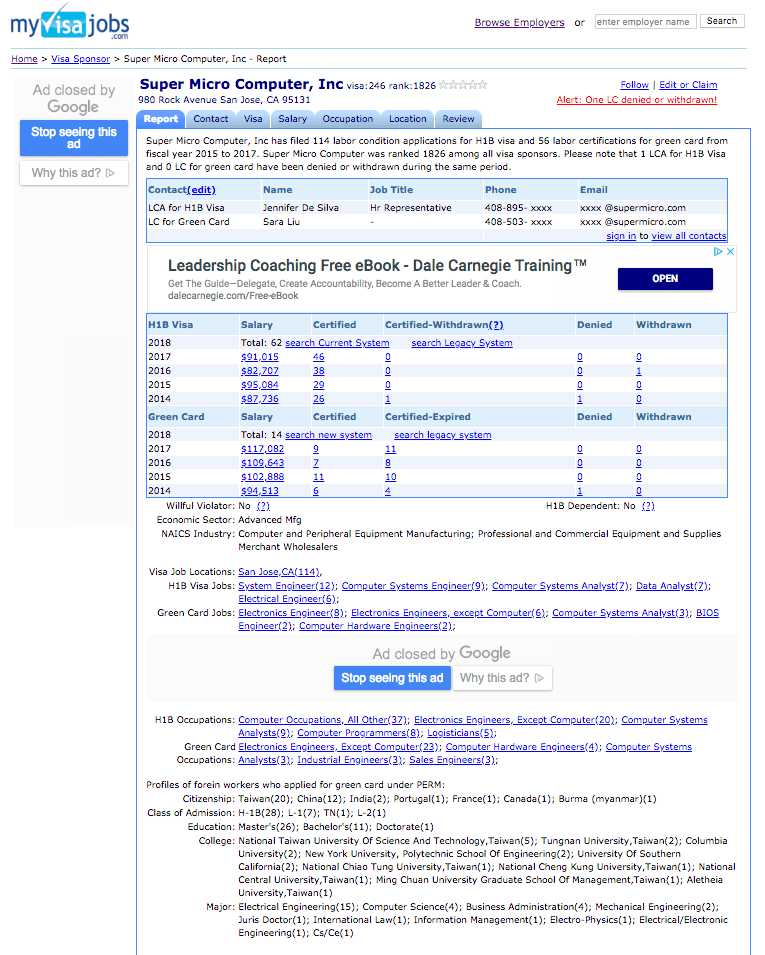 The existing "country caps" on the green-card process has delayed the award of green cards to many Chinese researchers. However, those caps may be removed this fall if Congress passes legislation pushed by Kansas GOP Rep. Kevin Yoder and by Utah GOP Sen. Mike Lee.
Amid the security concerns, Donald Trump's deputies have begun to restrict the employment of Chinese-born workers. The Associated Press reported in May that:
a U.S. official said that according to instructions sent to U.S. embassies and consulates, Chinese graduate students will be limited to one-year visas if they are studying in fields like robotics, aviation and high-tech manufacturing. China identified those areas as priorities in its "Made in China" 2025 manufacturing plan.

The instructions also say that Chinese citizens seeking visas will need special clearance from multiple U.S. agencies if they work as researchers or managers for companies on a U.S. Commerce Department list of entities requiring higher scrutiny. Those clearances are expected to take months for each visa application, the official said. The official wasn't authorized to comment publicly and requested anonymity.
Tougher trade talks are also intended to curb Chinese spying. Bloomberg reported:
The ramifications of the [Super Micro] attack continue to play out. The Trump administration has made computer and networking hardware, including motherboards, a focus of its latest round of trade sanctions against China, and White House officials have made it clear they think companies will begin shifting their supply chains to other countries as a result.
FBI officials have also stepped up their efforts to frustrate Chinese spying and recruitment. In March, FBI Director Christopher Wray told NBC News:
In our experience, there is no nation that targets America's assets more aggressively than the Chinese government. The Chinese government works hand-in-hand with Chinese companies and others to do everything they can, through all sorts of means, to try to steal our trade secrets, our economic assets. It involves things as varied as efforts to gain and steal trade secrets related to corn seeds in Iowa all the way to control systems for wind turbines in Massachusetts. And it a real issue and ultimately, it is going to have  a real impact on American jobs, Americans businesses and American consumers.
The Pentagon's September report urges the Department of Labor to step up technical training for American youths, but it does not urge a rollback of the visa programs.
GOP and Democratic politicians, on behalf of lobbyists, are publicly protesting the renewed defenses against China.
In June, for example, California Democrat Rep. Judy Chu protested the focus on Chinese spying, saying in testimony drafted for a Senate hearing:
 ideological divisions in our country are causing attacks on immigrant communities and certain visa holders who are under heightened scrutiny due to national security concerns, including fears of espionage from foreign countries.  In particular, scrutiny sharply increased for Chinese nationals applying for student and employment visas to pursue opportunities in STEM fields

…

There is no question that we must fight against economic espionage and threats to American innovation and security.  But in this process, we must not ensnare innocent individuals or let the fear of espionage compromise our fundamental values of liberty, due process, and equality.  It is dangerous to categorize an entire country of people as a threat to our national security, and I urge you to reject these overly broad and xenophobic attempts to build a case that Chinese students and employees should be viewed with more suspicion than others.
Democratic Sen. Dick Durbin suggested the new security steps may be racist, according to a report by the Amerian Institute of Physics:
Durbin noted America's "long and sad history of discrimination against China," pointing to the Chinese Exclusion Act of 1882 and subsequent immigration quota restrictions. He also stressed the many contributions that international students make to the U.S. economy and national prestige, highlighting the career of Daniel Tsui, a Chinese immigrant who received a Ph.D. in physics from the University of Chicago and went on to win the Nobel Prize in Physics in 1998.
Republicans also protested the new security measures, the AIP reported:
Senate Majority Whip John Cornyn (R-TX) explained that he convened the hearing to "raise awareness" about espionage threats posed by foreign students, particularly those from China. However, Cornyn stressed he is "not interested in restricting student visas" and pointed to his history of supporting immigration policy changes that make it easier for foreign STEM workers to come to the U.S. He said the hearing was meant to focus on "the narrow concern, although we don't know exactly how broad it might be, of those who want to exploit our open society and our open university system."
Trump is also facing opposition from his own officials. Breitbart News reported Oct. 3:
The U.S. ambassador to China has temporarily blocked a proposal by White House aide Stephen Miller to "make it impossible" for Chinese citizens to study in the United States, according to the Financial Times.

The report, which includes a description of the meeting where President Donald Trump sided with Ambassador Terry Branstad, also warns that Trump may develop alternative reforms amid the growing worries about the Chinese government's determined theft of U.S. commercial secrets and scientific discoveries.
This opposition also stripped from the 2018 defense bill a measure to deny research funding to researchers who are linked to Chinese or Russian recruitment efforts.