LOS ANGELES, California — Los Angeles County has painted the "Progress Pride" flag on two lifeguard towers, adding the transgender pastel colors to the Rainbow flag that was once the ubiquitous symbol of LGBT Pride.
The towers, formerly sky blue, are located at the southern end of Will Rogers State Beach, near the boundary of Santa Monica, north and south of the outflow of Rustic Creek into the ocean. That location is often frequented by LGBTQ sunbathers, particularly on the weekends.
The redecoration is a project of Los Angeles County, according to the artists, who spoke to Breitbart News on location, and it is intended to be permanent.
A lifeguard on the scene told Breitbart News that the original Venice Pride Flag Lifeguard Tower, which is painted in the traditional rainbow flag, will not be changed, as it is considered to have unique historic value.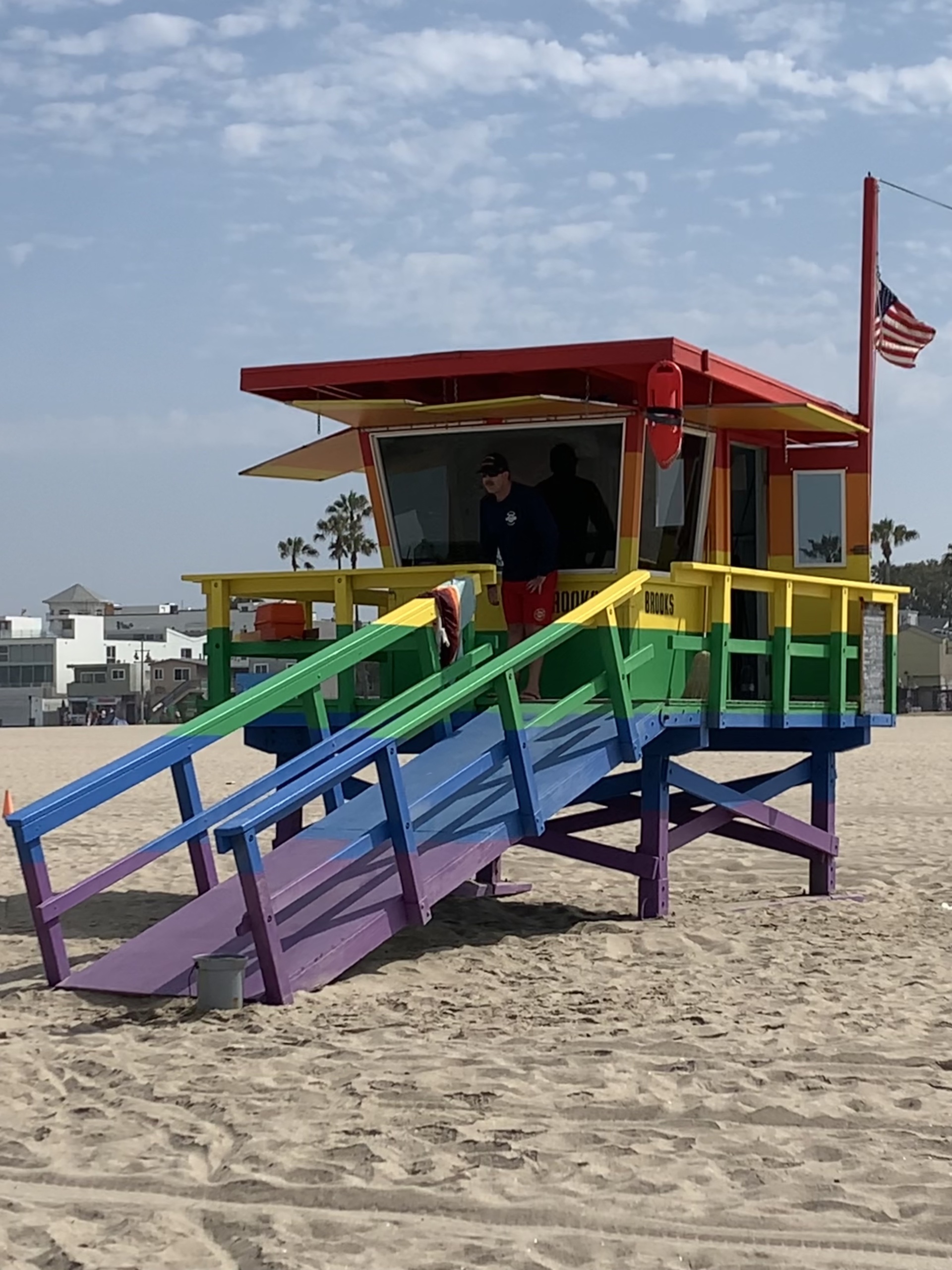 In the new design, the rainbow is dominated by the transgender portion of the flag — perhaps an unintentional nod to the fact that transgender policies have recently come to dominate public debate about LGBTQ issues.
The redecoration coincides with Pride month, which is being observed with events throughout Los Angeles.
The beach is near the Pacific Coast Highway, and features broad sandy stretches, as well as abundant wildlife. As this reporter took photos, dolphins were visible just beyond the break, and a snowy egret caught a small fish.
Joel B. Pollak is Senior Editor-at-Large at Breitbart News and the host of Breitbart News Sunday on Sirius XM Patriot on Sunday evenings from 7 p.m. to 10 p.m. ET (4 p.m. to 7 p.m. PT). He is the author of the new biography, Rhoda: 'Comrade Kadalie, You Are Out of Order'. He is also the author of the recent e-book, Neither Free nor Fair: The 2020 U.S. Presidential Election. He is a winner of the 2018 Robert Novak Journalism Alumni Fellowship. Follow him on Twitter at @joelpollak.