Bestselling author John O'Neill joined SiriusXM host Rebecca Mansour and guest host John Carney on Friday's edition of Breitbart News Tonight to discuss his new book, The Fisherman's Tomb: The True Story of the Vatican's Secret Search, which chronicles Pope Paul VI's quest — with the help of a billionaire Texas oilman and an agnostic archaeologist — to find the burial place of the apostle Peter, the first pope.
O'Neill spoke of Pope Pius XII and his successor Pope Paul VI's decision, beginning in 1939, to determine the veracity of the Christian oral tradition detailing the apostle Peter's crucifixion and burial on Vatican Hill in Rome.
LISTEN:

To finance in this quest, O'Neill explained, the Vatican "got virtually unlimited financing from a guy in the Texas oil business whose name is George Strake, whose story is fantastic and unbelievable by itself. He gave away the equivalent of billions of dollars. He gave it all away secretly without ever telling anyone and gave it away while he was alive on the condition that no one could ever know his name, and until this book no one ever did know."
Both Pius XII and Paul VI assumed political risks in pursuing the truth of St. Peter's death because the story of St. Peter lays the foundation of the papacy's connection to Rome. According to O'Neill, "invalidation" of this story "would be a deeply unsettling discovery."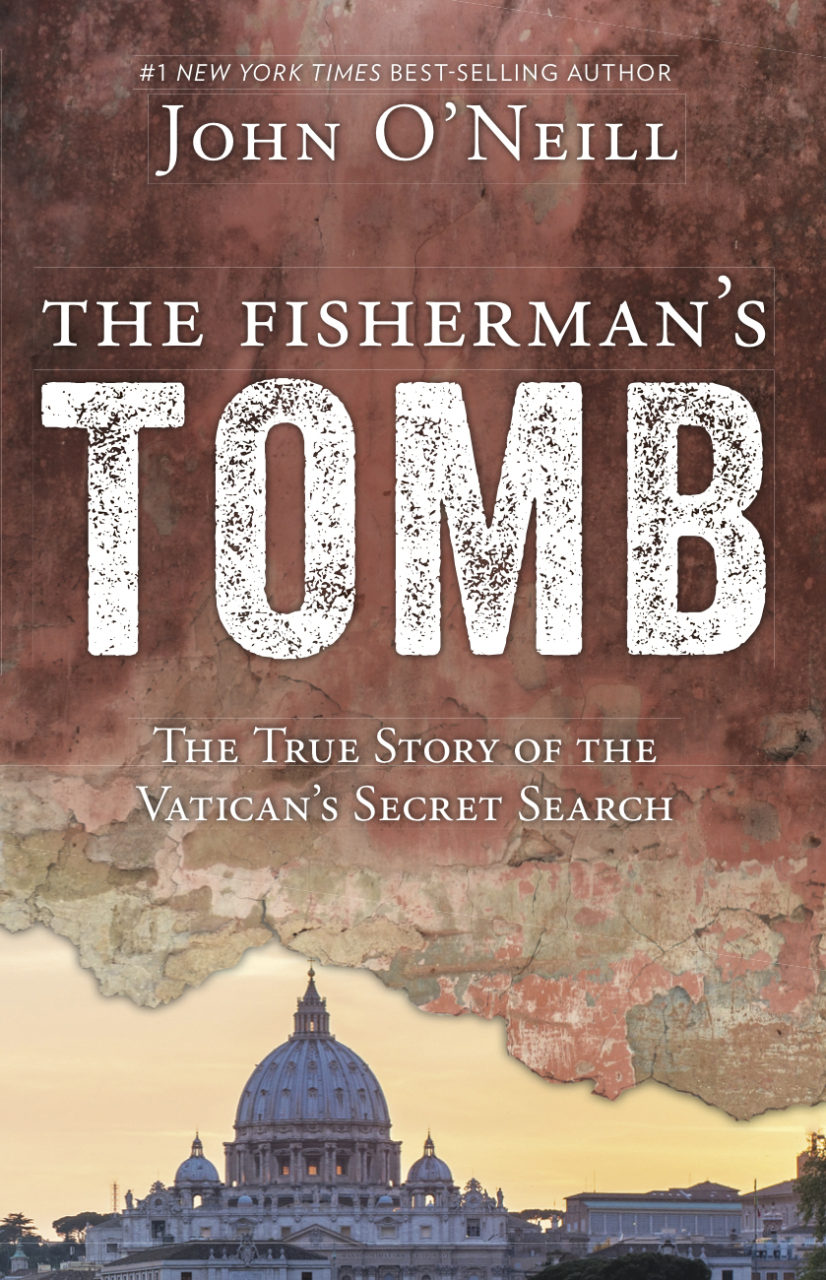 O'Neill wrote, "If scientific evidence proved the long-held tradition of Peter's burial beneath the Vatican to be false, it could cause people both within and outside the Church to call into question much more fundamental Church teachings. Pius XII, 260th in the long-claimed succession of Peter, certainly recognized this danger. If the excavations proved that Peter had never been in Rome, the Church's credibility in other matters – especially after centuries of upheaval – might become subject to serious doubt. If Peter never really came to Rome – if he was never really the leader of a Christian community there and never really passed along his authority to a Roman successor – even the pope's authority and credibility could more easily be called into question."
O'Neill characterized Pope Pius XII as brave to undertake such an operation during World War II. He stated, "It was such an incredible act of courage by Pope Pius XII to authorize this going forward, right as WWII was going on and the Vatican was surrounded by Nazis and fascist blackshirts. It was an incredible act of faith."
O'Neill discussed renowned archaeologist Margherita Guarducci's central role in the search for St. Peter's bones. He wrote of challenges she faced as a female in her field in 20th century Italy, "Twentieth-century Italy was profoundly sexist. The Italian female stereotype of a mother cooking pasta was, in fact, not an atypical view held in that place and age. Margherita Guarducci profoundly broke the mold. By all descriptions, she could be considered an early Italian feminist, accomplishing amazing archaeological breakthroughs, in a time and profession dominated by men. She was deeply in love with men — but they were men who had died thousands of years before her birth. She had little use for the men or world of her time. While existing in the present, she lived in the past."
O'Neill also discussed "intrigue in the Vatican" following Guarducci's ascendance — via Pope Paul VI's selection of her — to leading the project to discover St. Peter's remains. She replaced all the men previously assigned to archaeological work on the matter in the Vatican.
O'Neill said of Guarducci's professional legacy, "[She] made some other unbelievable discoveries. She became acknowledged generally as one of the greatest archaeologists of the 20th century."
O'Neill noted how tours are now available of the excavations below St. Peter's Basilica in Vatican City. He said, "You can now go — if you can get the hottest ticket in Rome — and you can actually go below the Vatican on the so-called Scavi tour. You can tour those huge Roman rooms and then see the actual simple graves of these folks, including Paul VI, whose last words were, 'Bury me near Peter. Bury me in the dirt without any monuments, like Peter,' which is exactly what they did and exactly where he's buried."
O'Neill described the story detailed in his book as reinforcing as ratifying his faith. He remarked, "I've always thought the inscriptions are even more important because they contain exactly the fundamental things that Christians believe in today. There's been a tremendous attack on Christianity, claiming it's all a cult, it all was just made up as it went along. Well, let me tell you, they were carving it on rock in the first and early second centuries, the doctrine of the resurrection, the doctrine of redemption through Christ's sacrifice. It's all right there in rock, carved by these people who could be killed. This whole site was only 400 yards from the emperor's palace where these guys were carving it. So it's an amazing thing. It's very faith-affirming. The story itself is one of those most amazing archaeological mysteries in history, really, and an incredible story of adventure."
Mansour described the story as a "thriller" that is "a cross between Indiana Jones meets Quo Vadis and Lara Croft."
O'Neill added, "The truth is there really was a Peter. There really was a Jesus. Peter really was killed. His body was actually buried right there on Vatican Hill after Nero killed him by crucifying him upside down. The guys that believed in him buried him there, and they began under threat of their lives to scratch prayers and the things they believed. That all really did happen in the first century."
Breitbart News Tonight broadcasts live Monday through Friday on SiriusXM's Patriot channel 125 from 9:00 p.m. to midnight Eastern (6:00 p.m. to 9:00 p.m. Pacific).
Follow Robert Kraychik on Twitter @rkraychik.