Breitbart Senior Editor MILO has donated the sum of $17.76 to a bail fund set up for left-wing protesters who were arrested after blocking the entrance to the venue for his lecture on Islam at Michigan State University yesterday.
There were early signs of protest at Michigan State, with flyers likening MILO to Adolf Hitler distributed around campus by leftists on the day of the event.
Shortly before MILO's talk was set to take place, protesters organized by the leftist group "Which Side MSU?" blocked the entrance to the event. After ignoring police request to clear access to the venue, approximately six protestors were detained.
In the wake of the arrest, Which Side MSU set up an online fund for the bail and legal fees of the six, who they said were arrested for "fighting university-approved bigotry."
MILO has given a donation to the bail fund, giving a total of $17.76. It is not clear if Which Side MSU? intend to keep the donation.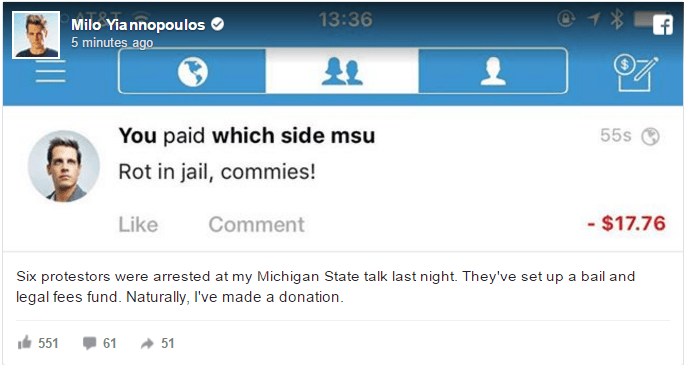 In a comment, MILO said:
"I think these poor dears have suffered enough, don't you? They were comprehensively humiliated. Not only did my team and I troll them all by infiltrating their ranks (with much more aesthetic placards than theirs, I might add), but we also captured their banner! And then they got arrested for getting mad. Tragic! I only hope that my generous donation, paid for with money from an actual job, encourages these commies to reconsider the virtues of free-market capitalism."