Recently I turned on the TV to catch up on the world of sports. You know, as in scores and athletic accomplishments. Instead, I was met with soap opera after soap opera that just happened to include a basketball here and a football there. Rather than wins and losses, I was peppered with coaches gone wild at Rutgers, alleged gridiron scandals at Auburn, and more accusations of players doping. If I wanted this I would've recorded Gossip Girl. Where's the feel-good stuff?
I found it in the Wolverine State.
This year was a good one for Michigan hoops, as the maize and blue came within one victory of a national title. Players like Trey Burke captured the imagination of the country. But, there's another Michigander who became an overnight sensation due to his on court performance and he doesn't even shave yet. His name is Owen Groesser, and he's my favorite three-point shooter.
Owen is an eighth grader with Down Syndrome who served as basketball team manager at his junior high school. Owen did such a great job that his coach rewarded him by letting him suit up for the team's last game.
Not only did Owen dress for the Van Hoosen Middle School Vikings, he got in to the game. The crowd cheered and his family beamed. Good enough, right? Not even close.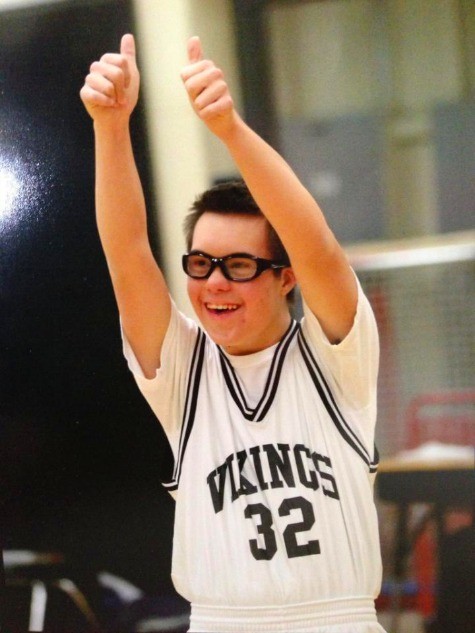 Owen buried two long range shots to send the fans into a frenzy. Three-pointers soon to be heard 'round the world. When Owen's incredible performance hit the Internet, the response was huge. Soon a campaign started to get him on SportsCenter. 
Palin, who has a son with Down Syndrome, commended ESPN for showcasing Owen's big game.
Owen's inspirational performance was back in January, but he's still getting acknowledged and in the process, he's bringing people together. The Detroit Pistons invited Owen to a game recently at The Palace of Auburn Hills. He got the All-Star treatment. Owen took the court with coach Lawrence Frank, warmed up with the club, and met with the team, including his favorite player Brandon Knight.
The Pistons aren't the only ones who have reached out to Owen. Michigan State coach Tom Izzo provided Owen, a Spartans fan, with an autographed cap. There's now talk the Detroit Tigers may be planning something special for Owen as well. Talk about a field of dreams. 
Along with his mom Kari Groesser, Owen is my guest this week on The Palin Update on SarahNET Radio. When I asked him about that special night when he nailed two three-point field goals, Owen summed up his feelings nicely. 
"I never give up," he told Breitbart Sports. "It feels good and fun."
As far as his NBA experience that most guys his age can only dream about, Owen again was succinct and not unlike his long range touch, on the money. "It was my night," Owen said.   
ESPN is not done with Owen either. A lengthy E:60 segment featuring this sports loving young man is expected to air soon. 
While he's now known for his prowess on the hardwood, Owen is an all-around jock. He's competed in football and wrestling, and now he's running track.
Thanks to his video going rival, Owen has lots of fans these days, but perhaps his biggest fan puts it best.
"He walks a little taller," Kari Groesser said. 
Owen's mom told Breitbart Sports that he was already well known around town and even called "The Mayor" by some, but his confidence has just soared since Governor Palin and others helped spread the word about him. "I'm just Owen's mom and all the sisters are just Owen's sisters," Mrs. Groesser said with a smile. The basketball coach at Van Hoosen Middle School even has a sign on his desk that reads "Owen's Coach."
During her well-received speech at the Terri Schiavo Life & Hope Network's Award Gala earlier this month,  Palin touched upon how her son Trig finds great accomplishment in not just the big moments in life but in the little things. Kari Groesser has seen the same wonderful attitude from Owen. She points to allowing Owen to just be one of the guys as a major reason for his success. The Groessers always "throw him to the wolves" and treat him like any son or brother. Owen has always thrived.   
Palin's youngest daughter Piper once told her mother that she's glad she doesn't have a "normal brother" because that would be boring. Just like Trig Palin, who celebrates a birthday this week, Owen Groesser is anything but boring. He's inspired a family, a basketball team, a town, and a country.
 
We are sure to have many more negative sports stories in the coming weeks. But, the next time an athlete let's you down, just remember Owen Groesser, who continues to lift all of us up.
 
Like a three-point bomb that finds all net, Palin nailed it back in January when she perfectly assessed Owen's basketball accomplishments. Palin said, "today's world needs more of this!"
With loving, capable kids like Owen and Trig around, I'm certain there's plenty more to come.
Photos courtesy of Groesser family