Sailors from around the country are making their final preparations for the 105th Chicago Yacht Club Race to Mackinac, kicking off Saturday morning in Chicago. "The Mack," as it is known, is the oldest annual freshwater distance race in world, dating back to 1898.
Between 300-400 boats and over 3000 sailors compete annually in the 333-mile, often storm laden, two-to-three day journey up and across Lake Michigan.
Check out this wild video footage from the 2011 storm that swept across the race course, damaging hundreds of competing boats, and for the first time in the race's 100-plus year history, took the lives of two competitors.
The race starts at the Chicago Light House just offshore from Navy Pier. From there, they will make the trek north along the western side (Illinois/Wiscsonsin) of lake Michigan, until making the strategic decision to head east across toward Michigan.
Skippers will then have make the decision of how long to stay out in the lake, or move inshore, where they will shoot for Point Betsy on the Michigan shoreline, and then up to the legendary Sleeping Bear Dune, at the entrance to the the Manatou passage. Indian legend holds that the enormous sand dune, "Sleeping Bear," represents a mama bear looking offshore toward North and South Mantou Island, which represent her two cubs that drowned while crossing the lake in severe storm.
Boats exiting the Manatou passage will cross Grand Travers Bay and then up through Gray's reef, before making a hard right turn to the east toward the finish. From there, it's a drag race through the straights of Mackinaw, the body of water adjoining Lake Michigan to Lake Huron. They will finally pass under the western hemisphere's longest suspension bridge, the Mackinac Bridge, connecting upper and lower Michigan, and cross the finish line just off Mackinac Island in Lake Huron.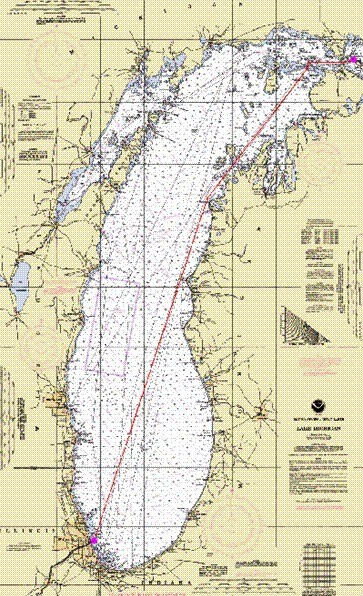 There are no cash prizes in the Mack Race. Winners and top finishers in their respective class receive trophies and brag flags, and a spot on the podium at the infamous "rum party," held at the historic Grand Hotel on Mackinac Island.
All competing boats can be tracked at Yellowbrick Tracking. There will also be race coverage through social media on Facebook and Twitter. The race hashtag is #CYCRTM. The start of the parade can be viewed live in person at the end of Chicago Navy Pier, and those who cannot make it down can watch on the livestream here.
Breitbart Sports will be bringing photo and video coverage of the race from yours truly onboard Badge, a two-year old French built Beneteau First 40 racing in Section 4.
Follow @Rebelpundit on Twitter, hashtag #CYCRTM #BreitbartSports for on-board race updates.