The Sports Hangover throbs after watching Cotto-Martinez live from Madison Square Garden, pulling a Rosie Ruiz on a Central Park road race, and a ride home on a Peter Pan bus whose air conditioning unit imitated his machine siblings in San Antonio. Do you think Steve Coburn might have a harder time recovering from the weekend?
Mr. Ed Talks More Sense Than Steve Coburn
Everyone in America rooted for California Chrome to win the Belmont Stakes. Then everyone in America was glad he lost once the horse's owner opened his mouth. Characterizing the owners of most of the thoroughbreds racing California Chrome as "a bunch of goddamn cheaters" for opting out of earlier Triple Crown races, co-owner Steve Coburn conveniently ignored that his horse tied for fourth. When you don't win, place, or show, you don't complain.
Was Man o' War a "cheater" for winning the Belmont Stakes after skipping the Kentucky Derby? Aficionados generally place him behind Secretariat on lists of the best thoroughbreds in history. More pertinent to the current controversy, the same Belmont family that raced Man o' War gave the final leg of the Triple Crown its name. Would Coburn have refused on principle to accept the Belmont Cup because its designer, August Belmont, Jr, was a "cheater" for running Man o' War at Belmont after staying home from Churchill Downs?
As a relative newcomer to the sport, Coburn can be forgiven for overlooking the history–and his own irony. But it's his arrogance, not his ignorance, which grates most. When you delve into a new pursuit with its own traditions and etiquette, you open your ears and shut your mouth. Is it too easy to call Coburn a horse's ass? Mr. Ed surely would have been more measured in his words.
Winners say "congratulations" upon defeat. Losers say "no fair."
AC + Powerade = Heat Win
The Spurs air conditioning "malfunction" was some real Red Auerbach gamesmanship. LeBron James rebounding in game two with a 35-point-game performance on 64 percent shooting was the stuff of legend, Larry Legend. The Heat boast a 1-0 record with the AC turned on this series, which bodes well for the final five games. For his part, LeBron has finished every game this series in which he has chugged down the Powerade. AC + Powerade = Heat series. It's science.
Madison Square Garden Explosion
It's hard to top the adrenaline and excitement of pay-per-view-caliber boxing. Add into the mix the sweet science's most historic venue and a Puerto Rican hero fighting on the eve of the Puerto Rican Day Parade, and it takes the exhilaration to a new level. Watching underdog Miguel Cotto's domination and dismantlement of middleweight champion Sergio Martinez before 21,090 screaming fans stands as a highlight in a history of watching live boxing that dates back to seeing Marvin Hagler perform a four-round exhibition in the Providence Civic Center back in 1981.
Alone among the press-row pundits I informally polled did Tom Looney from The JT the Brick Show call a Cotto victory. But the fighter's surreal slow walk to the ring had me reassessing my pre-fight prediction. Recalling Bill Belichick's refusal to allow introductions for individual Patriots prior to Super Bowl 36, Cotto walked to the ring with neither spotlight nor music accompanying him. Without the aural and visual cues, a stunned sold-out crowd that had exploded every time Cotto appeared on the big-screen prior to the main event stayed silent when the man himself arrived in (super?) human rather than pixelated form. Cotto signaled that he would let his fists–not blaring rap music, not the crowd's applause, not a distracting light show–do the talking.
And talk they did. Instead of the Tommy Hearns to Pacquio's Hagler and Mayweather's Leonard, Miguel Cotto stepped into "great" status with the victory over Martinez. The remarkable way that he won–chin down on the constant attack, save for a few moments when he demonstrated that he would, like Martinez, get on his bicycle and box–deserves notice atop the fact that he beat a remarkable fighter.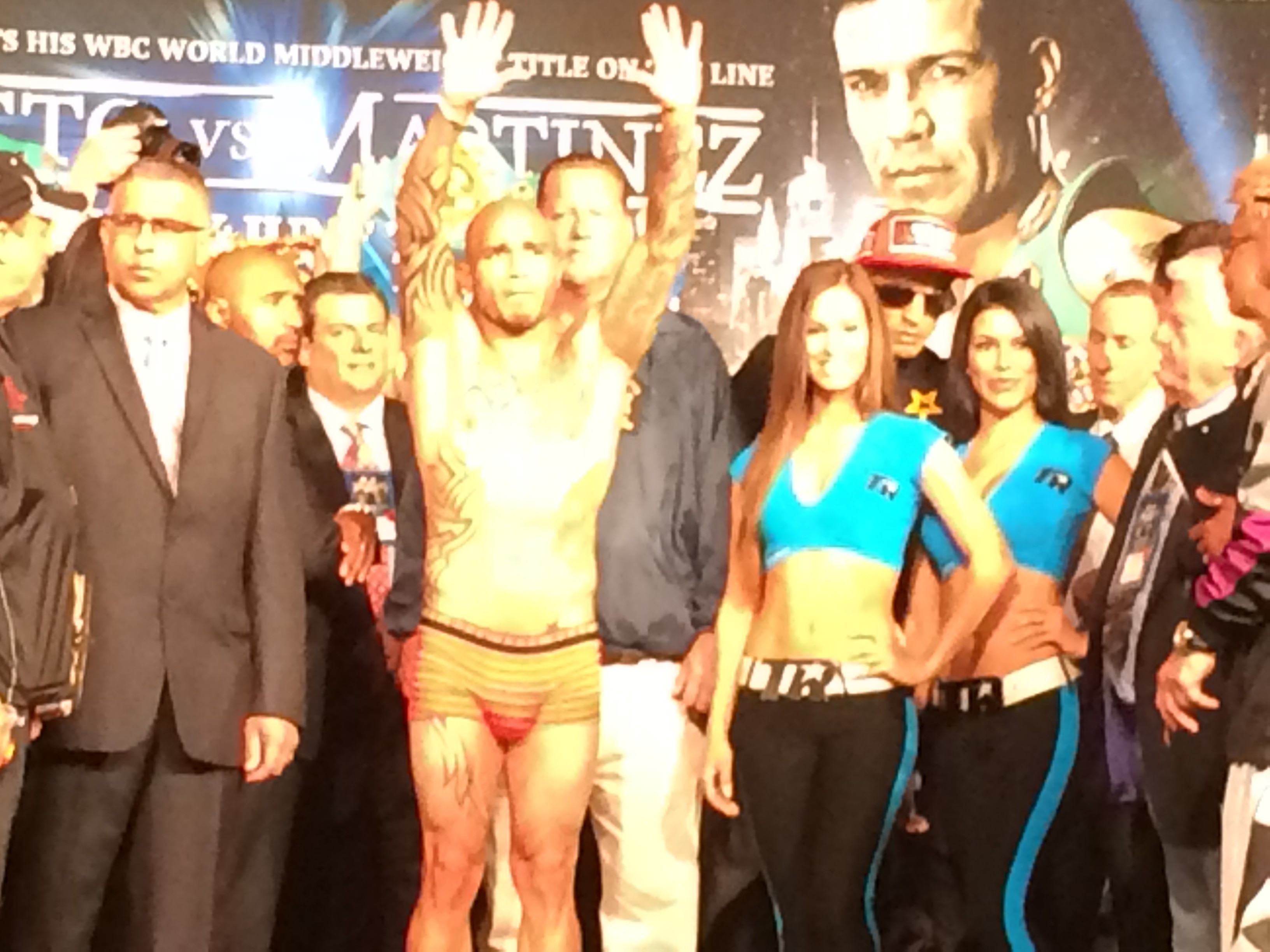 Ranger Implosion
Madison Square Garden has clothed itself in numerous giant banners announcing its tenant's appearance in the Stanley Cup finals. The arena's operators played highlights periodically during the Cotto-Martinez card showing the Rangers ahead–2-0 after one and then 4-2 after two. The sold-out crowd let out muted roars of approval. Given Madison Square Garden's Saturday-night status as one of the Big Apple's biggest Puerto Rican neighborhoods, the ticket holders didn't seem to care all that much (Is there a hockey arena in San Juan?). The Kings coming back to win in overtime, for reasons that seem altogether obvious, didn't make the big board–at least I didn't notice it. My press-row compatriots informed me of the stunning development. Coming home down two, the Rangers may have put themselves in the unenviable position of needing to take four of the next five games against a superior squad. They may play hockey as much in Los Angeles as they do in San Juan. But they would surely appreciate another Kings' Cup.
Knockout of the Year
I was at a loss for words to describe the out-of-nowhere knockout punch by "Irish" Andy Lee upon John Jackson. The largest newspaper in Ireland apparently was too. When a fellow press-row observer asked what punch felled Jackson, I yelled out a "hybrid hook-uppercut on the chin." My words travelled across the Atlantic. Here, and elsewhere, the words from my recap of Lee's stunning come-from-behind victory reappeared without attribution in The Irish Independent. One small example: I wrote that "Lee kept Jackson at bay with a long, stiff jab in the third"; The Irish Independent piece without a byline wrote that "Lee kept Jackson at bay with a long, stiff jab in the third." Might they more honestly call themselves The Irish Dependent?  
Lee clearly, even from my spot on the catwalk seats high above the arena floor, threw the perfect punch. Jackson, who had been dominating the fight and on the verge of finishing Lee, lost consciousness before he hit the mat. The punch recalled similar convergences of luck and skill engineered by Antonio Tarver upon Roy Jones, Juan Manuel Marquez upon Manny Pacquiao, and Manny Pacquiao upon Ricky Hatton. Just remember, if you see these words again, you heard it here first.
Rosie Ruizing a Road Race
Frederick Law Olmstead's firm designed the park that I jog through in my city shortly after they designed the most famous park in America. So, naturally, I took the opportunity to jog in Central Park upon my visit to the Big Apple this weekend. Stumbling upon a road race in session, I Rosie Ruized my way into the pack, received loud cheers from oblivious onlookers, and crossed the finish line sans a number pinned to my shirt. I don't feel guilty. A few weeks earlier, I entered a 5K that cost $33–$6.50 per K. You'd think for that kind of cash they'd at least give runners miles instead of measly kilometers. Unlike a gym, the price remains right for jogging at free. But Americans eagerly pay for their running like they do for their water. Doesn't that H20 in the bottle come from a tap, too? Anyhow, please don't report my offense to the race's organizers lest they send bill collectors in jogging suits my way.