NEW YORK – It would have surprised no one if Villanova players had come out with "Wildcats" across their backs instead of their names. Sunday they will likely be announced as one of the few teams to earn a 1-seed in any the tournament without any stars after defeating Xavier 69-52 to win the Big East title.
Villanova is so deep that their 6th man, Josh Hart, was voted the Most Outstanding Player of the Big East tournament. His teammates Darrun Hilliard and Dylan Ennis gave the team half of the six players grabbing tournament honors. Kris Dunn, the Providence guard who almost single-handedly defeated Villanova in the semifinal, Jalen Reynolds (Xavier), and D'Vantes Smith-Rivera (Georgetown) rounded out the All-Tournament team.
Al McGuire used to say you needed three-and-a-half stars to win a championship – Villanova showed Saturday that having eight really, really good players maybe the best way to win a conference championship grind with no off days between games.
Stars? Villanova was up 34-21 at halftime despite the fact that Big East co-Player of the Year Ryan Arcidiacono had not scored and only dished one assist. Perhaps the only Wildcat with an outside shot at the NBA is big man Daniel Ochefu, who also did not score in the first half.
No problem. The game was never in doubt virtually from the opening tip as every Wildcat contributed. Dylan Ennis hit a deep three-pointer 21 seconds into the game and Xavier never managed to tie it for the final 39:39 of play.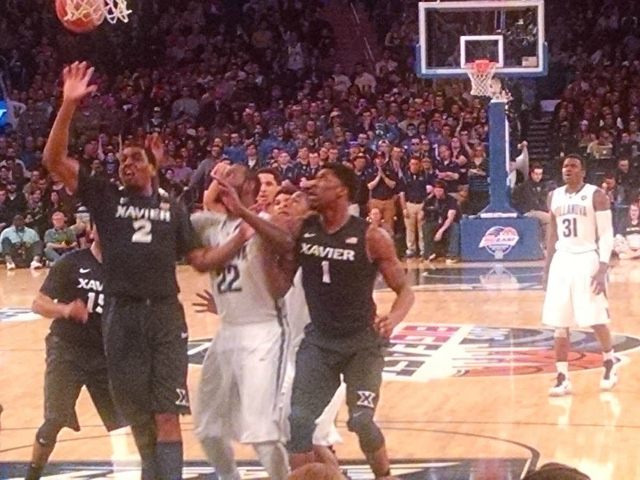 Phil Booth drilled a three-pointer with 5:49 to go in the first half to make it 25-14, and Xavier was never even able to cut it to single digits during the final 25:59.
By halftime, all eight Villanova players had some combination of at least three points, rebounds or assists – once again leaving a defense with no one on whom to focus.
Four different Villanova players hit three-pointers in the first half – some from well beyond the arc. Once the defense spread out to cover the deep threes, you could count on a couple of inside passes in the paint and cuts for lay-ups.
Often Villanova jumpstarts their offense with steals, but they took at 34-21 halftime lead with only one steal. But perhaps more important on Saturday they edged the big Xavier team 17-16 in rebounds.
Josh Hart stayed hot off the bench, hitting four of five in the first half to lead the teams in points (9) and rebounds (4).
"Our whole focus has been on winning the Big East title, this is something special," Big East Coach of the Year Jay Wright said. He told Breitbart Sports at the outset of the Big East tournament, "So much of the tournament really is about match-ups. Last year we drew UConn in the second round and no one knew they were that good. Then they go on and win the national title. We are going to have a game in the tournament where we really are going to have to gut it off because the other team is playing so well."
The bad news for Wright is that almost every Final Four team from the past 12 years has had at least three bona fide stars (click here for Breitbart Sports breakdown), and he does not have them. The good news for Wright is that he is one of the only coaches to get to the Final Four without three stars – a feat accomplished by his 2009 squad that was only a 3-seed – two spots below where his Wildcats should be accounted Sunday night.
The Wildcats ultimately won 69-52 and look forward to a favorable seeding on Selection Sunday.