Nothing beats the NHL playoffs. The Montreal Canadiens and Ottawa Senators game proved just that with an exciting, action-packed Game One.
In the first period, Abdrei Markov accidentally scored on his own goal to give the Senators a 1-0 lead. The air was let out of the Bell Centre, but things only got worse when star defenseman P.K. Subban appeared to high-stick an opponent, but it was called off. It foreshadowed of things to come.
Montreal came out fighting in the second period with two goals scored off stud goalie Andrew Hammond less than two minutes apart. Subban assisted on both, but that is where his luck ran out. Only fifteen seconds later, Subban slashed Mark Stone, Ottawa's top scorer. Stone immediately flailed, grabbed his wrist, and fell to the ice. As Greg Wyshynski said, the way Stone reacted, it looked "like someone had taken a chainsaw to this wrist and then left the ice."
Rule 61 states the player must receive a major penalty and a game misconduct. Was there an injury? Stone returned before the major penalty even expired. Subban was not thrilled when he found out Stone was on the ice.
"So this is either a terrible call, or someone with Wolverine-like healing powers, or one of the most devious things we've ever witnessed, a clever ruse to get Subban ejected," wrote Wyshynski.
The action continued. Ottawa answered with a goal at 10:36, but the penalty against Subban lit the fire under Montreal because Lars Eller scored a shorthanded goal a minute later! Wait! Ottawa remembered they owned the power play and Mika Zibanejad scored less than a minute after Eller.
Nonstop action. The cameras could barely keep up with the players zooming up and down the ice. A slight breather occurred before Brian Flynn ripped the puck past Hammond to put Montreal up 4-3.
It remained 4-3, but tensions remained sky high in the third period and peaked when the final whistle blew. Here is the penalty summary for the third: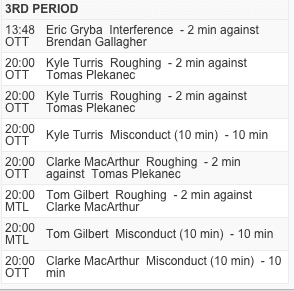 Gee, what does this look like? Oh yes! Game 3 two years ago. In that game, multiple players from each team had double digits in penalty minutes. That was Game 3. This was only Game 1.
Ottawa head coach David Cameron wants Subban suspended for at least one game….or else.
Dave Cameron just suggested that if Subban doesn't get suspended, perhaps a Sens player will do the same to a Habs player. Game on, folks.

— Ian Mendes (@ian_mendes) April 16, 2015
Hold onto your hats. The Montreal and Ottawa series might be the most exciting of the 2015 NHL Playoffs.