There is a major reason why Carey Price is expected to win the Vezina Trophy for best goaltending. The Canadiens goaltender again proved his worth as he shut out the Ottawa Senators 2-0 to advance Montreal to the second round.
It was literally all up to Price to save his team in Game 6. Look at the stats: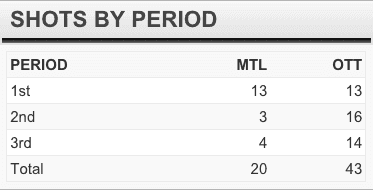 Brendan Gallagher managed to score midway through the first period and that was all the Canadiens needed except for Price. The goalie frustrated the Senators and their fans all night.
As Adrian Dater from Bleacher Report points out, Price was brilliant:
Price not only had to make tough saves, he had to withstand tackle-football situations on the follow-ups to most every save in the final two periods. Ottawa crashed the net in the most literal of terms, especially in the final three minutes when Ottawa went on the power play and also pulled Craig Anderson for the extra skater.
Montreal places a heavy burden on their net minder that might collapse upon him as the postseason plays on. The Canadiens scored four goals in regulation their last four games. Four.
The Senators had a shot to tie the game in the second period when Jean-Gabriel Pageau thought he scored, but the referee blew the play dead. Price and the ref thought the puck stopped with the goalie, but it got away.
Max Pacioretty scored an empty net goal with a second left in the game. Hopefully, the team buy Price a round or two in the next few days.