Earlier this year comic actor Will Ferrell went on a baseball tour of sorts appearing as a player all across the Cactus League. Now Ferrell is set to get his own baseball cards.
The baseball stunt was part of Ferrell's HBO special and featured the actor pretending to play several different positions on ten different teams early in March.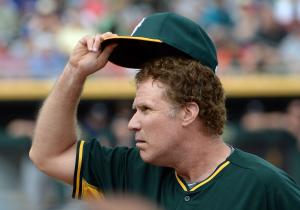 Now the actor is set to get his own baseball cards to commemorate the appearances.
Baseball trading card giant Topps announced via Twitter that it will be issuing a series of cards based on Ferrell's performances as a ball player. The cards will be part of the company's Archives Series.
You asked for it. We got it! Will Ferrell autograph cards coming to 2015 Archives Baseball pic.twitter.com/0UFodOnWKF

— Topps Company (@toppscards) May 6, 2015
Miss the news? Will Ferrell cards are coming to #Topps in 2015 Archives Baseball. Here he is on his @Dodgers card. pic.twitter.com/BV4R4Vd6ma

— Topps Company (@toppscards) May 6, 2015
We like the pictures on the Will Ferrell cards, but the backs are pretty cool too. @cut4 @mlb #MLB #baseballcards pic.twitter.com/vdJkWXw860

— Topps Company (@toppscards) May 6, 2015