Top-seed Serena Williams managed to escape into the French Open quarterfinals while defending champion Maria Sharapova lost in straight sets to Lucie Safarova.
Sloane Stephens, who defeated Venus Williams in the first round and Serena at the 2013 Australian Open, absolutely controlled the first set. She forced Williams to scramble in every game especially in those Williams served. She broke Williams three times, never faced a break point, and only committed two unforced errors. Stephens was always at the ready to attack when Williams served and was never caught off guard. It was brilliant tennis.
Williams has rarely played so poorly. She committed two double faults and 15 unforced errors. She walked a tad slower and looked like she played with clenched teeth. Williams struggled against Victoria Azarenka in the third round, when lost the first set before she fought back to snatch the last two sets. Did that match wear out the number one in the world?
Nope! The second set was a nail biter and the ladies managed to stay on serve the majority of the time. Stephens almost grabbed the upper hand with a break, but Williams fired back with a break. The set went to 6-5, but Williams won it 7-5 to avoid a tiebreak. Williams strutted back to her chair with a brand new air of confidence around her. She glided with every step and her face finally looked relaxed. There was no question who would win in the third set.
Williams slammed home four aces and broke Stephens three times. But it was not smooth sailing since Stephens never gave up. She never once showed frustration or anger. She did rattle Williams a few times, earning three potential break points. Williams answered all three and rescued all her saves. She won the match point when Stephens slammed the ball into the net.
Too Good: This beautiful winner from @serenawilliams gets applause – even from #Stephens. #RG15https://t.co/UUCzPR0mEA

— Roland-Garros (@rolandgarros) June 1, 2015
Williams' road to a French Open victory became a lot smoother when Safarova, the thirteenth seed, defeated Sharapova in straight sets. For every challenge Sharapova threw, Safarova was right there to answer it. Even when Sharapova gathered break points, Safarova fought back to secure her serve. The hard work wore out Sharapova, who lost 7-3 in the tiebreak. Sharapova's face looked exhausted while Safarova had a look on her face that told the world she could play five more sets.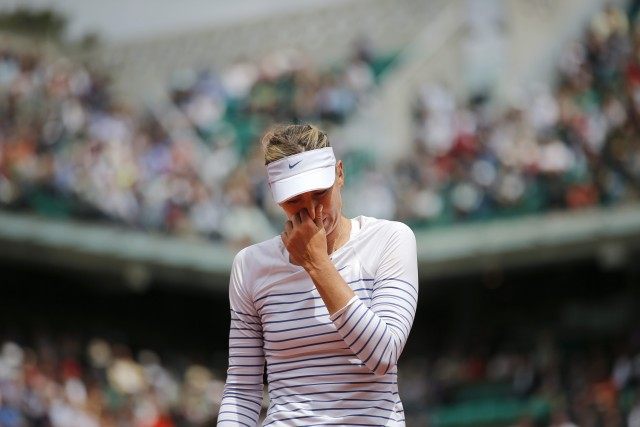 Safarova easily went up 3-0 in the second set, but this is Sharapova who does not go down easily. She made the set 4-5 while saving three break points, but it was not enough. Safarova seized the victory in the next game to win it 6-4.
Sharapova fought a nasty cold the last week and a half, but did not blame her illness on her loss. She did nothing but praise Safarova after the match.
"I think she's really picked up her level," she claimed. "I think she's much more consistent off of both wings. She's playing really aggressive. I think she has a little bit more time on clay, allows her to use those lefty angles a little bit more. And she's done that extremely well."
On the men's side, second-seed Roger Federer easily took out Gaels Monfils as they picked up their match, which was stopped on Sunday due to darkness and rain. Andy Murray continues his dominance on clay with a victory over Jeremy Chardy. David Ferrer demolished 2014 US Open champion Marin Cilic in straight sets.