Darryl Dawkins, a man mean to basketball rims but nice to people, passed away on Thursday after a heart attack at 58. He is survived by his many nicknames.
Chocolate Thunder, aka Dr. Dunkenstein, hailed from the Planet Lovetron, where he partook in "interplanetary funkmanship" with his alien paramour Lucy Juicy. On planet earth, his exploits appeared less believable. The Philadelphia 76er shocked players, spectators, and even YouTube viewers decades after the fact by ripping the rim from the backboard in a glass-shattering dunk against the Kansas City Kings in 1979. Dawkins called the spectacle in Kansas City, "The Chocolate-Thunder-Flying, Robinzine-Crying, Teeth-Shaking, Glass-Breaking, Rump-Roasting, Bun-Toasting, Wham-Bam, Glass-Breaker-I-Am-Jam." Others called their moms, cousins, and friends to tell them about what they just saw.
His power dunk again shattered the glass in Philadelphia a few weeks later. A penny-wise, pound-foolish NBA cracked down on the cracked glass, threatening fines and suspensions for players who harmed their equipment through violent dunks. Dawkins' glass-shattering antics, playing on a loop on early highlight shows, helped spark interest in an NBA ready to take off from its '70s low points with the arrival of Magic Johnson and Larry Bird.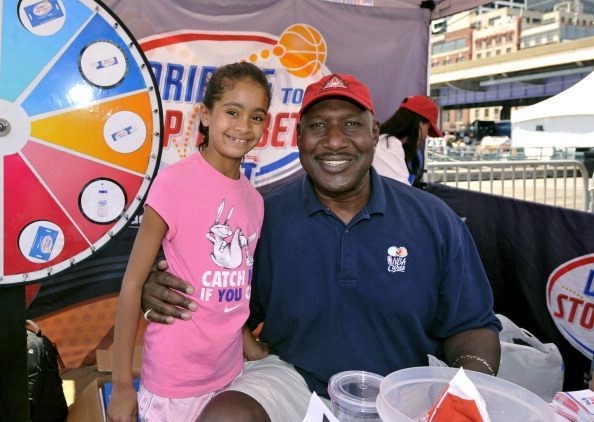 If Sir Slam's monster dunks failed to spark a backboard-breaking trend, his entrance in the NBA catalyzed another phenomenon. LeBron James, Kobe Bryant, Kevin Garnett, and other future Hall of Famers owe part of their careers—at least the first parts of them—to Dawkins. In 1975, the 6'11" high schooler became the first in a long line of players to go straight from the senior prom to the NBA draft (the NBA eventually put the kibosh on coming into the league from high school just as they party-crashed Dawkins' signature dunk). He said he didn't like watching his grandmother work two jobs, and signed a seven-year, $1 million contract to right the wrong.
But Dawkins, unlike the men he paved the way for, never quite fulfilled his promise. He made a greater impact on highlight reels than stat sheets and infused ABA fun into an NBA in which the "B" stood for boring.
Statement from the family of Darryl Dawkins pic.twitter.com/dLyT5GSRmX

— Marc J. Spears (@SpearsNBAYahoo) August 27, 2015
While the NBA played killjoy to Chocolate Thunder's backboard busting in front of fans, Dawkins famously shattered at least one more backboard. "I'll end this practice right now before it can begin," Chocolate Thunder remarked to Dr. J during an unwelcome session in a drafty, antiquated gym. As ESPN's Dave McMenamin relays, Dawkins proceeded to tear the rim from the glass. He informed Billy Cunningham, "Practice is over, coach."
Darryl Dawkins is over. He lives forever on YouTube.