Ronda Rousey faces a date with Holly Holm in the octagon just days after the Marine Corps birthday. But her date for the Marine Corps Birthday Ball appears a go due to the fortuitous delayed December 11 timing of a Camp Lejeune celebration and the accelerated scheduling of her fight with Holm.
Lance Corporal Jarrod Haschert, in a gutsy move making Chesty Puller proud, asked Rousey to the ball on YouTube: "You are my celebrity crush. I love everything you do and I think that you're a phenomenal person, which is why it would be my honor to take you to the Marine Corps Ball on December 11."
At about this time, the typical star might press pause on the video to see if the interested party recently checked out Catcher in the Rye from the library or keeps rolls of duct tape in the trunk. But Ronda Rousey, queen of the armbar and author of slo-mo judo throws, rates as an extraordinary star. Guys who get fresh with her don't live to tell the tale. "He's got to be a gentleman," Ronda told TMZ. "I'm not a first date kind of a girl."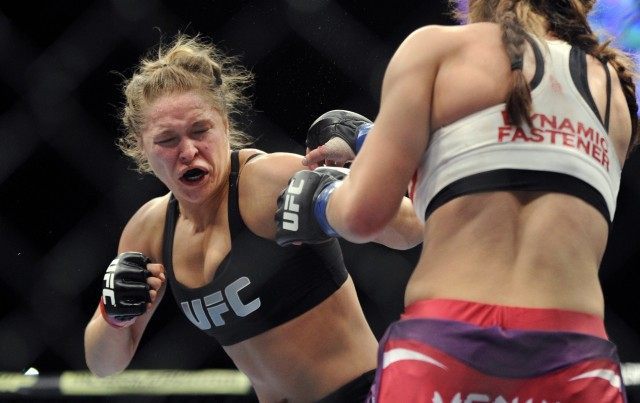 If Rousey is the kind of girl who drinks whiskey out of a kevlar helmet, the date with Haschert may lead to romance or perhaps an impromptu zero-dark-thirty PT session at the Camp Geiger obstacle course. And even if it doesn't, Haschert can at least claim more quality one-on-one time with Rousey than Bethe Correia, Cat Zingano, or Alexis Davis.
The UFC women's bantamweight champion, labeling her suitor "cute," told TMZ, "I would go, for sure. What do I call him? Or do I set up a time and place like Never Been Kissed?"
Rousey adds that she'd like for the lance corporal to secure dates for her Four Horsewomen stablemates Shayna Baszler, Marina Shafir, and Jessamyn Duke. They're looking for a few good men.