Conor McGregor moves up two weight classes to fight Nate Diaz tonight at UFC 196.
The Irishman punched Diaz's hand at the Thursday stare-down for the press. The Stockton, California-native evened the score by forcing the featherweight champion to flinch at Friday's weigh-in. Expect similar theatrics inside the cage.
People picking against McGregor look a bit like the Washington Generals at this point. He couldn't beat the American wrestler Chad Mendes because King Conor's kryptonite lay hidden on the mat. He couldn't beat the Brazilian Jose Aldo because the featherweight last lost a decade prior. But McGregor demolished the latter in 13 seconds and overcame adversity, and a nasty cut, to finish the former in the closing seconds of the second round. So you should doubt anyone still doubting Conor McGregor.
McGregor owns the better record (19-2 vs. 18-10) and the better resume (Dustin Poirier, Chad Mendes, Jose Aldo vs. Takanori Gomi, Gray Maynard, and Cowboy Cerrone). And his confidence beats Diaz's crazy.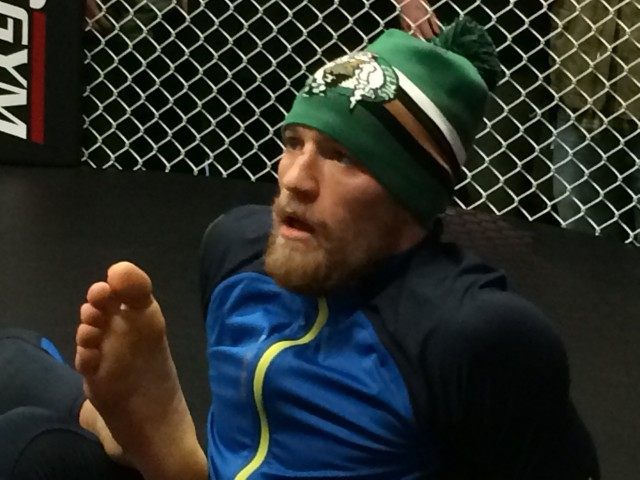 That said, reasons exist to peg Nate Diaz as a live dog.
McGregor, for once, enters the octagon against a taller, longer man. Last year, boxing heavyweight champion Wladimir Klitschko, after a career of using a mechanical jab to feast on shorter fighters, looked horrible in losing to the six-foot-nine Tyson Fury. Could the Notorious One similarly suffer in adjusting against not only a longer, taller fighter, but one who uses distance as effectively as the Irishman? Add to this Diaz's southpaw stance. McGregor, a southpaw himself, relies on his stance to befuddle the opposition. But here McGregor may be the one trying to adapt to incoming right jabs and overhand lefts. It's not as easy as it sounds. On top of all this stands the 170-pound question: How does a guy go from fighting at 145 in December to competing at 170 in March?
Working in the featherweight champion's favor at welterweight is the fact that his opponent fights just like Conor McGregor wants his opponents to fight. Nate Diaz stands and throws. He does so, unlike McGregor, without much threat of knocking out his adversaries. He's a volume puncher like his older brother. But he may be a better boxer (whereas his brother looks like the better brawler) than Nick. Nate Diaz made Michael Johnson look foolish in December. He put on a sweet science clinic, using a jab to keep his adversary at bay and then tagging him whenever the distance closed.
What Nate Diaz shows up in Las Vegas could determine the fight. He looked like a world beater in December. He looked like an egg beater against Rafael Dos Anjos the previous December. With just two week's notice, the best Nate Diaz showing up seems a bad bet. And it will take the best Nate Diaz to beat Conor McGregor.