Laremy Tunsil just a few weeks ago hoped to go first in the NFL Draft. Last night he did not even go first at his position.
Showing up on social media in a gas mask reconstituted as a marijuana bong can have that effect on a lineman's draft stock.
The Miami Dolphins drafted Tunsil thirteenth on Thursday. The Baltimore Ravens picked Notre Dame OT Ronnie Stanley ahead of him at six and the Tennessee Titans, the team rumored to covet Tunsil at one before they traded that pick, selected Michigan State OT Jack Conklin five sports ahead of him.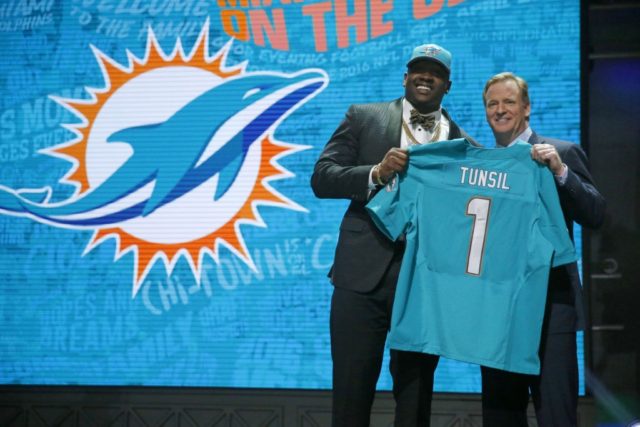 Hours before the draft, someone got into Tunsil's Twitter account and posted a video of a man who looks an awful lot like Laremy Tunsil smoking a substance that looks an awful lot like marijuana. The hacker also posted messages between Tunsil and Ole Miss coaches that showed the amateur player asking for rent money and for payment for his mother's utility bills.
"I made a mistake," Tunsil said about receiving money from Ole Miss coaches. "That happened."
He similarly owned up to the gas-mask bong video. "I made that mistake several years ago," he admitted.
The mistake cost him. Last season, the first pick signed a contract worth about $12 million more than the thirteenth pick. That can buy 1.2 million dime bags.
It's not as though NFL teams did not harbor reservations about the left tackle prior to the social-media meltdown. Tunsil's stepfather sued him for defamation on Tuesday and the manchild sat out much of last season because of improper use of a vehicle not owned by him.
Luckily for the new Miami Dolphin, South Beach offers few temptations, bad influences, or opportunities to get in trouble.