Manny Pacquiao, arguably the greatest boxing star in the history of the Philippines, has become the nation's newest senator, running on a pro-Christian, anti-poverty platform. The election victory this Monday likely cements his decision to retire from the ring.
Pacquiao, who served for three years as a congressman for his native Sarangani province, won a seat in the Philippine Senate with over 15 million votes, ensuring he would serve for six years. He campaigned on his life story, having risen from extreme poverty to riches through his boxing career. "If a leader has not experienced being poor, he cannot truly feel for the poor," he told voters at campaign stops, assuring them he knew "how it feels to go hungry for whole day, just drinking water to survive."
The emphasis on his poor background was a successful counter to his opponents' criticism that he spent too much time preparing for fights or mingling with celebrities in the United States while he was senator. Pacquiao's last fight was in April, during peak campaign season, against Tim Bradley. Pacquiao won, with Ring Magazine suggesting the fight itself worked as its own campaign advertising.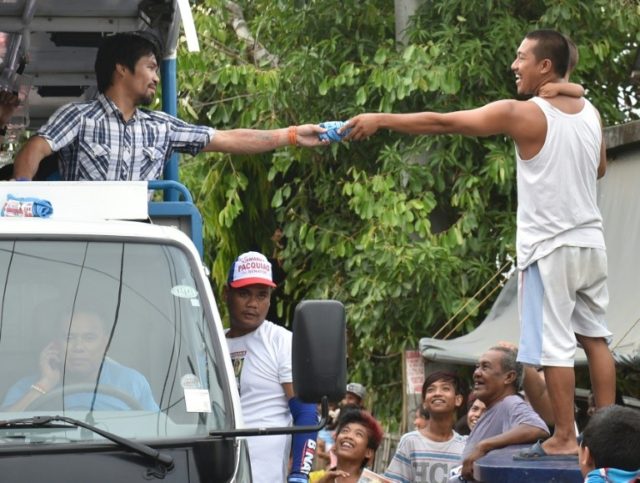 He received a campaign boost from the most popular politician in the country: Rodrigo Duterte, the nation's president-elect. While Pacquiao did not endorse his presidency, Duterte did endorse Pacquiao's Senate run. "Even if he is not on my side, kindly support Pacman. He is my friend. We are both from Mindanao," Duterte said at a rally, referring to the southern island they both call home.
Pacquiao also found himself losing a major athletic sponsorship over his opinion of homosexuality. Nike dropped Pacquiao after he described those engaging in homosexual relationships as "worse than animals," a statement for which Pacquiao tenuously apologized. While stating that he did not mean to cause emotional harm, Pacquiao reiterated in his second statement, "What I am saying is right. I mean I am just stating the truth, what the Bible says."
The statements returned to the public eye Pacquiao's vocal Christianity. Unlike most of the Philippines, Pacquiao is an evangelical Christian, having converted from his childhood religion of Catholicism. Pacquiao has stated that he "heard the voice of God" telling him to renounce his prior lascivious lifestyle and turn to faith. The conversion has dismayed even his mother, who has publicly criticized the move. Nonetheless, the Philippine Catholic Church defended Pacquiao's statements on homosexuality, perhaps numbing some potential pushback from Catholic voters.
Pacquiao's faith has also made him a target for the nation's major radical Islamist group, Abu Sayyaf, an affiliate of the Islamic State. President Benigno Aquino revealed in April that the terrorist group had aspired to kidnapping Pacquiao or one of his family members, a move intended not only to fill their coffers with ransom money, but send a message that no Christian in the Philippines is safe.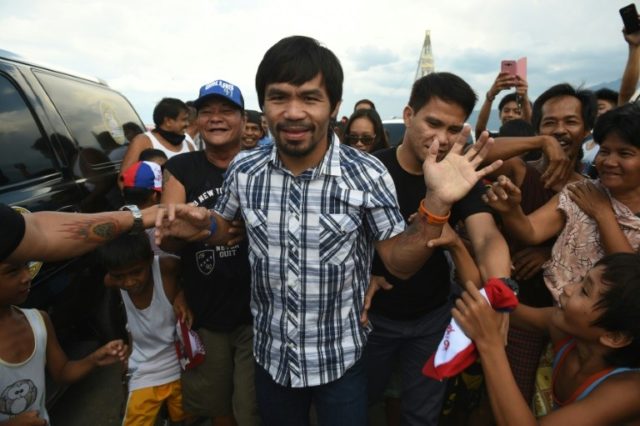 Pacquiao has promised to retire from boxing now that he is a senator, and boxing promoter Bob Arum believes him. "People say fighters always change their minds, but this is a different situation," Arum told ESPN after Pacquiao's election victory. "If a guy like Sugar Ray Leonard retires and two months later decides to come back because he's bored, he can do that. Manny can't do that, because he has plenty to do and an important job."
Pacquiao's coattails helped two of his siblings clinch public office, as well. Bobby Pacquiao, also a boxer, won his election to join the General Santos City council, where the family is from. Rogelio "Roel" Pacquiao has been elected congressman for Sarangani, replacing his brother.