Certain Hall of Famer, two-time NBA MVP, and the owner of five NBA championship rings Tim Duncan retires after nineteen seasons with the San Antonio Spurs.
During his tenure, Duncan led the Spurs to a 1,072-438 regular-season record. Duncan averaged 19 points and 10.8 rebounds per game since San Antonio chose him as the No. 1 overall pick in the 1997 NBA draft.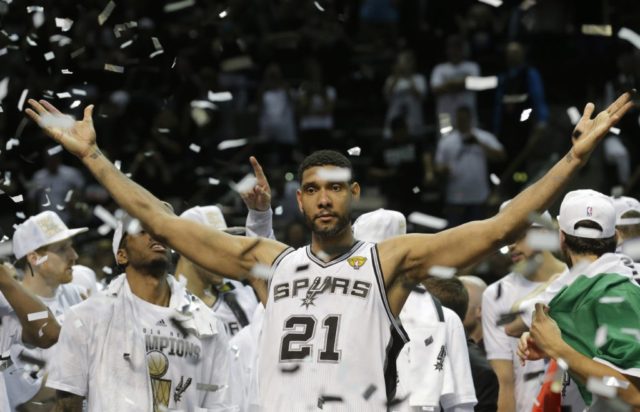 It didn't take long for the Virgin Islands-native and Wake Forest standout to make his mark as he won the 1997-98 NBA Rookie of the Year award while earning All-NBA First-Team honors. Duncan continued his NBA First-Team honors for the first 10 years that he played.
The forty-year-old power forward leaves the game as the 14th all-time NBA scorer with 26,496 points. The big man without the big ego led San Antonio to a remarkable run of championships in 1999, 2003, 2005, 2007, and 2014.
Duncan played his last game in an 113-99 loss to the Oklahoma City Thunder in Game 6 of the 2016 Western Conference semifinals on May 12. Although the most popular Spurs player for almost two decades demonstrated moments of his former self, overall he remained ineffectual for most of this past season's playoff campaign.
Despite the lackluster postseason play, Duncan led the NBA in Defensive RPM (5.41) during the 2015-16 season. According to NBA.com, he becomes the third player in league history to reach 1,000 career wins, as well as the only player to reach 1,000 wins with one team. The Spurs closed the season with a franchise-best 67-15 record.
Kareem Abdul-Jabbar and the baller known as "The Big Fundamental" are the only players in NBA history to record at least 26,000 points, 15,000 rebounds, and 3,000 blocks in their career.
Spurs small forward Kyle Anderson explained how much Duncan meant to the Spurs: "When you have Timmy on the floor and you're out there, it's so easy to give all your effort because you know he's just out there talking, he's out there making sure everybody's playing hard. He's like, I don't want to say a father figure out there, but he's like a big brother out there. I love Timmy. He's been a great teammate."