Thursday, the Chicago Bears square off with the Green Bay Packers. The two storied NFL franchises have hated each other for a long time.
One of the reasons for the vitriol happened 30 years ago, when Packers defensive lineman Charles Martin delivered one of the dirtiest plays seen in NFL history when he slammed Bears quarterback Jim McMahon to the ground well after he attempted a pass. The play resulted in a torn rotator cuff for McMahon and a two-game suspension for Martin.
Here is a list of the top 10 dirtiest players in NFL history:
10. Cortland Finnegan
Finnegan was drafted in the seventh round out of a small school, Samford University, so he likely used being overlooked as his motivation to be violent. Voted the third dirtiest player by his peers in 2012, the cornerback tried picking a fight with a much bigger Houston Texans wideout Andre Johnson. It did not go well.

9.Chuck Cecil
Although Cecil's career was cut short by concussions, this safety ranks as one of the dirtiest players because his brutal hits were typically helmet-to-helmet, a definite no-no in football today.

8. Richie Incognito
Incognito is mostly known for the 2013 fiasco of bullying fellow Miami Dolphins offensive lineman Johnathan Martin to the point where Martin walked away from the team, but even before that, he was voted dirtiest player in the NFL in 2009 after headbutting multiple Tennessee Titans in the same game.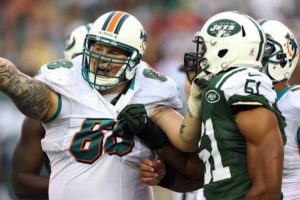 7. Jack Tatum
"The Assassin" got his nickname for big hits. One of those big collisions ended New England Patriots wide receiver Darryl Stingley's career, paralyzing him on a questionable hit in a preseason game.

6. "Mean" Joe Greene
"Mean" Joe Greene may seem nice to the kid in the famous Coca-Cola commercial, but he was a menace at times. In 1975, Greene kicked Cleveland Browns offensive lineman Bob McKay in groin as McKay laid on the ground.

5. Albert Haynesworth
Haynesworth viciously stomped on former Dallas Cowboys offensive lineman Andre Gurode's helmet-less head in 2006, requiring 30 stitches to fix.

4. James Harrison
Harrison could probably be used as a pick-up line with how many fines he gets for his play in the league. The fines have not really slowed Harrison down, though.

3. Vontaze Burfict
Casual fans may not have heard of Burfict, but his dirty play over his five-year career has quickly earned him in the running for dirtiest player. A bad reputation in college, Burfict has been fined for intentionally twisting and going after opponents' ankles, as well as making helmet-to-helmet hits, one costing his team the 2015 AFC Wild Card game. In hist first game back from suspension this season, the linebacker dove at New England Patriots tight end Martellus Bennett's knee from behind and stomped on running back LeGarrette Blount's leg after a touchdown.

2. Ndamukong Suh
Anybody who stomps on someone on Thanksgiving can be considered a dirty player. Suh not only did just that, but he has also kicked, hit and he ripped the helmet off of some of his other opponents over the course of his career.

1. Bill Romanowski
Romanowski admittedly "crossed the line." The linebacker, rated the fifth dirtiest athlete of all time once he retired, was frequently fined and ejected for his play on the field. One incident, Romanowski spat in the face of San Francisco 49ers wide receiver JJ Stokes in an altercation.

Honorable Mention: Miko Grimes
Miko makes honorable mention because she is married to Tampa Bay Buccaneers cornerback Brent Grimes, but she is perhaps dirtier than any of the NFL guys listed above. Her Twitter rants are enough to consider her a dirty individual — one was an anti-Semitic rant aimed at Miami Dolphins owner Stephen Ross. Grimes has even been arrested at a Dolphins game on charges of disorderly conduct. Her actions have arguably made it difficult for her husband to land jobs.

Follow Trent Baker on Twitter @MagnifiTrent