MIAMI GARDENS, FL — Miami Dolphins safety Michael Thomas, one of the NFL players kneeling during the national anthem, doesn't believe polls that it hurts the league's TV ratings.
"A lot of polls say a lot of different things," Thomas told Breitbart Sports after the Dolphins 27-23 win over the Jets on Sunday. "None of us can say exactly what [is causing the rating's dip]. When it comes to statistics, you can manipulate the data to say whatever you want to be honest with you. No one can say for sure what it is. So for someone saying (it's hurting ratings), it depends on who you ask."
NFL ratings are down 12 percent from last year, and a Seton Hall poll from late October found that 56 percent of respondents believe anthem protests caused the Nielsen crash.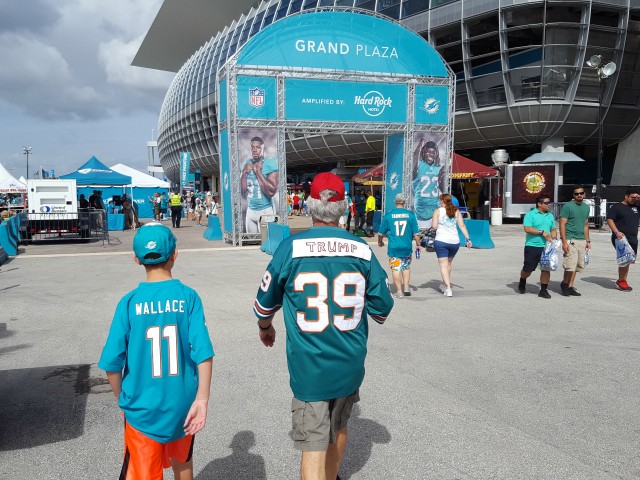 Also in late October, a Yahoo Sports survey and YouGov poll discovered that 40 percent of NFL fans said they watch less football because some players take a knee during the anthem.
Thomas and teammate Kenny Stills have taken a knee for the anthem the entire season. Teammate Jelani Jenkins initially joined them but recently stopped. Another teammate who kneeled, running back Arian Foster, retired a few weeks ago.
While Thomas doesn't necessarily buy the polls, he thinks the protests started by his former San Francisco 49ers teammate Colin Kaepernick to highlight police killings of blacks, provide a voice to those without one.
"To some people it's hurting (the ratings)," Thomas told Breitbart. "To a lot of people it's helping because it's showing there are guys that [have] the status that [have] a voice that people are willing to listen [are] actually taking that stance and speaking up for those who don't have a voice, those who are crying out for help."
And obviously many patriotic NFL fans are crying out for these Black Lives Matters-driven protests to end.