The stars—Nick Jonas, Demi Lovato, Odell Beckham, Jr., Hugh Jackman, Madonna, Gordon Ramsay, Zac Efron—descended on the world's most famous arena to watch the biggest star in mixed-martial arts become the first man in UFC history to simultaneously wear belts in two weight classes.
In a historic night witnessing the UFC's debut in New York after a prolonged struggle to win approval by Empire State legislators, Conor McGregor destroyed Eddie Alvarez to add the lightweight belt to the featherweight strap he already boasted. The Dubliner's A+ performance in many ways improved upon his 13-second display deposing and disposing of Jose Aldo. McGregor used timing, grace, and power to confound and concuss an outclassed opponent.
The end began in the beginning.
A minute into the opening round, McGregor knocked Alvarez to the deck with a massive left. The lightweight champion recovered but looked hurt. Near the three-minute mark, McGregor knocked him down again—and again 15 seconds later. Alvarez ended the round with wits regained and attempting to impose his grinding fight.
McGregor tagged the Philadelphian 30 seconds into the second stanza. King Conor taunted the Underground King by putting his hands behind his back. Then the featherweight champ scored a flash knockdown of the lightweight champ in the second minute. The southpaw landed a beautiful combination—a counter left, a looping right, a left behind the ear, and another right hook—sending Alvarez onto his back and his belt off his waist at 3:04 of round two.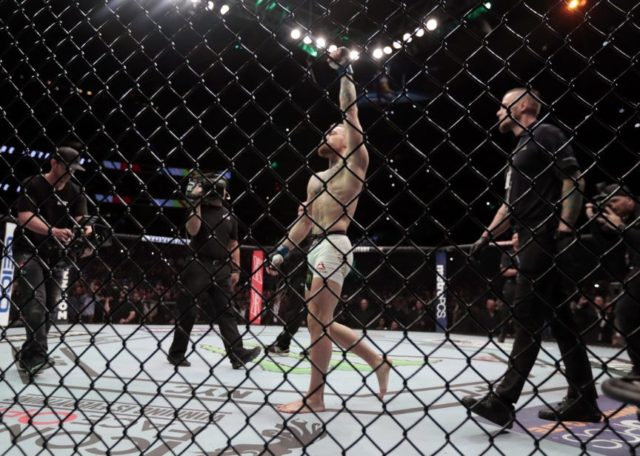 "Where the f— is my second belt?" McGregor asked after the match. "I've already got this one." UFC officials rushed to give him the photo-op of his dreams wearing hardware from two divisions.
He praised Alvarez but said of the man he knocked down five times: "He shouldn't have been in here with me."
After adding to his legend, the Notorious Conor McGregor added to that notoriety. "I've ridiculed everyone on the roster," he humbly admitted. "I just want to say from the bottom of my heart that I'd like to take this chance to apologize … to absolutely nobody!"