Iran's soccer team is celebrating its second ever World Cup win, even if the 1-0 victory came after an own goal by Morocco.
However, that wasn't the only highlight of them match.
CBS reported:
An own goal in the 95th minute saw Iran beat Morocco 1-0 on Friday in Group B play at the 2018 World Cup. In the opener for both teams, the match looked destined for a draw in what was an entertaining and open game, but Aziz Bouhaddouz came on in the second half, tried to defend a late set piece and headed it into his own net.
Heartbreak for Morocco!

Bouhaddouz heads it into his own net in stoppage time to give Iran the lead. pic.twitter.com/7FA7Migvk5

— FOX Soccer (@FOXSoccer) June 15, 2018
Iran faced a different kind of challenge at the start of the games after it displayed a billboard supporting the team that showed an all male group of Iranian supporters hoisting up a trophy and team members wearing medals. The slogan on the billboard read "Together we are champions: one nation, one heartbeat."
But after the billboard was criticized for omitting women, it was quickly replaced with a billboard that did feature women.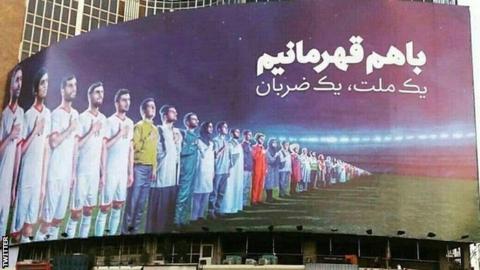 The BBC reported:
The original billboard caused uproar, with the front page of the Qanun newspaper carrying an image with the caption 'We lose without women'.

Social media users in Iran criticised what they saw as implied gender discrimination by excluding women from the picture.
Ironically, the repressive regime in Iran discriminates against women every day, including not allowing them inside sporting venues since the 1979 revolution.
The authorities decided against letting women watch the national team's World Cup matches on a big screen in Tehran's Azadi Stadium, according to the BBC.
However, Iranian fans watching the game against Morocco on Friday pushed back against their government's policy to exclude women, by displaying a banner which read: "#NoBan4Women. Support Iranian Women to Attend Stadiums:"
Tehran gave a small exception to the stadium ban in 2015, allowing some women to watch a volleyball game, according to Fox News.