Incredible scenes on Twitter as the leading figures of Black Lives Matter are effectively ejecting New York Daily News journalist Shaun King from the movement with a co-ordinated take-down. I hate to intrude on private grief, obviously, but I… oh, who am I kidding. It's fantastic!
"Senior justice writer" Shaun King, who recently sent this correspondent perhaps the most remarkable email in the history of right of reply after he was caught mysteriously deleting 70,000 tweets, was just thrown under the bus by Deray Mckesson and other prominent BLM activists in a series of tweets drawing attention to alleged mismanagement of funds.
This is just the latest in a series of scandals for race-baiter King, who charges $7,500 for speeches about race and gender. Breitbart was the first media organisation to raise questions about Shaun King's race that have still not been answered. Although King claimed for years to be biracial, after our report he was forced to admit he had no idea who his father was and that both of the people on his birth certificate are white.
I'll keep this brief, but I'll begin by saying that @ShaunKing blocked me when I asked questions re: planning/money re: JusticeTogether.

— deray (@deray) December 13, 2015
Y'all know, I've always been @ShaunKing's biggest defender, ever since he wrote that article re: the distance between DW and MB's body.

— deray (@deray) December 13, 2015
But, as a former board member of JusticeTogether, I didn't know about the money or about the abrupt end. I had/have questions.

— deray (@deray) December 13, 2015
.@ShaunKing's reporting has been important to the movement, it has. I'll never deny that. I considered him a friend. But integrity matters.

— deray (@deray) December 13, 2015
But @ShaunKing, you have a way of deflecting any questions about your integrity by attacking others, which is what you did tonight.

— deray (@deray) December 13, 2015
Mckesson has revealed he was blocked by King after asking questions about the latter's management of funds. Activists who donated to King's Justice Together say the organisation was hopelessly mismanaged and they want to know where their money has gone now that King has shut the organisation down.
Meanwhile, Johnetta (her real name) Elzie, another well-known BLM player, has thrown King under the bus too.
Shaun came for DeRay & I together with the subtweet, then tried to bring division just now by telling a bold lie on DeRay.

— Johnetta Elzie (@Nettaaaaaaaa) December 13, 2015
And since when is Shaun an activist? last time I checked he sits at home spectating. Thanks tho. https://t.co/UlsHtZU4aW

— Johnetta Elzie (@Nettaaaaaaaa) December 13, 2015
I personally was done with Shaun when he twitpic'd a photo of Rekia Boyd in her hospital bed. No respect for her or her family.

— Johnetta Elzie (@Nettaaaaaaaa) December 13, 2015
Meow! King, of course, has responded by trying to stir up trouble between Mckesson and Elzie.
That's a subtle nod to Mckesson's homosexuality, by the way. The others weren't having it…
I love @Nettaaaaaaaa. And I've never said I hate working w/ her or "women in the movement." And @ShaunKing knows that.

— deray (@deray) December 13, 2015
It just keeps getting bitchier and more brutal…
.@ShaunKing will attack me, build a website about himself, & write a 10,000 word Facebook post before offering substantive answers.

— deray (@deray) December 13, 2015
… and the poison is spreading to other members of Black Lives Matter, who are all finally breaking their silence about King.
When it comes to police brutality…

The only King we recognize is Rodney.

— (@BrotherNova) December 13, 2015
King, in typical fashion, is pretending not to have read any of it.
https://twitter.com/ShaunKing/status/676191838307557376
Only full contrition would have got Shaun King out of this. But instead he appears to be doubling down.
https://twitter.com/ShaunKing/status/676196264241995778
He ought to have remembered that Elzie and others were dodging bullets in Ferguson while he was penning blog posts from his home in Atlanta. They don't mess around. The crucial difference between this crisis and King's previous internet dramas, which he has just about wriggled out of each time, albeit with a much diminished band of supporters, is that now BLM's most vocal and well-known representatives are giving him the boot.
Head on over to their timelines to watch this epic catfight unfold in real time. And there was me thinking the RuPaul Christmas special would be the most fabulous thing to watch tonight.
Breitbart in general and my reporting in particular were crucial in King's downfall. By reporting the most serious allegations about King that no other outlet dared to touch, we opened up the space for others to report on the financial allegations that surrounded him — and, now, for other members of the movement to say good-bye.
As we went to press, King was beginning to trend in multiple locations across the world.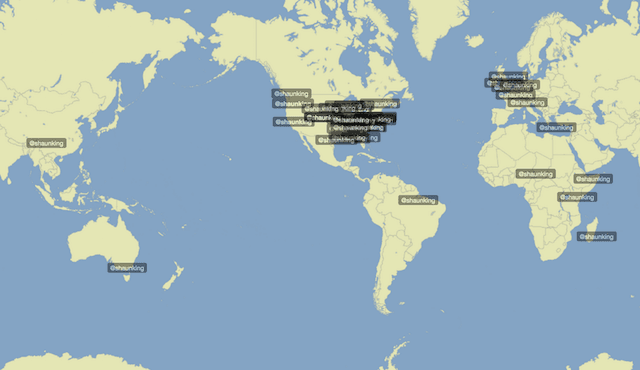 Needless to say, the internet is having a field day.
"This movement is messy": @ShaunKing responds to @Nettaaaaaaaa and @DeRay pic.twitter.com/IY6BwpPCp4

— Oliver Darcy (@oliverdarcy) December 14, 2015
Black Lives Matter activist @Nettaaaaaaaa blasts @ShaunKing as a "liar": "Nothing about you checks out. NOTHING." pic.twitter.com/7iWHUVZL4t

— Oliver Darcy (@oliverdarcy) December 13, 2015
Black Lives Matter activists GO AT IT over defunct charity. https://t.co/WkoJkg7TRn pic.twitter.com/JDaBH4qqmV

— Chuck Ross (@ChuckRossDC) December 14, 2015
Shaun King offers an apology ONLY when he loses 1,000 followers in a few hours. That's disgusting

— traveling alchemist 🇳 (@TheNewThinkerr) December 14, 2015
Follow Milo Yiannopoulos (@Nero) on Twitter and Facebook, or write to him at milo@breitbart.com. Android users can download Milo Alert! to be notified about new articles when they are published.