Harvard's Office for Equity, Diversity, and Inclusion has abandoned any pretence of political impartiality, and is using its resources to push far-Left progressive talking points onto its students, according to one student who sent us this remarkable "Christmas placemat."
A number of these Yuletide mats have been placed around the college's dining quarters – but they don't bear messages of Christmas cheer or goodwill. Bearing the title "Holiday Placemat For Social Justice," they instead instruct students in how to make the case for the politics of racial grievance.
The placemats cover four political issues from a highly biased perspective. They instruct students to challenge criticism of the anti-free expression mobs at Yale, of immigration from Syria, of Black Lives Matter arguments about police brutality, and the recent removal, at the behest of campus crazies, of the "Harvard House Master" title on the grounds that "master" is offensive to black students. 
The placemats do not encourage students to ask questions, but to repeat talking points. In other words, they are telling students what to think, not how to think. They also advise students on how to talk to families, instructing them to "listen mindfully," "breathe" [sic] and "speak from a place of mutual interest."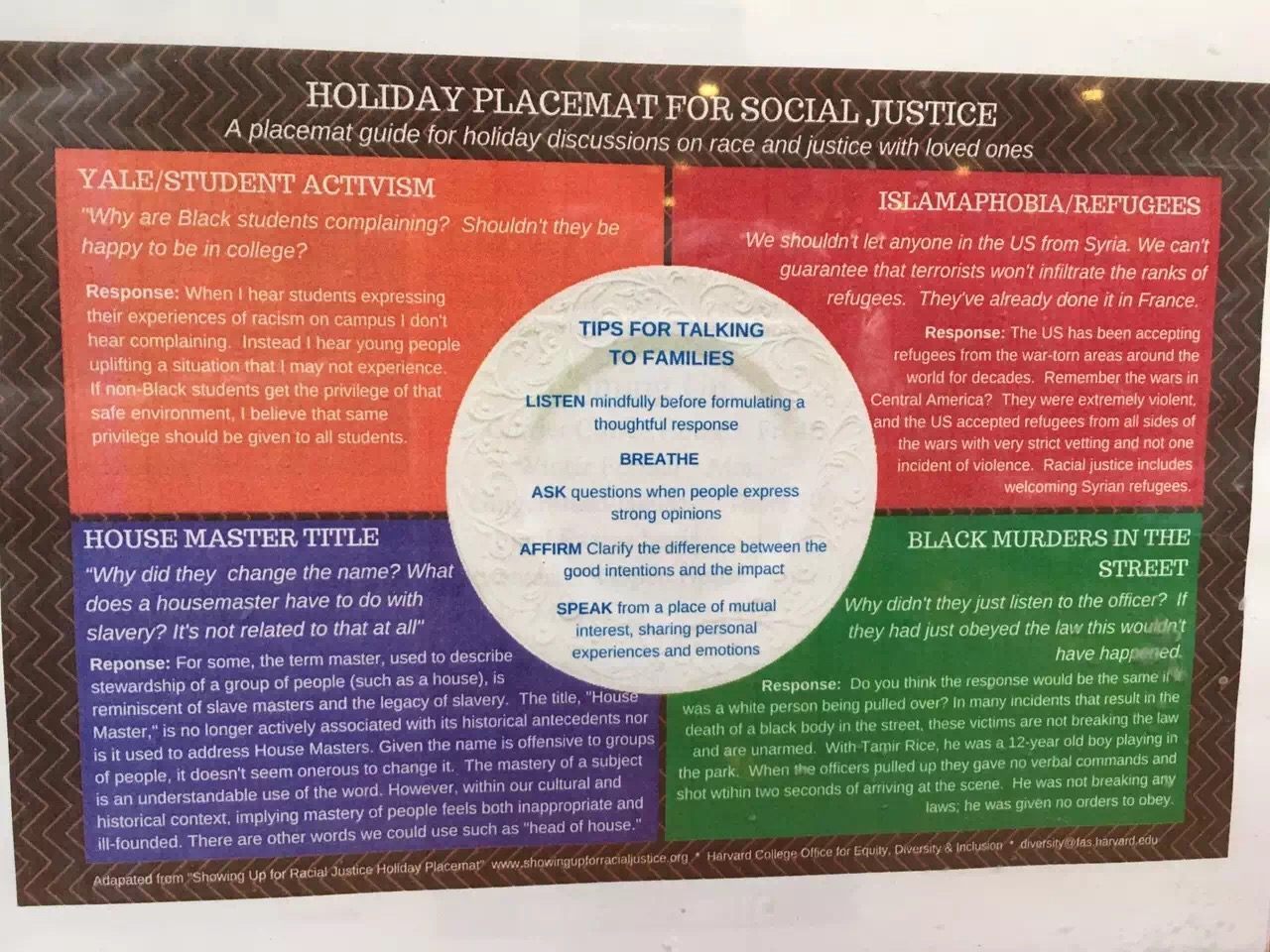 The Harvard Office of Equity, Diversity and Inclusion claims to foster "understanding, community, and belonging" at the college, adding that "diversity is a source of strength and defining characteristics of Harvard University." The office pledges in its mission statement to "permanently embed equity, diversity, and inclusion in the fabric of Harvard College's academic, residential, and work environments."
Ironically, the office's website includes a button to "report bias." Presumably, they do not mean political predispositions.
The pictures were sent to us by a source at Harvard, who expressed concern at the rise of progressive dogmatism on campuses. "I think this is a good example of how the [United States'] premier academic institution is enforcing an environment of intolerance to conservatives."
He added that he thought the people behind the placemats were "treating their students like cult-members who need to have their thinking done for them and stock answers prepared before returning to the real world."
It is unlikely that the faculty will take action against the placemats. The rise of the new racialized radicals on campus has seen faculties from Yale to Mizzou cave in to the most egregious demands of campus crazies. Harvard, as noted above, has already agreed to scrap the historic title of "House Master" after complaints that it revived memories of slavery.
Princeton is seriously considering rewriting its own history by renaming any buildings and institutions dedicated to alumni and former President Woodrow Wilson, whom campus crazies say is too racist to be remembered fondly. After having won the power to erase history, year-zero style, it's little wonder that politically-biased groups on campus feel they can run rampant.
We have reached out to Harvard's Office for Equity, Diversity, and Inclusion for comment.
Follow Allum Bokhari @LibertarianBlue on Twitter, and download Milo Alert! for Android to be kept up to date on his latest articles.