Multinational technology company Yahoo! faced backlash on Facebook Sunday after praising an act of vandalism on Donald Trump's Walk of Fame star, in which a swastika was painted over the GOP frontrunner's name.
Multiple news outlets covered the defacement, which featured a spray-painted swastika on The Donald's star. But Yahoo!'s official Malaysian page decided to add their own controversial commentary to it.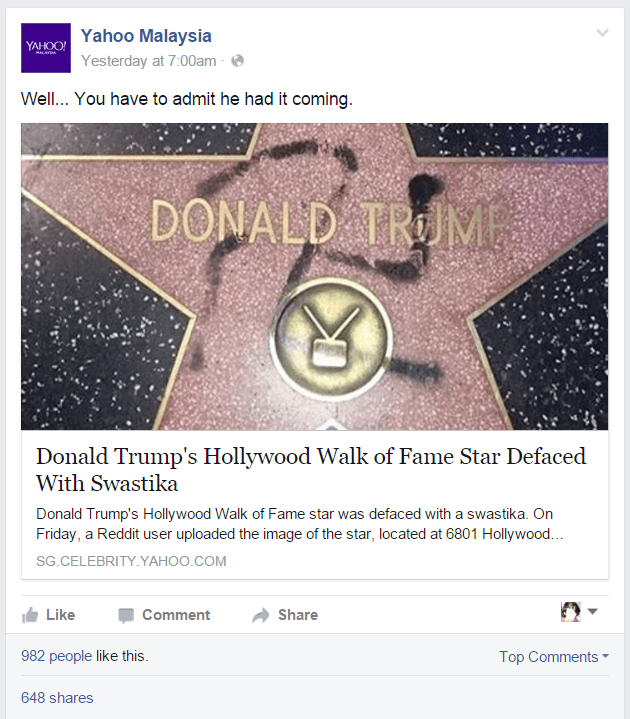 "Well… You have to admit he had it coming," Yahoo! Malaysia posted on Facebook, along with a link to an external Yahoo Celebrity news story about the damages made to the famous tile.
Many users in the comments took the opportunity to insult and joke about Trump, but some came to his aid, criticising the endorsement of criminal damage by such a large and influential technology company.
Others also highlighted the vandal's lack of intelligence, pointing out that the swastika's arms were pointing in the wrong direction. In its Hindu form the swastika denotes "auspiciousness," leading some internet wags to wonder whether in fact it had been done by a Trump supporter. (We think probably not.)
"No one deserves this hate symbol… liberals would be all over this if it was on a Hillary or Bernie billboard," commented one Yahoo! reader. "I don't care who has their name on the stars, this is a criminal act and so to praise such a thing is condoning a criminal act," commented another.
The Facebook post is still visible on the company's official Malaysian page and Yahoo! have not made any comment on the post since.
Charlie Nash is a libertarian writer, memeologist, and child prodigy. When he is not writing, he can usually be found chilling at the Korova Milk Bar, mingling with the infamous. You can follow him on Twitter at @MrNashington.