University of Pittsburgh student Doug Steeber has been harassed by his classmates following an event the College Republicans club hosted with Breitbart Tech editor Milo Yiannopoulos.
Over the past week, Steeber has been on the receiving end of a vicious campaign that has involved students calling Steeber's parents at their home late at night. Despite the threats against Steeber and his family, the University has yet to make a statement condemning the behavior.
Yiannopoulos spoke at the University of Pittsburgh on February 29th at the invitation of the school's College Republicans club in an event that stirred significant controversy on the campus. Although tensions were high in the days leading up to Yiannopoulos' lecture, the event went smoothly with the exception of a few interruptions from student protesters.
The University of Pittsburgh College Republicans and Steeber attended an open forum hosted by the student government the day following the event, which was held so that students could voice their complaints about Yiannopoulos' visit. Steeber took to Twitter to share anecdotes from the forum, detailing that one student called the club's event "an exercise in systematic oppression" and that others collapsed into tears at the microphone.
After it was revealed that Steeber was posting about the forum on social media, Steeber claims that he was "screamed at" and he later deleted his account. Steeber woke up the following morning to find out that someone had created an account impersonating him on Facebook, which contained the photos and personal contact information of Steeber and his parents.
The situation escalated further when fliers began to appear around campus with a picture of Steeber, accusing him of making fun of sexual assault survivors. The flier included the personal phone numbers for both of Steeber's parents, with the suggestion that students call them. As a result of the fliers, Steeber's parents have received several hang-up calls and his mother received an anonymous e-mail requesting information about her whereabouts.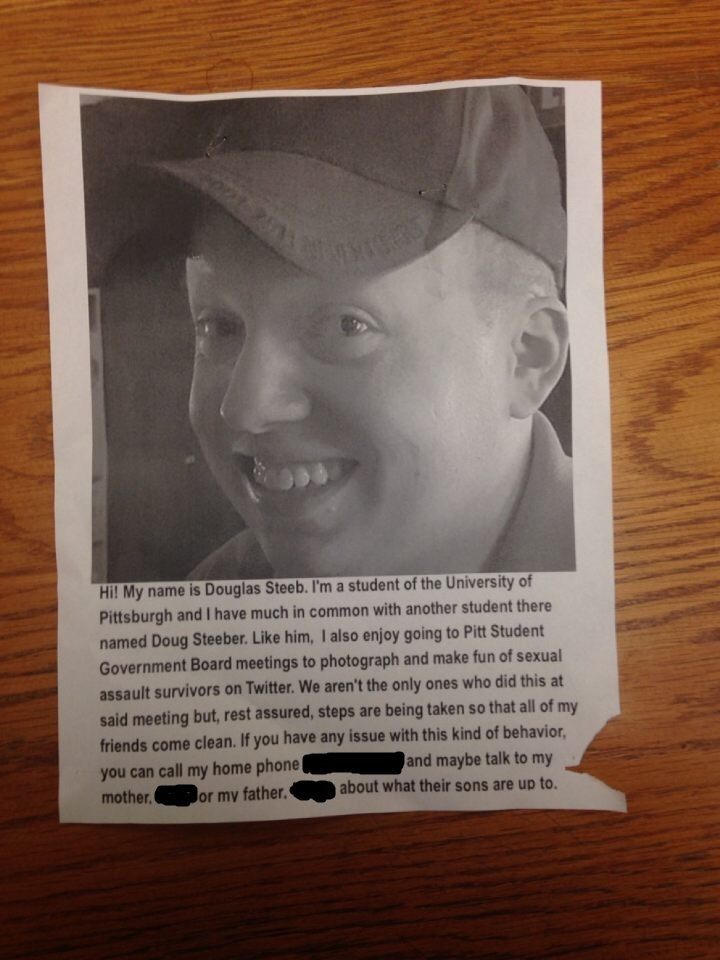 Despite the harassment that Steeber has endured, the University has remained silent. Intercollegiate Studies Institute President Christopher Long came to Steeber's defense in a letter that asks the the school's Chancellor, Patrick Gallagher, to denounce the harassment aimed at Steeber and his family.
Despite what Steeber has endured over the past week, he seems committed to continuing in the fight against political correctness and over-sensitivity on campuses and is currently talking with a detective from the University of Pittsburgh police to address the threats. In a statement, Steeber made it clear where he stands now in the aftermath of the chaos.
 I have no issue with being challenged on my opinions, but to encourage the harassment and threatening of my family is unacceptable.
Tom Ciccotta writes about Free Speech and Intellectual Diversity for Breitbart Tech. You can follow him on Twitter @tciccotta.