The University of Pittsburgh's Student Government Board held a public meeting on Tuesday to discuss the traumatizing visit the night before from "dangerous" homosexual and Breitbart Tech Editor Milo Yiannopoulos, during which students described themselves as feeling "hurt" and "unsafe."
"During his talk, Yiannopoulos called students who believe in a gender wage gap 'idiots,' declared the Black Lives Matter movement a 'supremacy' group, while feminists are 'man-haters,'" according to the student paper The Pitt News, prompting a handful of twenty-something-year olds to feel upset.
"Just because we have to be neutral with our funding doesn't mean we're personally neutral," announced board member Jack Heidecker at the meeting. "I hurt yesterday, too."
"So many of us shared in our pain. I felt I was in danger, and I felt so many people in that room were in danger," proclaimed Marcus Robinson, student and president of the Pittsburgh Rainbow Alliance. Robinson also suggested that councilors should have been provided in another room to protect students who felt "traumatized" by Yiannopoulos's opinions.
"This is more than hurt feelings, this is about real violence. We know that the violence against marginalized groups happens every day in this country," claimed social work and urban studies major Claire Matway. "That so many people walked out of that [event] feeling in literal physical danger is not alright."
President of the College Republicans and fellow student Tim Nerozzi responded to the complaints by proclaiming, "I'm not here to rain on your parade. We put a trigger warning on our fliers for the event. We never claimed it would be a family friendly or a politically correct lecture."
"I do realize that some people were genuinely hurt, and I'm not going to ignore that, but free speech should not trump safety," he said. "We need to see the school work around that."
Student Government Board President Nasreen Harun is reported to have "teared up" after "hearing students' experiences as a result of Milo Yiannopoulos' talk on Monday."
"We're very sorry people are feeling the way they are and it was not intended… and we're sorry people are not proud to be at Pitt," she expressed in deep remorse.
The public meeting was announced in a letter sent out to students by the Student Government Board, stating:
In light of yesterday's event with Milo Yiannopoulos, we feel compelled to write to the Pitt community regarding Student Government Board's stance on his views and the reasons for which the funding request for this program was approved. If you were in the audience and were disgusted and hurt by the speaker's remarks, we understand and empathize with you. If you felt marginalized and disparaged by many comments he made regarding your identity and the opinions of others who disagreed with him, we understand your feelings. To the students of color in the audience, we can only begin to imagine how painful it was to hear what both audience members and the speaker said regarding race and social justice issues in this country. Finally, to the survivors of sexual assault, we undoubtedly support you[…]

SGB has funded and taken an active role in many events including the Undy 500: Race against Sexual Assault, lectures by Bernice King and Laverne Cox, and has taken a major role in the implementation of the It's On Us Campaign on Pitt's campus. These are just some of the numerous events that take an alternative perspective from last night's speaker on issues of race, gender identity, and sexual violence on campus. We as an organization wish to make something clear: the decision by Student Government Board to allocate funds for this speaker in no way represents an endorsement of his views or opinions[…]

We hope to move forward from what took place last evening, but understand the hurt and pain that it caused[…]

Students are welcomed to attend tonight's Public Meeting at 8:45pm in Nordy's Place to share their perspectives and viewpoints during either of our two Open Floors.
In an email sent out to Pittsburgh students, a joint event between the Rainbow Alliance, Campus Women's Organization, and Black Action Society is also set to take place on Thursday to "respond to the hate speech and harmful events that have transpired as well as provide a SAFE SPACE for those who have experienced trauma, been triggered, or felt any kind of pain because of the events."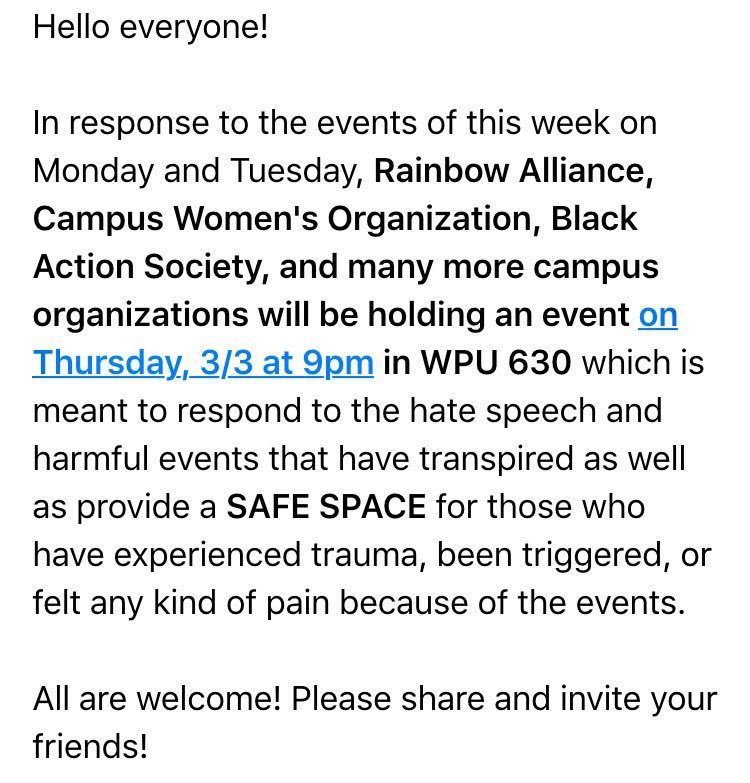 Yiannopoulos responded to the protests of the event with the following tweet:
https://twitter.com/Nero/status/705472800107208704
The reactions of students over a non-compulsory and extracurricular event featuring a gay journalist expressing a difference of opinion are a worrying sign that academia is failing. These are students who are legal adults and on the cusp of entering the real world, yet they're in tears over the fact that someone, who they need not even listen to, disagreed with them.
University is no longer a place for new ideas, discussion, and intellectual debate. It is a place of safe spaces, no platforming, and trigger warnings. Students are taught to believe and agree with a single narrative and doctrine, turning them into narrow-minded and unchallenged pawns, with any form of resistance or difference of thought being classified as hate speech.
Pittsburgh may be the steel city, but it appears its students are made of softer stuff.
Charlie Nash is a contributor to Breitbart Tech and former editor of the Squid Magazine. You can follow him on Twitter @MrNashington.