Chaos erupted at an all-female university in California over the weekend after a Mexican-American student woke on Saturday to a pro-Trump message written on her white board.
The message, which simply read "#Trump2016," has been called an act of "intentional violence" in a university-wide email sent by Minjoo Kim, the student body president at Scripps College in Claremont, California.
https://twitter.com/hannahoh16/status/713877492289957888
"This morning, a Mexican-American Scripps student woke up to find her whiteboard vandalized with the phrase '#Trump2016.' This racist act is completely unacceptable," Kim wrote. "Regardless of your political party, this intentional violence committed directly to a student of color proves to be another testament that racism continues to be an undeniable problem and alarming threat on our campuses."
Kim claimed that the pro-Trump message violates Scripps' goal of creating an "inclusive, safe, and welcoming community." She recommended her peers seek out university counseling services if the 10 character message threatens their "mental and emotional health."
The student on the receiving end of the hashtag vandalism took to Facebook where she claimed that her experience with the dry-erase defacement is a reminder that "racism is alive and well."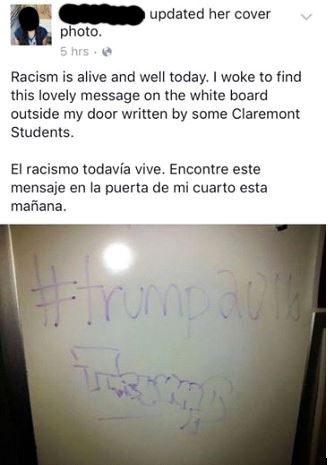 The email claims that campus safety officers have been tasked with finding "the person responsible so they can be accountable for their actions."
This incident follows a string of campus incidents last week where students have sought to police non-violent speech. Protests erupted at Emory University after students claimed that they were "in pain" over pro-Trump chalk writings on campus, while a four-inch confederate flag sticker placed on a construction truck at Bucknell University led to concerns for student safety and calls for university intervention.
https://twitter.com/tciccotta/status/713389958774525952
Although there is no evidence to suggest that the message was directed at the student specifically, the college still plans to pursue the perpetrator.
"Actions and words have consequences," Kim concluded. "Think before you act."
Tom Ciccotta writes about Free Speech and Intellectual Diversity for Breitbart. You can follow him on Twitter @tciccotta.