Twitter has allowed a verified Saudi Arabia-supporting Twitter account to use its "promoted Tweets" system to defend its military operations in Yemen, where it has been accused of war crimes.
Earlier this week, Infographics_ksa, a verified Twitter account tweeting Arab- and English-language graphics in support of Saudi Arabia, was allowed to promote a tweet defending the country's military intervention.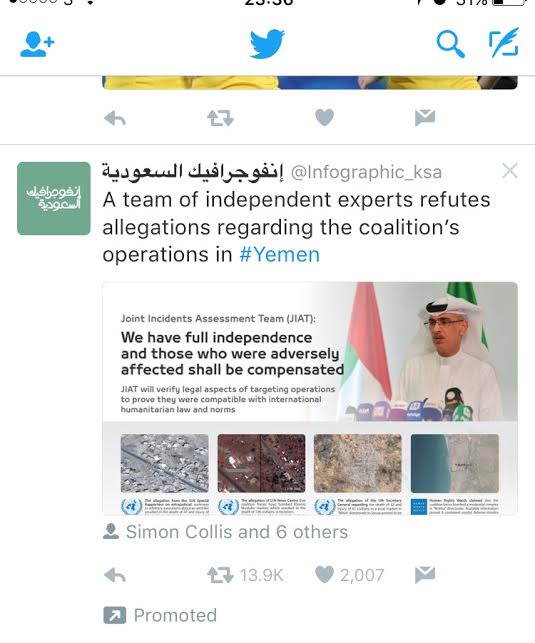 Twitter has previously blocked promoted tweets from sources it considers unacceptable, most notably the hacker and white supremacist Andrew "Weev" Auernheimer. Yet the company tolerated a tweet from a mouthpiece of Saudi Arabia, a country where gays, atheists, and political dissidents run the risk of imprisonment, corporal punishment, and execution. Sexism and misogyny is written into the law in Saudi Arabia, where women are prohibited from holding office beyond the municipal level, and where marital rape is legal.
Auernheimer, of course, does not have any significant investment in Twitter. That's not true of Prince Alwaleed bin Talal, a billionaire and member of the Saudi royal family, who along with his investment company, Kingdom Holdings, owns 5 percent of Twitter.
There is no immediate evidence that Infographics_ksa is connected to Talal. According to the website of the group behind the Twitter account, it's a "voluntary non-profit project" run by "a group of Saudi youth who are interested in technology and social media."
The group says its goal is to "give out documented facts by conveying them through understandable graphs." Yet, judging by their account — which, mysteriously, has been verified by Twitter — the group does little except defend the actions of the Saudi government.
Replies to the the group's tweet suggest that someone – possibly the group itself, or some other ally of the Saudi government – is using bots to artificially boost engagement. Many of the replies are duplicates, with the same phrases ("great job coalition," "we are proud of the coalition," "keep it up coalition") repeated over and over by accounts with less than 100 followers. All of these accounts appear to have been created within the last month.
Except for very specific purposes, the use of Twitter bots is typically practice on the platform. But will Twitter do anything about accounts that are supporting one of its leading investors?
You can follow Allum Bokhari on Twitter, add him on Facebook. Email tips and suggestions to abokhari@breitbart.com.