A personalized donation tool released by the Hillary Clinton campaign allows supporters to dedicate their donations in honor of anyone they want — which trolls are using to mock the Democratic candidate.
However, it appears to reject submissions containing the names of Benghazi victims, Bill Clinton's rape accusers, murdered former DNC staffer Seth Rich, and other names of people involved in controversies surrounding the Clintons.
The campaign tool invites supporters to type a "dedication" prior to donating to the campaign, generating an image to share on social media.
However, in tests performed by Breitbart News, the tool rejected names such as J. Christopher Stevens, Sean Smith, Tyrone Woods, and Glen Doherty — all of whom died during the Benghazi terrorist attack in 2012 — along with any mention of the word "Benghazi."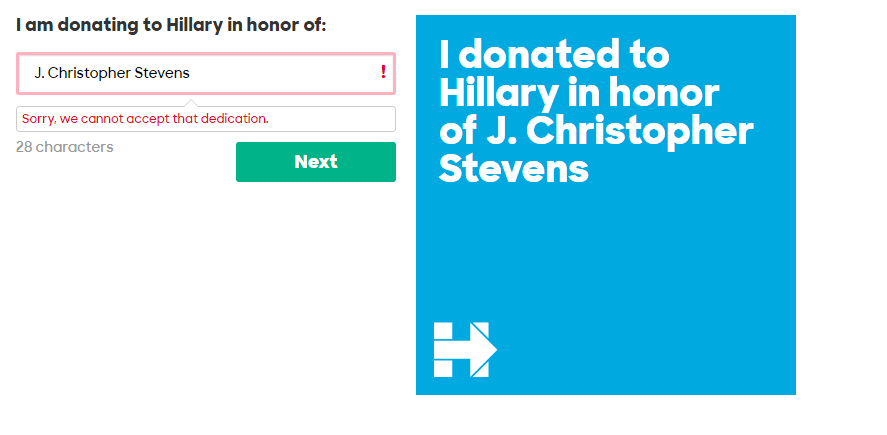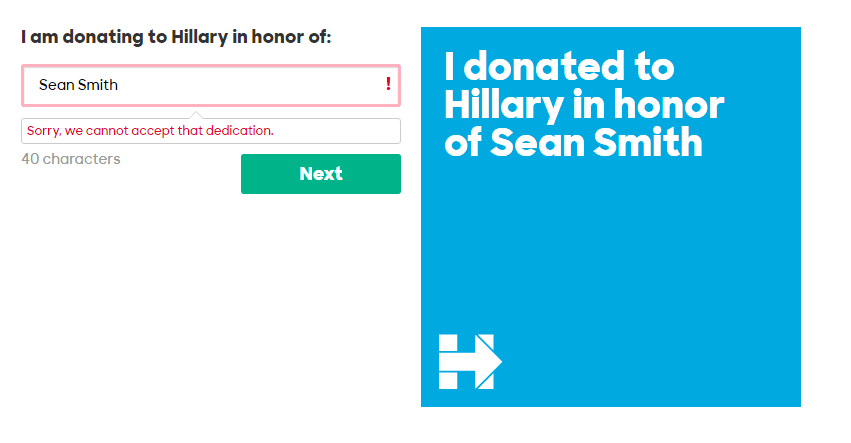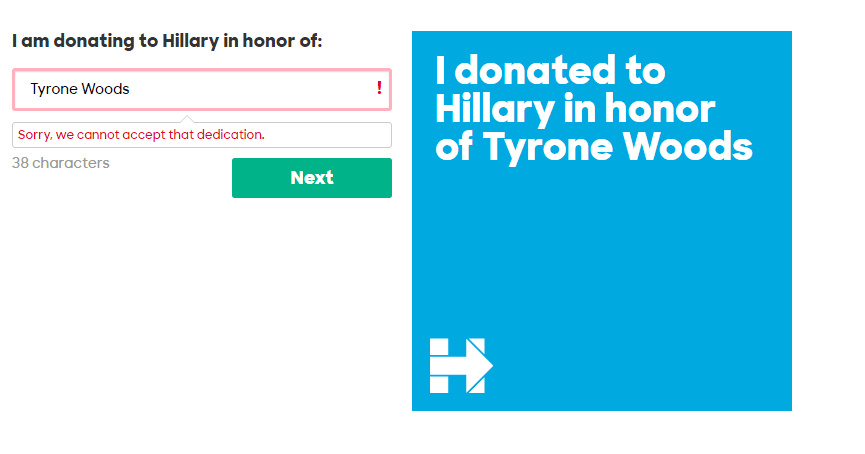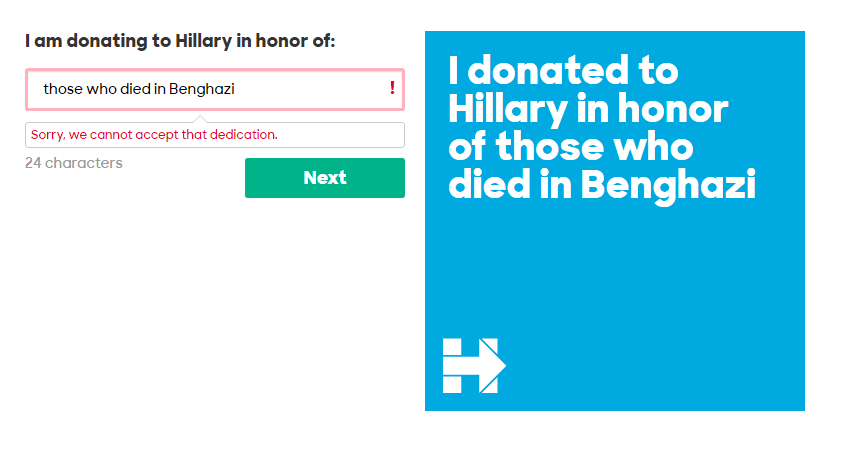 Bill Clinton rape accusers Juanita Broaddrick, Kathleen Willey, and Paula Jones were also rejected by the tool, along with Seth Rich, the murdered DNC staffer who Julian Assange hinted at being one of WikiLeaks' sources. The name of former White House counsel Vince Foster, whose suicide has frequently been questioned and linked to Clinton conspiracy theories, was also rejected.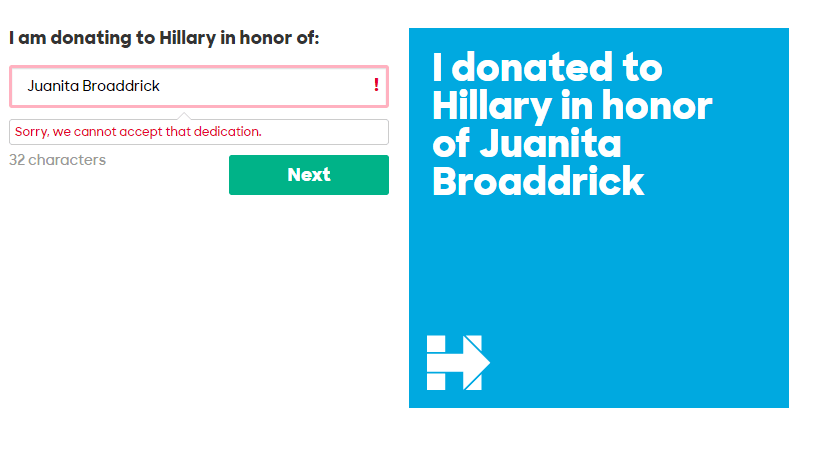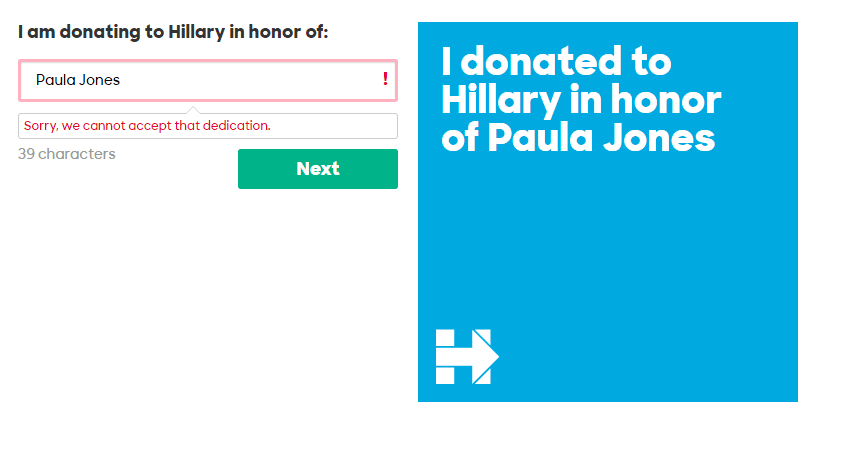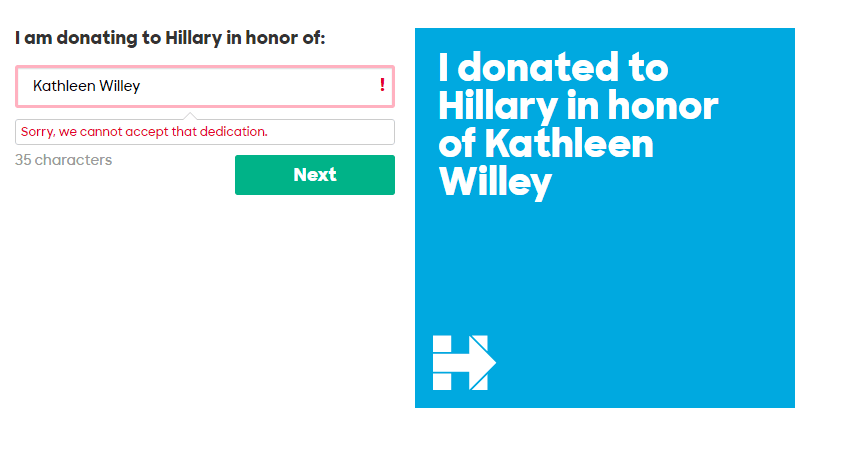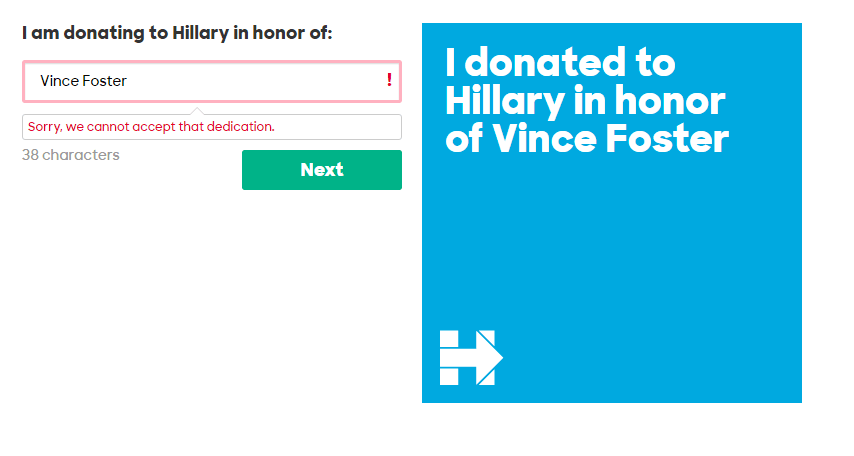 Names such as Breitbart, Harambe, Pepe the Frog, and even "30,000 deleted emails" were all accepted by the tool, while general profanities were blocked.
Several users on Twitter have taken the opportunity to troll the Clinton Campaign with their submissions, dedicating them to World War 3, Global Government, Sharia Law, Rigged Elections, and "Carlos Danger" — one of Anthony Weiner's sexting pseudonyms.
Hey guys! Mole gave us a gift to feed the trolls! #GoHillary https://t.co/lsISwx10LB pic.twitter.com/RAtyZOE6Gm

— Katarina Niedermair (@Katzerinaa) October 30, 2016
#GoHillary pic.twitter.com/JYSWqjKwj8

— American Girl 🇺🇸 (@girlwtheredpill) October 30, 2016
https://twitter.com/Malthrax/status/792860606369976324
https://twitter.com/MeesterPlow/status/792860811639320576
Charlie Nash is a reporter for Breitbart Tech. You can follow him on Twitter @MrNashington or like his page at Facebook.