Breitbart News has beaten both CNN and The Huffington Post for Facebook engagements for election coverage with a total of 3,559,997 engagements.
According to a report from leading analytics site NewsWhip, social media metrics show that Breitbart has one of the highest number of Facebook engagements for political pages leading up to the election. The study analyzes data between October 31st and November 7th, showing that Breitbart is the 6th highest ranking Facebook page for election content, outranking CNN, The Huffington Post, NowThis Election and, The Daily Caller.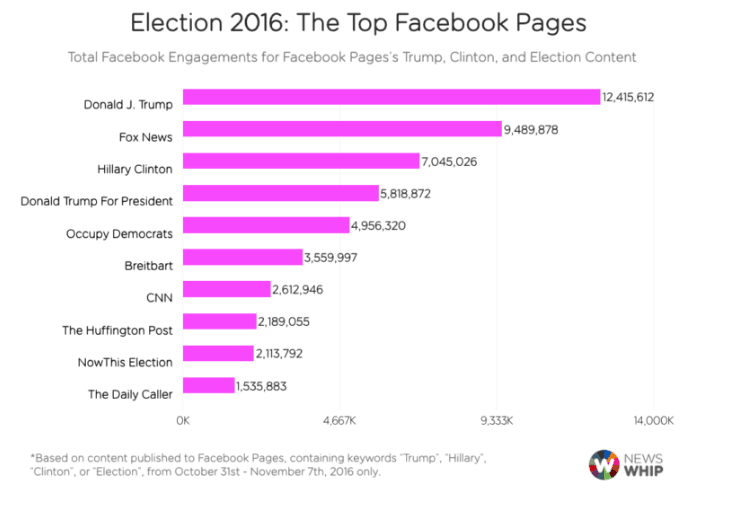 "Our #1 in the world political Facebook page continues to wow social media industry experts," said Breitbart News Managing Editor and Social Media Director Wynton Hall. "Everyone wants to know how our engagement numbers are so strong when there are many other publishers who have millions more followers than we do. I always tell them the same answer: Breitbart's Facebook followers punch far above their weight class and constitute one of the most engaged and politically savvy online communities in the world."
Breitbart has dominated social media in recent months as the biggest publisher of political content for the months of May and June this year, with a lead of nearly 2 million more interactions than the second place page The Huffington Post. Breitbart beat other news organisations such as CNN, The Hill, and The Guardian with a total combined 9,098,013 Twitter and Facebook interactions, of which 89% came from Facebook and 11% from Twitter.
This October, Breitbart News broke company traffic records, generating over 240 million pageviews and 37 million unique visitors. "While several publishers have enjoyed an uptick in traffic due to election coverage, we are proud to have built a massive and deeply-rooted community that will remain long after the election cycle fades," said Breitbart News CEO and President Larry Solov.
Breitbart will be covering this year's election all day, November 8th. Follow our regularly updated live wire here.
Lucas Nolan is a reporter for Breitbart Tech covering issues of free speech and online censorship. Follow him on Twitter @LucasNolan_ or email him at lnolan@breitbart.com