Just days after Twitter enacted a mass deverification of right-wingers, the platform blocked an ad from a group campaigning against illegal immigration, alleging it was "hate speech."
The Americans for Legal Immigration PAC attempted to promote the following picture on Twitter, encouraging voters to call congress to voice their opposition to amnesty.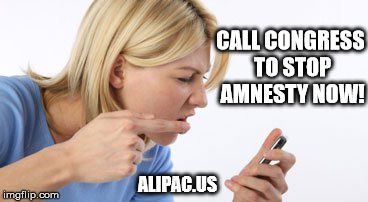 Twitter subsequently blocked the ad, calling it "hateful."
It's not the first time that Twitter has blocked a promoted tweet from a conservative or conservative organization. Last month, the platform blocked a pro-life ad from congresswoman Rep. Marsha Blackburn (R-TN), before backing down under media pressure.
Twitter also banned former Nixon advisor and longtime Trump ally Roger Stone from the platform last month after he insulted several CNN anchors. Stone has since vowed to sue Twitter, which continues to ban conservatives for spurious reasons while letting leftwingers who call for the assassination of President Trump to not only remain unbanned, but even keep their verified checkmarks.
"It is time for Congress for the FEC to step in and stop corporations like Facebook, Google, and Twitter from using their power to influence free speech, campaigns, elections, and legislation and time for Congress to break up these monopolies and apply regulations to protect citizens from abuse as we have done with phone and power utilities," said William Gheen, President of ALIPAC.
"Google, Twitter, and Facebook are all providing unequal services for us based on our creed. Our creed is our shared belief with millions of other Americans that Amnesty for illegal immigrants is destructive to America and our existing immigration laws should be enforced instead. For this creed we share, mega corporations like Twitter are targeting us for abuse, censorship, and discriminatory treatment."
You can follow Allum Bokhari on Twitter, Gab.ai, and add him on Facebook. Email tips and suggestions to abokhari@breitbart.com.