Canadian columnist and host of the Glazov Gang, Jamie Glazov, was suspended from Twitter after he posted direct quotes from the Quran and Hadith.
Jamie Glazov's Twitter account was temporarily suspended and he was forced to delete tweets he posted which directly quoted Islamic religious texts. Glazov's account was suspended for violating Twitter's rules relating to "hateful conduct."
The tweets that resulted in Glazov's temporary suspension related to Sahih Bukhari's texts discussing Mohammed's marriage to Aisha when she was six years old and a quote posted by Glazov from the Quranic Suras that mandates the Hijab for women and sanctions sexual slavery. These direct quotes from Islamic religious texts were apparently enough to result in Glazov's account being locked until he deleted the offending tweets.
The offending tweets can be seen below: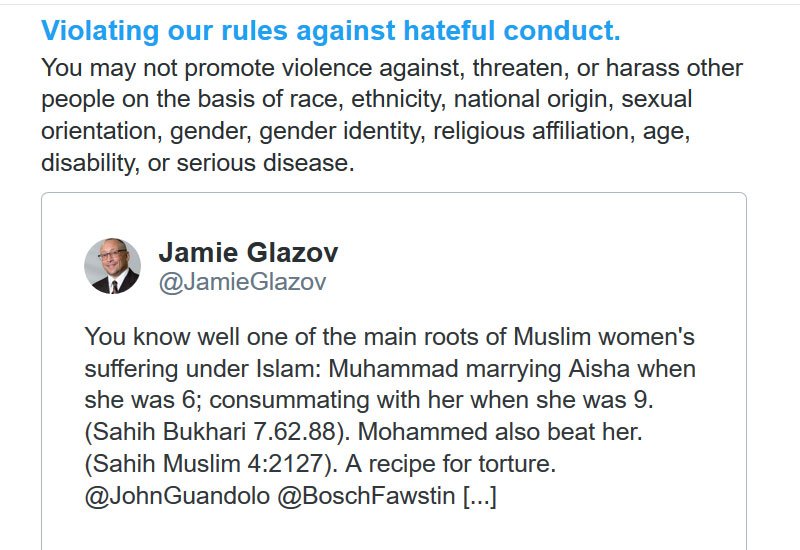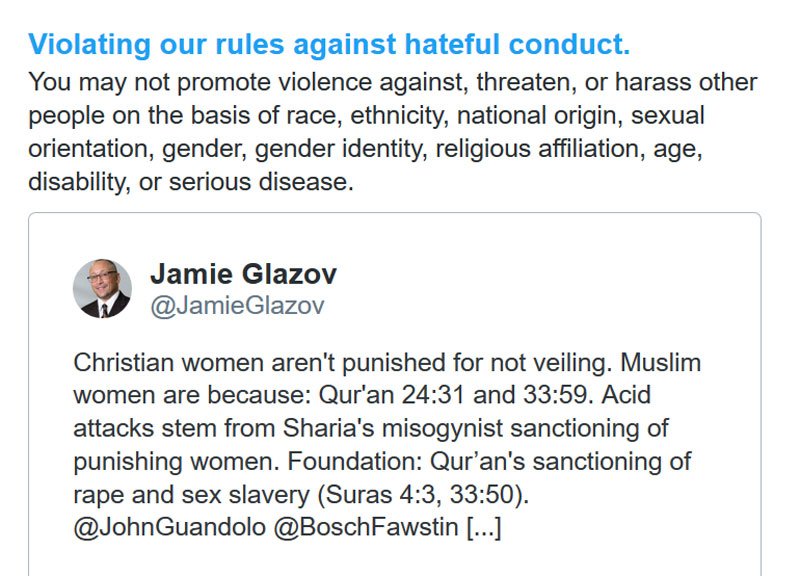 Glazov commented on his suspension to Breitbart News saying:
Twitter has bowed to Islamic blasphemy laws and is now going after truth-tellers about Jihad and Sharia oppression. That is why Tommy Robinson and Shazia Hobbs are banned permanently from Twitter, it why Twitter suspends the accounts of people like ex-FBI agent John Guandolo and illustrator Bosch Fawstin. These are people who are simply trying to defend freedom as well as to protect Muslim and non-Muslim people from Jihad and Sharia.

I have been suspended in this case because they are saying I violated their rules against "hateful conduct". I have engaged in no hateful conduct whatsoever. I am a human rights activist fighting on behalf of Muslim women and girls who suffer under Sharia oppression. All that my two tweets in question did is refer to the verses in the Hadith and Qur'an that record Mohammed's marriage to Aisha when she was 6 years old and that sanction sex slavery. This is not me saying it. I am simply referring to Islamic texts that say it. For them to allege that Islamic texts are hateful is a grave insult to Muslims across the world.

But this is the key: If a Muslim had referred to these same texts in support of child marriage and sex slavery, he would not be suspended. It is referring to these texts if you are against child marriage and sex slavery that constitutes the problem on Twitter.

It is a sad day for free speech and for the effort to protect Muslim women and girls from oppression. It is hateful conduct to turn our backs on suffering people and on the causes of their suffering.
Just last month, Glazov was suspended from Facebook for posting screenshots of abuse he received on the platform. In an article on his website, Glazov posted screenshots of an exchange he had with another Facebook user named Muhammad Irfan Ayoub. Glazov claims that Ayoub began "rebuking him for daring to bring attention to the persecution of women and girls under Sharia and telling Jamie to convert to Islam."
In one exchange, Ayoub reportedly told Glazov that "Allah will defeat you," Glazov replied; "Allah will defeat us? I thought Islam was a religion of peace?" Ayoub replied; "Peace for those who obey Allah and His Prophet. but those who oppose them their [there] is no peace for them." A screenshot of the exchange can be seen below.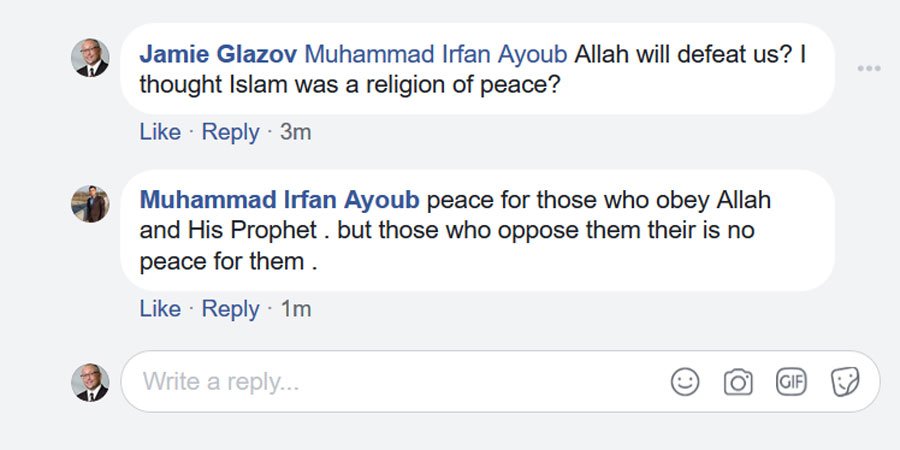 In another exchange, Ayoub said to Glazov; "I will break your mouth,"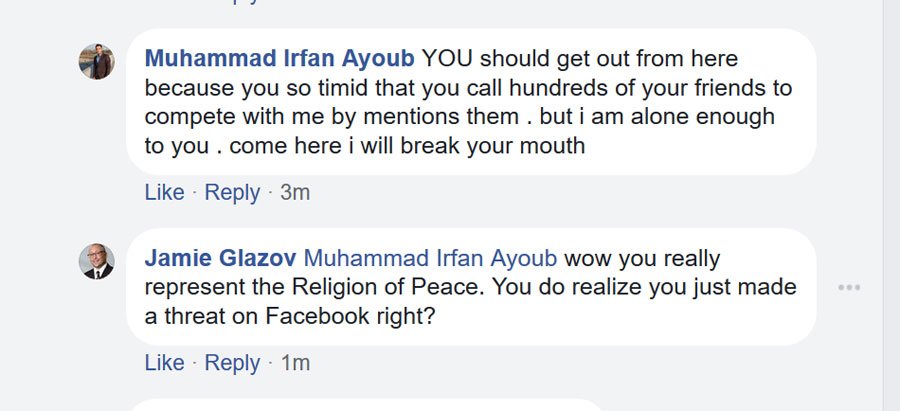 The posting of these exchanges resulted in a seven-day ban of Glazov's account by Facebook.
Listen to Glazov discuss the Twitter ban on the Wednesday edition of Breitbart News Tonight on SiriusXM Patriot:
Lucas Nolan is a reporter for Breitbart News covering issues of free speech and online censorship. Follow him on Twitter @LucasNolan_ or email him at lnolan@breitbart.com