Canadian columnist and host of the Glazov Gang, Jamie Glazov, was suspended from Facebook after he posted screenshots of abuse he received for criticising Islam.
Canadian conservative columnist and editor of Frontpage Magazine, Jamie Glazov, has found his Facebook account suspended after he posted screenshots of threats and abuse he received from a commenter angry that Glazov had criticised Islam. In an article on his website, Glazov posted screenshots of an exchange he had with another Facebook user named Muhammad Irfan Ayoub. Glazov claims that Ayoub began "rebuking him for daring to bring attention to the persecution of women and girls under Sharia and telling Jamie to convert to Islam."
In one exchange, Ayoub reportedly told Glazov that "Allah will defeat you," Glazov replied; "Allah will defeat us? I thought Islam was a religion of peace?" Ayoub replied; "Peace for those who obey Allah and His Prophet. but those who oppose them their [there] is no peace for them." A screenshot of the exchange can be seen below.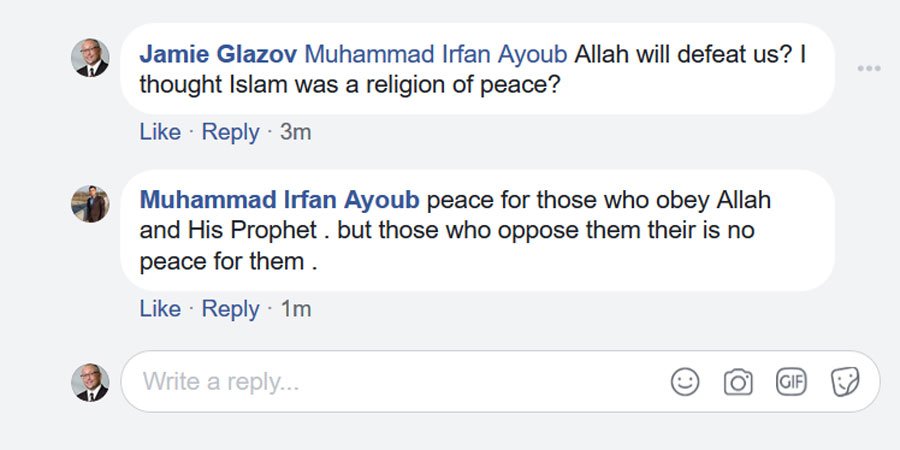 In another exchange, Ayoub said to Glazov; "I will break your mouth,"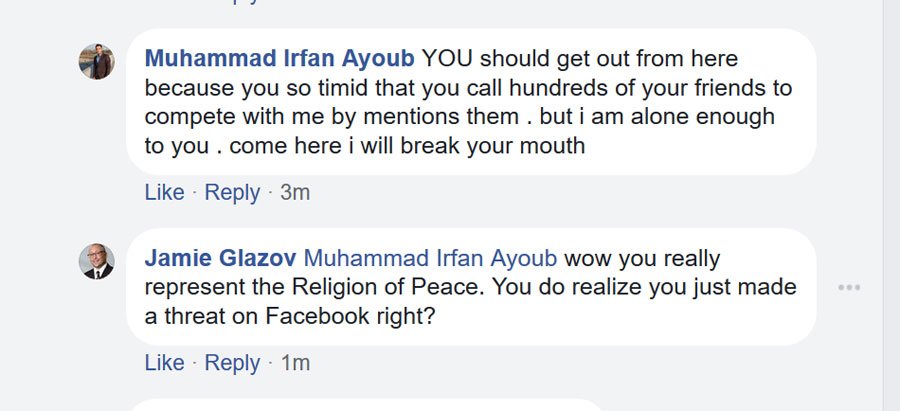 Glazov then made two posts to his own Facebook page featuring screenshots of his exchange with Ayoub. According to Glazov the two posts were about "(1) asking Mark Zuckerberg if Ayoub's threat is unsafe to the community and (2) pointing out that if a kafir (Islam's secret dirty word for the unbeliever) said this to Ayoub on Facebook that there would be a lifelong ban and police would be at the kafir's door within 12 hours."
The two posts can be seen below: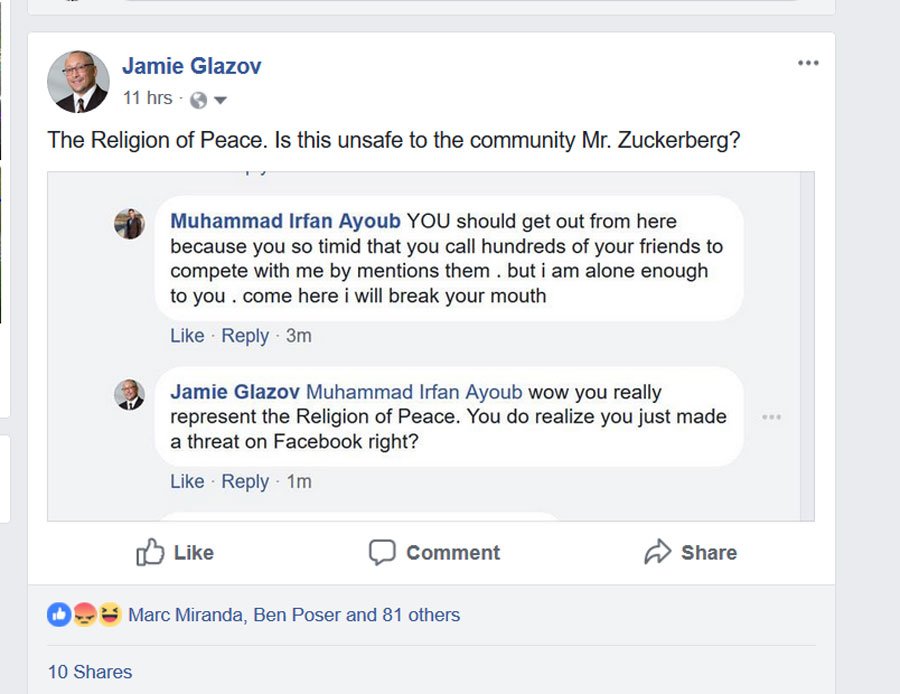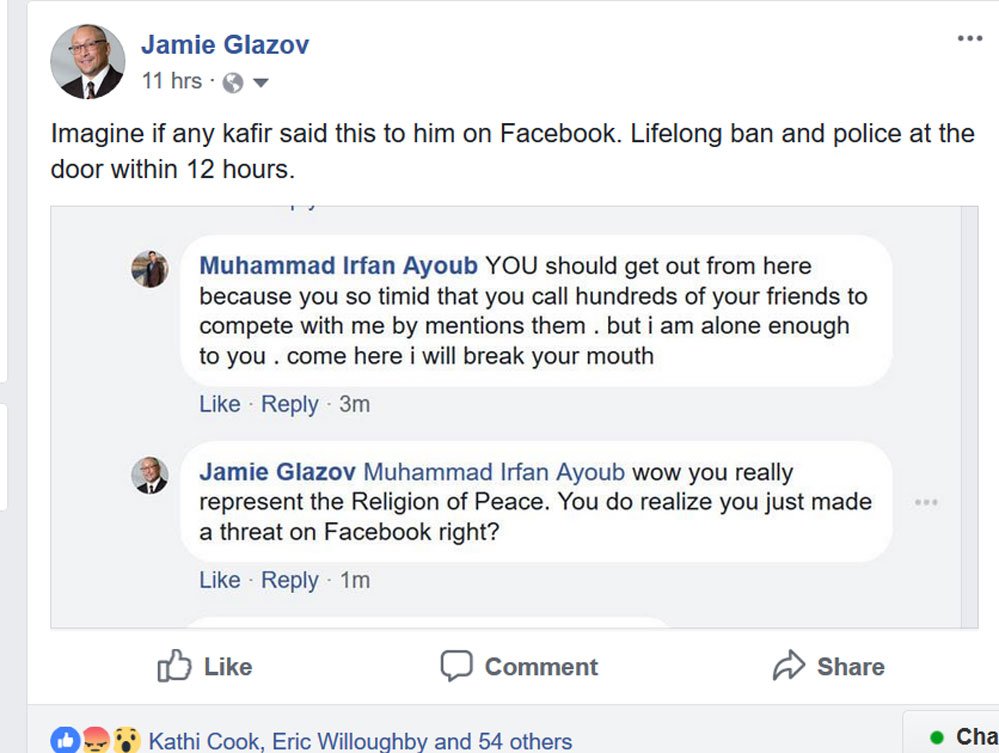 Glazov then states that he was suspended from Facebook for seven days, receiving the following error when he attempted to post to his profile:

Glazov sent a message to Facebook which reads; "I was threatened on Facebook by Muhammad Irfan Ayoub – he said he would "break my mouth." I made a post of this with a screenshot. Now you have banned me for complaining about being threatened." Facebook has yet to respond to Glazov. Breitbart News also reached out to Facebook for comment on the issue but has yet to receive a reply at the time of this writing.
Glazov's situation seems quite similar to that of conservative actress Mindy Robinson who also found herself suspended briefly from Facebook after posting screenshots of abuse she had received. "The page is up, I'm on a 30-day ban from using it though. There is, of course, the looming threat that they will just unpublish the page and I'll lose all 136k followers," said Robinson. "Personally I'm tired of getting constant unsolicited threats from 'tolerant' liberals. I wanted to show people what they say when they think they can't be held accountable. I even blocked out his last name so that I wouldn't be accused of harassment."
Breitbart News received no reply to a request for comment from Facebook but following our outreach to the platform along with emails from Robinson's fans and other concerned conservatives, the right-wing actress has had her posting rights reinstated. In a post to her page, Robinson stated "Well look at that, there's absolutely no way this would have happened if you guys hadn't garnered so much support around me for my malicious Facebook ban. This is proof we cannot be silenced if we stand together…. #MAGA"
Lucas Nolan is a reporter for Breitbart News covering issues of free speech and online censorship. Follow him on Twitter @LucasNolan_ or email him at lnolan@breitbart.com