Twitter suspended Austin Petersen, a Republican candidate in Missouri's U.S. Senate race, after a mass-reporting campaign by far-left Shareblue activists.
Twitter, which has been taking fire all week (including from President Trump himself) over its bias against conservatives and libertarians, gave Petersen a 12-day ban for what they called "abusive" behavior.
Twitter "SHADOW BANNING" prominent Republicans. Not good. We will look into this discriminatory and illegal practice at once! Many complaints.

— Donald J. Trump (@realDonaldTrump) July 26, 2018
The incident began when Shareblue activist Caroline Orr made a tweet attempting to draw a link between Petersen's candidacy and the alleged Russian hack on Senator Claire McCaskill, the Democratic Senate incumbent in Missouri.
Petersen then responded with an animated picture (better known as a gif) of Joseph Stalin waving with the caption "off to Gulag now." It's a gif that Petersen took from Twitter's own library of shareable gifs. In other words, Twitter banned Petersen for using content that the website itself recommended to him.
In fact, it's the very first gif Twitter recommends to you if you search for "Stalin" in the website's gif library: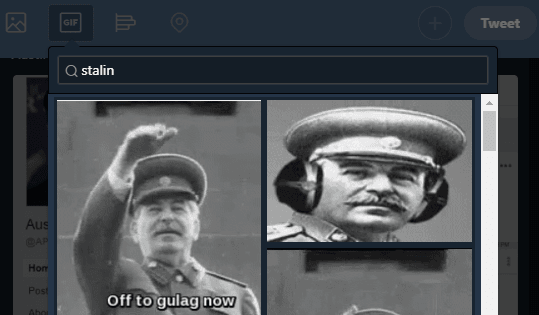 Petersen, who sought the Libertarian Party nomination for president in 2016, is currently running in Missouri as a Republican. In addition to facing suppression from Twitter, he has also received temporary suspensions from Facebook for running AR-15 giveaways.
It appears Shareblue's mass-reporting of Petersen was enough to trick Twitter into suspending him, even though no rule violation has occurred. It is another demonstration of how Twitter lets its systems be manipulated by left-wing activists, who are considerably more likely to block and unfriend users on social media platforms than conservatives and libertarians.
That is also the apparent cause of Twitter's "shadowbanning" controversy, in which the platform suppressed conservative figures and politicians in search results. Twitter admitted that the suppression occurred due to its new system of evaluating the "quality" of accounts and the "health" of conversation surrounding them, which takes into account how often an account has been blocked.
Of course, when its Democrats and left-wingers doing most of the blocking on Twitter, the system will inevitably become biased. Just so here.
Allum Bokhari is the senior technology correspondent at Breitbart News. You can follow him on Twitter, Gab.ai and add him on Facebook. Email tips and suggestions to allumbokhari@protonmail.com.