A volunteer firefighter in Texas has been fired from his position with the department after commenting on a South Carolina newspaper article on accused mass-murderer Dylann Roof. The move came after the firefighter allegedly said Roof should be praised for his "good deed."
Kurtis Cook, a volunteer firefighter in the East Texas town of Mabank was quickly fired from the Mabank Volunteer Fire Department (VFD) after he allegedly posted a comment supporting Roof. The post was made via his Facebook connection on a South Carolina newspaper's article about the mass murder, according to the Austin American-Statesman.
Cook allegedly said "He needs to be praised for what he has done." A screenshot of the comment captured by MyEastTexas.com appears below. The screenshot also shows another poster who made Cook's phone number public and urged people to call him and the Mabank VFD.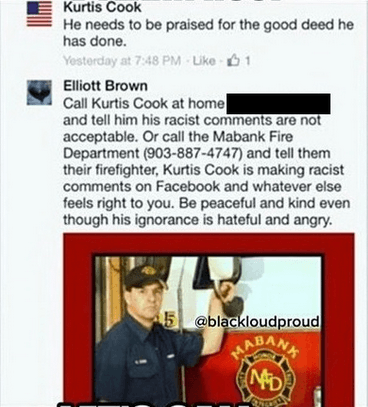 "Tell them their firefighter, Kurtis Cook, is making racist comments on Facebook and whatever else feels right to you. Be peaceful and kind even though his ignorance is hateful and angry," the Charlottesville, Virginia resident wrote, according to an article in the New York Daily News.
The firestorm that erupted on social media led the Mabank VFD to take quick action. Cook was not only fired from the department, he was issued a formal trespass warning prohibiting him from going on any property of the department. The department said, in a statement on Facebook shown below, that they conducted an investigation. The "Mabank Fire Department Command Staff has terminated Kurtis Cook as a volunteer Firefighter permanently and has trespassed him from all Mabank Fire Department property," the statement reads.
The department received praise on its Facebook page for its quick and decisive action. The investigation lasted about an hour, according to a KLTV report.
The Twittersphere was quick to erupt on the matter.
#KurtisCook you will have your 15 minutes of fame for praising a terrorist. http://t.co/fhVseRsTzV #idiot from #Texas

— Hank Kelly (@DiggerDoggg) June 22, 2015
@GiftedPrude Closeted? Seems like #KurtisCook is an out and proud hate monger. Makes me sick.

— Terra Purdy (@MrsTerraP) June 22, 2015
Kudos to the Mabank Firefighters Chief "who needs to be praised for the good deed he has done" in firing #KurtisCook,a racist,

— Drama Queen (@booksbear) June 20, 2015
Bob Price is a senior political news contributor for Breitbart Texas and a member of the original Breitbart Texas team. Follow him on Twitter @BobPriceBBTX.