HOUSTON, Texas – Thousands are expected to attend a "United We Goforth" and march in memory of Harris County Deputy Sheriff Darren Goforth and in support of all first responders. Multiple events are scheduled in Houston for Saturday to celebrate those who serve others.
In a message from the Harris County Sheriff's Office (HCSO) titled, "United We Goforth", the department expresses its appreciation for the outpouring of support that has continued in the now two weeks since Deputy Goforth was senselessly murdered in Northwest Houston. "The spirit of solidarity continues into the weekend, with multiple events to honor first responders and the memory of Deputy Goforth," the statement read.
Here is the list of activities put forth by the HCSO notice:
A community march is scheduled to commence at 9:00 AM beginning at 7900 N. Sam Houston Parkway West. This event has been organized by volunteer members of the community. As many at 19,000 participants are scheduled to attend, according to the organizer's Facebook event page.

From 11:00 AM – 2:00 PM, Kroger is scheduled to host a community event entitled Honoring Our Heroes. The store located at 12400 FM 1960 @ Eldridge will offer barbecue and refreshments to law enforcement and active duty military members free of charge, with a suggested donation of $5.00 for all other members of the community. 100% of the proceeds will benefit the Harris County Sheriff's Office Benevolence Fund and Operation Independence.

Static displays from the Harris County Sheriff's Office High Risk Operations Unit, Marine Division, Air Support Division and other displays will be in place by 10:30 AM.
The Facebook page for the Police Lives Matter march shows that over 19,000 people have clicked that they are going.
In the days following Goforth's murder, a GoFundMe account was set up to help raise money for the slain deputy's family. As of this publication time, the account has raised well over $350,000. The contributions continue to come into the account despite its having already reached its goal.
While the gas pump where the deputy was shot in the back is now back in service, a permanent shrine to the deputy is in the planning stages and the current memorial has moved to a prominent corner of the parking lot.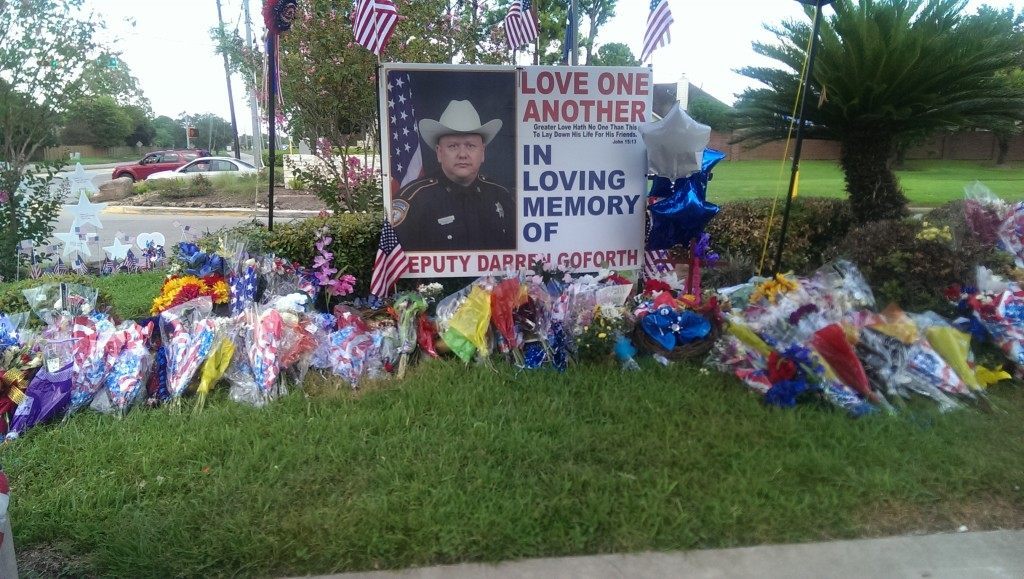 On Thursday a group of pastors gathered at the Chevron station where Goforth was killed to pray and continue the show of support. The event ended with the group locking arms in a circle while singing The Lord's Prayer.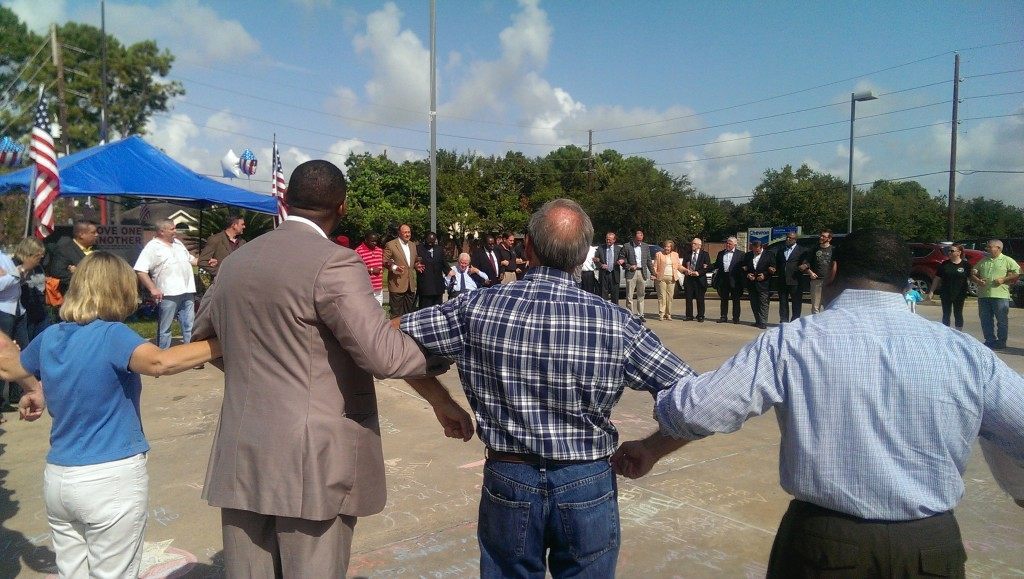 Nightly gatherings continued at the Chevron station throughout the week. As the gas pump re-opened, people began taping their fuel receipts to the pump with messages of support for the family and for law enforcement.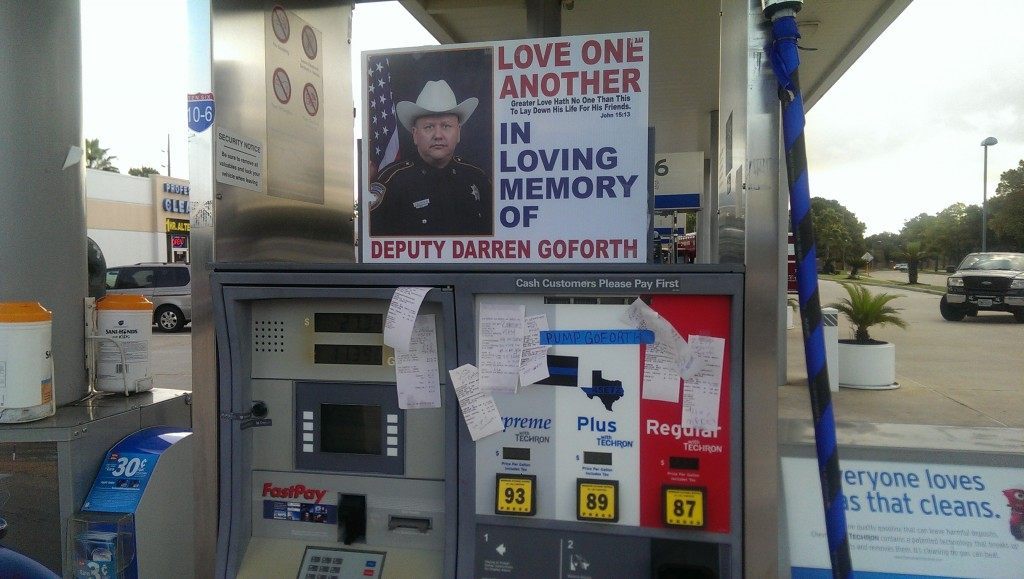 Photos: Breitbart Texas/Bob Price
Bob Price serves as senior political news contributor for Breitbart Texas and a member of the original Breitbart Texas team. Follow him on Twitter @BobPriceBBTX.