Breitbart Texas traveled to the Mexican States of Tamaulipas and Coahuila to recruit citizen journalists willing to risk their lives and expose the cartels silencing their communities.  The writers would face certain death at the hands of the various cartels that operate in those areas including the Gulf Cartel and Los Zetas if a pseudonym were not used. Breitbart Texas' Cartel Chronicles are published in both English and in their original Spanish. This article was written by Ciudad Victoria's "M.A. Navarro"
CIUDAD VICTORIA, Tamaulipas — Mexican Federal Highway cops seized more than  1821 pound of cocaine that had been hidden in a tractor trailer that was traveling form Veracruz to the industrial hub of Monterrey, Nuevo Leon, and eventually to the Unites Stated. 
The seizure took place last week when police officers checked a tractor trailer with the license plate 59AB7A as the vehicle traveled along the Ciudad Victoria to Monterrey highway at the 53rd kilometer marker in the area known as Zaragoza.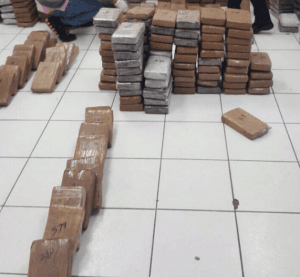 During a search of the vehicle, authorities noticed various irregularities in the floor of the tractor trailer. An in depth search of the floor revealed 734 packages of cocaine with a total weight of 828.998 kilos or 1821 pounds that had been hidden inside a double floor.
Right after finding the drugs, authorities arrested the driver, 30-year-old Cristian David Pizana Aguilar, and his passenger, 23-year-old Jorge Najera Martinez.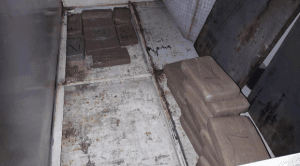 Moving drugs from southern cities to northern cities that are closer to the border with the United States is a common practice in the drug trafficking business, however, it had been several years since Mexican authorities had been able to make a sizable cocaine seizure. The lack of large cocaine seizures is something that has been taking place even though the Mexican military has set up multiple checkpoints along most of the main highways along the main highways in Tamaulipas. Mexican authorities have not been able to determine which cartel the drugs belong to. The packages are numbered and have the letters FZ drawn on them.