A Maryland police officer was killed Sunday afternoon while responding to a call of shots fired at his police station. The shots were apparently designed to lure officers in for an ambush.
Sunday afternoon about 4:30 p.m., two men allegedly fired shots at a Prince George's County police station. As police responded to the situations, the gunmen opened fire again and engaged the officers in a firefight. One officer was struck and wounded, according to the Officer Down Memorial Page (ODMP).
Police Officer Jacai D. Colson, 28, was transported a local hospital where he died from his wound.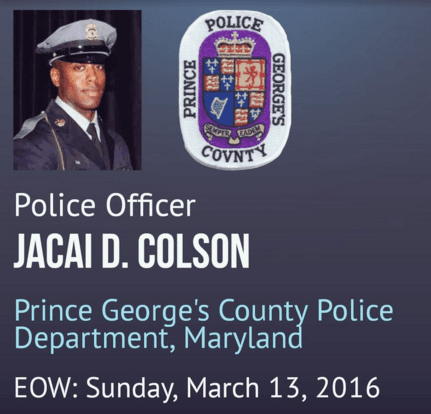 One of the suspects was also shot during the firefight. He was also transported to the hospital with what Reuters described as "non-life-threatening injuries."
"It wasn't about anything," County Police Chief Henry Stawinski told reporters at a news conference outside the hospital. "This man launched an attack on a police station and engaged several Prince George's County police officers in a gunfight, to which they responded heroically."
Officer Colson was a four-year veteran of the local department.
Chief Stawinski told reporters the attack was unprovoked. This police station is located in Landover, Maryland, which is about 8 miles from Washington, D.C.
The second suspect was later found in a nearby fast food restaurant.
The two alleged shooters were identified as Malik and Michael Ford, brothers, according to family members, the Washington Post reported. Other family members have reportedly said the two brothers are innocent.
In February, another Maryland sheriff's deputy was shot and killed, also in an ambush, Breitbart News' AWR Hawkins reported. This attack happened at a "gun free zone" Panera Bread in Hardford County. A second deputy was also shot and killed at a different location later that day. The same man is suspected in both of these deputies' death.
On March 1, Euless, Texas, Police Officer David Stefan Hofer was also shot and killed in an ambush attack, Breitbart Texas reported. Officer Hofer had recently moved to Texas from the New York City Police Department because he thought he would be safer in the Lone Star State. Hofer responded to a shots fired call with other officers. When they arrived, they ordered the suspect to surrender. Instead he rose and opened fire.
Just a few days earlier, a newly sworn-in police officer, Ashley Guidon, was shot and killed in yet another ambush attack. Officer Guidon and her training officer were responding to a domestic violence call, as reported by Breitbart Texas. When they arrived on the scene, Army Staff Sergeant Ronald Hamilton, who had allegedly just killed his wife, reportedly emerged from a hiding place with a rifle and opened fire on the officers.
Since the beginning of this year, twenty police officers have died in the line of duty. Of those deaths, thirteen came at the hands of gunmen, according to the ODMP website.
Bob Price serves as associate editor and senior political news contributor for Breitbart Texas and is a member of the original Breitbart Texas team. Follow him on Twitter @BobPriceBBTX.