An official complaint has been made to Kent Police about the contents of a BBC One programme broadcast during the election period.
Senior advisers to UKIP Leader Nigel Farage have reported the prime time show 'Have I Got News For You' for breaching Section 106 of the Representation of the People Act.
During the programme, which went to air on Friday, 24th April panellist Camilla Long referred to the constituency of South Thanet where Mr Farage is standing, saying: "I went there more than Nigel Farage. By the time I went there he had only been there a few times."
The Sunday Times columnist also made disparaging comments about his chances, saying voters hadn't heard of him and saying categorically that he would not win the seat. In an article for the newspaper she wrote that 'Farage is made for bilious Margate', attacking the town as 'Grubby and stuck in the past' saying it will 'suit him to a T'.
But embarrassingly for her, it was pointed out on twitter that one of her ancestors, Lord Charles Clinton MP, was MP for Sandwich; a town that forms part of the constituency of South Thanet.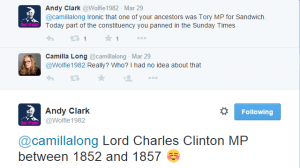 Ms Long has previously written that she was glad the UKIP leader had cancer, resulting in the removal of one of his testicles.
The section referred to in the legislation makes it a criminal offence to "before or during an election" or "for the purpose of affecting the return of any candidate at the election", making any "false statement of fact in relation to the candidate's personal character".
Kent Police were told that the statements made by Ms Long were "demonstrably false" since Mr Farage had given a significant number of public meetings, constituency hustings and action days although many of them out of the eye of the media.
The party maintains that consequently she had no reason to believe that the statement she made was true.
Have I Got News For You is watched by around 5 million people as well as being available for 3o days on demand and repeated in an extended version later in the week.
A UKIP spokesman told Breitbart London:"The BBC's coverage of UKIP at this election, despite Ofcom's major party ruling, is akin to that of a bit part player. Sky and ITV have taken the ruling seriously and acted accordingly, but the BBC, which isn't answerable to Ofcom, has evidently decided to ignore this, and has left us with no option but to pursue them vigorously over their coverage."
A senior source went even further saying:  "We are at war with the BBC".
A BBC spokesman said in reply: 'No statement is being issued by the show and there have been no complaints that I'm aware of.'